How to Use Candy Bar to Change Dock Icons on Your Mac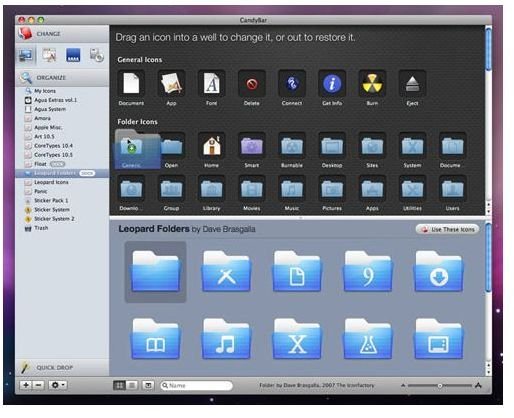 Using Candy Bar to Change Icons
If you want that custom look on your dock or whatever else within OS X, one of the best ways of obtaining it is to use your own personal icons. These icons will replace the default OS X icons on your computer with personal icons that you can pick out yourself. The simplest and most effective way to go about doing this is to use a program called Candy Bar. It can be downloaded here https://www.panic.com/candybar/. You will need to download this program and install it before you get started.
After installation, you will simply want to launch the candy bar application. When candy bar loads, it will automatically find and bring up the default icons on your computer. The default icons will appear in the lower pane of candy bar. From there, you are going to want to search the web for icons. You also, have the option of creating your own icons if you are good with Photoshop. The best place I have found to get free icons is here https://interfacelift.com/icons-mac/. After you find an icon set that you like, you are going to want to download it to your desktop. Now, all you will have to do is drag the icon from your desktop into the lower pain in candy bar which is labeled "My Icons." Note: Some icon sets may require stuffit expander in order to convert.
The upper pane shows the current icons being used in OS X. Select the new icon you just added to the lower pane by clicking on it. You will see a preview of what it will look like in the "quick drop" viewer. Simply drag the icon that you want to use from the lower pane to the top pane and place it over the existing default icon of your choice. Afterwards, a drop down box will appear that gives you the option to apply changes to icons. You will want to click apply changes; and that is all there is to it. Now your new icons will appear anywhere that the default icon would normally appear.
Mix and match different icon sets that you find, and you can create a truly unique icon set of your own.