How Do I Make Firefox Run Faster on Mac OS X?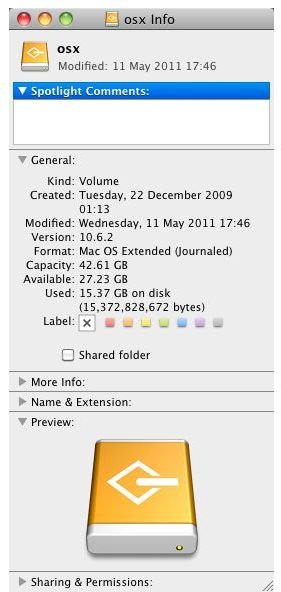 Fast Browsing on Mac OS X
Fast browsing is always good, but when your browser starts to display sluggish behavior the first thought that often comes to mind is to start using different software. That's how many users end up switching to Firefox in the first place.
With long-term use and the addition of plugins and other enhancements, Mozilla Firefox can seem to slow down and run slower than when it did when first installed. However many of these performance issues can be traced to other software and even hard disk space.
Fortunately, resolving performance issues with Firefox on your Mac is as simple as addressing them on Windows or Linux.
Improving the Speed of Mac OS X
As with any application, Mozilla Firefox can only run as quickly as your Mac. As such, speeding up your Mac is the first thing to try.
Begin by checking your available remaining hard disk space. You can check the current usage in Finder by right-clicking your main disc partition and selecting Get Info. This will display the capacity, the available space and any used space. If this looks OK but you still feel there are performance issues, proceed to the next step.
Open Applications from the dock, select Utilities and then open Disk Utility. Select your main disk on the right and then in the First Aid screen click Verify Disk Permissions. When done, use the Verify Disk button to check the disk.
You should also empty your trash in order to get the best performance out of your Mac hard disk drive, which can be done via Finder > Empty Trash. Note that other applications have their own trash facility, which when emptied discards the data into your main Trash. As such, remember to check the Trash regularly.
Speed Up Firefox
The Mozilla Firefox browser itself has various tools and features that you can use to speed it up. Begin by clearing out your history via the Tools > Clear Recent History menu item; here you can change the drop-down selection to Everything and force Firefox to delete cookies, browsing, search and form history and the local Internet cache. Note that this action cannot be undone!
Another way to better control Firefox and make it run fast under Mac OS X is to disable any potentially troublesome add-ons. Open Tools > Add-ons > Extensions to view a list of any add-ons you are using, and click Disable on any that you are no longer using. Note that Firefox checks for updates to add-ons each time you open the browser, so this is obviously something to consider when adding new ones to your browser.
About:Config Speedups
Firefox has a hidden screen of configuration options that can be opened by entering about:config into the address bar. Note that Firefox will display a menu asking you to confirm this action. Making incorrect changes can cause problems with the browser, so tread carefully!

This can be used to enhance your browsing speed in some versions of Firefox. Look for the following entries:
network.http.pipelining
network.http.pipelining.maxrequests
As you can see, these entries refer to a process known as "pipelining", which by default is disabled. When enabled, it increases the number of requests that Firefox makes to a web page at any time for page content, related images and media, etc.
Normally the browser will make one request to a web page at a time. When you enable pipelining it will make several at once, which really speeds up page loading.
You will need to alter the entries as follows:
Set "network.http.pipelining" to "true"
Set "network.http.proxy.pipelining" to "true"
Set "network.http.pipelining.maxrequests" to, say, 30, allowing the browser to make 30 requests at once.
You can set the first two items to "true" by double-clicking them; the third entry should be double-clicked and the new integer entered.
Finally, right-click in some blank space and select New > Integer from the menu, and give it the name nglayout.initialpaint.delay, with a value of 0. With this entry added and configured the browser should spend much less time waiting for information and more time displaying it on your Mac!
Trying each of the steps listed here in turn should enable you to turn a slow, sluggish browser into one that races to the finish line!
References
Author's own experience.
How To Make Firefox Faster On Mac and PC, https://www.youtube.com/watch?v=n9YLzdPCY84
Image credit: Screenshots by author