The Best Free Financial Software for Mac Os X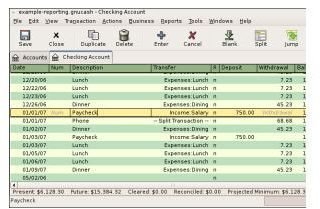 Free Financial Software? Are You Sure?
Free is always good, especially if it is a genuine price and not just a 30 day introductory fee. Many software companies throw the word "free" in front of a useful utility only to drag the rug from under you after you've signed up with a bill for X amount – this can be both disappointing and frustrating, although it often inspired other developers to go off and create an application that offers similar functions.
While there might be something ironic about finding free financial software for any platform, there are several available for Mac OS X that offer various options from personal financial management to basic spreadsheets.
Choosing Free Financial Software for Mac OS X
If you're looking for free financial applications for your Mac, you will be looking for something that is a bit more in-depth than the OpenOffice.org spreadsheet.
You should be looking for an application that provides double entry bookkeeping, the ability to record transactions across an unlimited number of accounts and of course competent reporting tools so that you can make a print copy of your transactions and balances. Additionally the software should be easy to use, well supported and popular enough for the developers to maintain it.
GnuCash
Designed for personal and small business use, GnuCash can be downloaded free from www.gnucash.org. Formulated to allow the tracking of bank accounts, incomes and outgoings, stocks and bonds and invoices, GnuCash provides various reporting options as well as an import module for bringing in data from other applications such as Quicken.
Using the Double Entry convention GnuCash helps you to ensure that your books balance, and its powerful search tool helps you find specific transactions.
GnuCash is popular personal accounting software, and along with being free financial software for Mac OS X users it is also available for Linux and Windows.
Buddi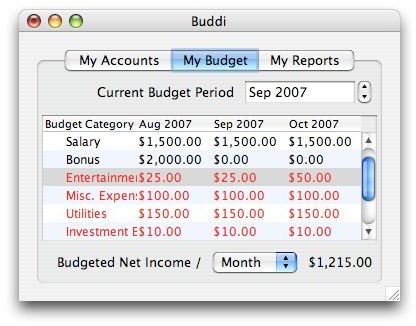 Designed as personal budget software, Buddi is available free to download and use (although as a sole project the developer invites donations) for you to manage your finances on your Mac. You can use the software to manage your personal accounts, keep track of your finances and run useful reports that display your current income and outgoings.
Although competent, one of the downsides to Buddi is that it requires you to have Java Virtual Machine installed on your Mac. Strictly speaking, in fact, you can use Buddi on almost any operating system thanks to Java, but this does result in a bit of a performance hit, especially when handling a lot of data.
You can download Buddi from buddi.digitalcave.ca.
PearBudget
Another popular option is PearBudget, which has recently been translated into a web-based subscription service that can be accessed via your web browser. However the original free download is still available which offers all of the usual accounting tools utilizing an easy-to-use spreadsheet layout.
Designed to be easy to use, effortless to maintain and very flexible, the success of the free version lead to the release of the web-based PearBudget.
You can download your copy at www.pearbudget.com/spreadsheet.
References and Screenshots
PearBudget, https://www.pearbudget.com/spreadsheet
Buddi, https://buddi.digitalcave.ca/
GNUCash, https://www.gnucash.org/.