When the Default Mac Scanner Software is Not Enough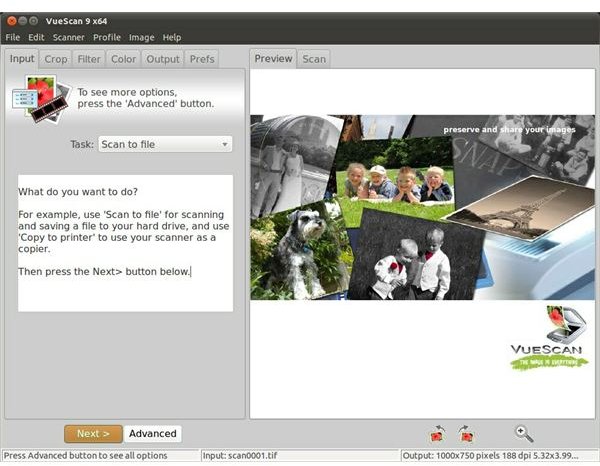 Mac OS X's Built-In Scanning Capabilities
One of the best options for basic scanning on Mac OS X is the built-in application, Image Capture. This built-in Mac scanner software does an excellent job of basic scanning as well as including a few advanced features. For more information on scanning on Mac OS X using Image Scanner and other free Mac scanner software you can check out my article on Free Mac Scanner Software.
VueScan
VueScan 9 is one of the only Mac scanner software titles targeted towards the personal user or small business. VueScan runs on Windows, Linux and Mac OS X and the standard edition will only cost you, a very reasonable, $39.95. VueScan offers users the ability to scan documents, photos and film on over 1600 supported scanners. VueScan allows you to import photos from Adobe Photoshop for post-processing and is packaged in both a 32 and 64 bit version to take advantage of whichever processor you are using. You may think this is a mute point when it comes to Mac scanner software but the fact that you can make use of the 64-bit version of the software can save you time. The actual scan of the document or photo may not make full use of your processor but some of the post-processing events will, saving you valuable time should you do a lot of scanning.
VueScan is one of the more popular alternative Mac scanning software titles because of it's ease-of-use, support for a huge number of scanners (including ancient scanners) and affordable price. If you take your scanning seriously and are looking for a paid Mac scanner software solution, give VueScan a try (there is a free trial available).
Price: $39.95/$79.95
(Image: https://www.hamrick.com/sho.html)
Silverfast

Silverfast is a Mac scanner software professional solution with scanning ability as well as advanced image editing. The unique thing about the Silverfast line of Mac scanner software is that it is customized for each scanner it supports. This means that depending on what Mac scanner you are using you will receive a version of Silverfast customized for that particular scanner in order to take advantage of any extra features the scanner may offer. Currently Silverfast is available on the Windows and Mac OS X platform and supports about 340 different scanners. If VueScan isn't enough for you and you need a more advanced Mac scanner software solution any version of Silverfast should be your next stop.
Price: $49.00 - $375.00
(Image : https://images.silverfast.eu/img/sections/level2/scanner-software_150x120.png)
Conclusion
As I mentioned in opening, unless you are in need of some pretty advanced scanning capabilities, Mac OS X's built-in scanning will probably be sufficient. If you require a great deal of post-processing of your scans or are using a scanner not currently supported natively by Mac OS X you may want to check out the Mac scanner software titles listed above.
References