Windows Theming: OS X Leopard Theme for ObjectDock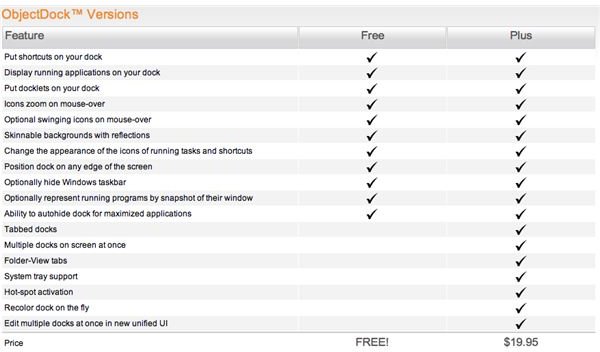 ObjectDock Brings OS X Type Dock to Windows
ObjecDock is an application for Windows XP, Vista or Windows 7, that ads a Mac OS X type dock to your Windows installation. This is a highly customizable replacement that gives you options that go well beyond what Apple offers with their standard dock in OS X. ObjectDock is perfect for those that like their windows installations but are still looking for a Mac feel when it comes to their dock. Lets see what it can do.
What Can You Do with ObjectDock?
ObjectDock has a large set of features. The software is available in two flavors, one free and a 'plus' version. The free version is the basic flavor that lets you use enough features to use ObjectDock with confidence. Right after installation the dock already resembles a dock that is familiar to those that have ever used OS X Leopard or Snow Leopard. It provides a single dock that is customizable on many levels. Customization options include:
Dock Icons
Position
Size
Style/Color
Effect
Accessibility
Within these main menus, many sub-categories are hidden which essentially let you customize the complete style, look and feel of the dock. The free version already goes a long way in this but the plus version goes a bit further. The paid version includes features such as tabbed docks, multiple docks on screen, folder view and the editing of multiple docks at once. With all these options combined there shouldn't be a reason why you wouldn't be able to get an exact replica of the dock in OS X Leopard.
Installing the OS X Leopard Theme for ObjectDock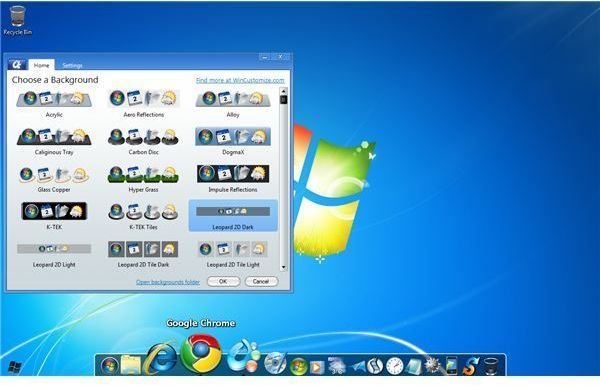 There are several leopard style docks available that are compatible with ObjectDock. In the below example however, I will be explaining how to install the skin found here.
First of all download ObjectDock from the developers' website. When downloaded, install as you would any other application.
Launch ObjectDock for the first time. You will notice a dock will appear that already resembles OS X a bit.
Download the theme on the website as indicated before. Open the zip file and select the folder in it that says 'Leopard'. Cut or Copy this folder as a whole.
Browse to the location where ObjectDock is installed. Here go to the backgrounds folder to paste the copied Leopard folder. By default this will be most likely C:Program Files/Stardock/Objectdock/Backgrounds/Zoomers or something similar.
Close and reopen the ObjectDock application. In the selected dock choose Style/Color and select 'Change Background'. Here select whichever Leopard dock you want and see your ObjectDock get themed to resemble OSX Leopard!
A Word of Warning
The steps outlined above are the necessary steps for whichever theme you choose for Objectdock. Google is probably your best friend in finding more themes. Besides the background, which has the largest effect on your visual experience with ObjectDock, you can further enhance the Leopard feel with other small tweaks. Be aware however, that ObjectDock is a fairly memory intensive application that does not replace the standard Windows bar, but merely works on top of it. Make sure your machine is capable of handling it and you will now be able to enjoy the OSX leopard theme on Windows!
References