Google Earth for Ubuntu: Installing and Troubleshooting for Max Performance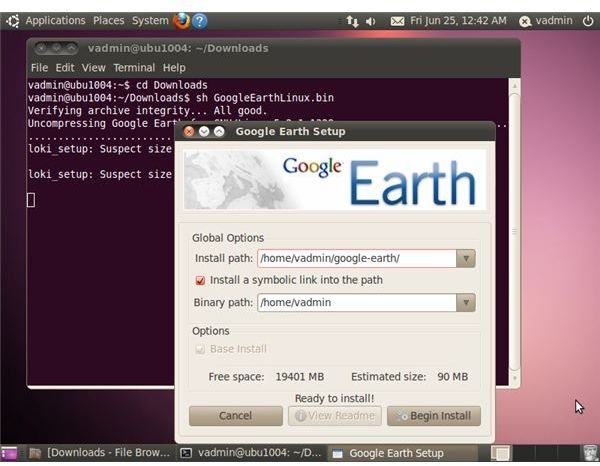 Downloading and Installing Google Earth
Download Google Earth on your Ubuntu Linux system by visiting Google's official download site at https://earth.google.com/ and click "Download Google Earth." After you click "Agree and Download" to the Google terms of service, Google automatically detects your operating system and starts the download of Google Earth's Linux installer. Click "Save" in your Web browser when prompted.
Open a Terminal by clicking "Applications," "Accessories" and "Terminal" on your Ubuntu system. Navigate to the directory the Google Earth installer was downloaded to with the "cd" command. Unless you specified a different directory, it'll be in the "Downloads" directory. Type "cd Downloads" into the Terminal window and press "Enter." Replace "Downloads" with "Desktop" if you downloaded it to your desktop.
Start the Google Earth installer by typing "sh GoogleEarthLinux.bin" into the Terminal window and pressing "Enter." The "sh" command here executes the Google Earth installation script.
You can choose a new installation directory by typing it into the "Install Path" box in the "Google Earth Setup" window, or just install Google Earth to the default location by clicking "Begin Install."
Running the Software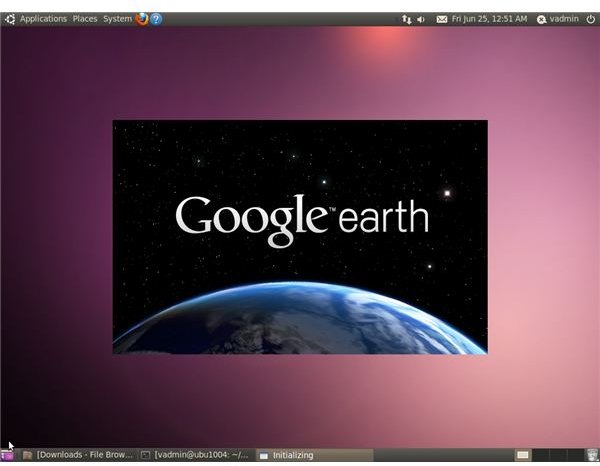 You can click "Start" when the installation is finished to start Google Earth immediately. You can also find it in the "Internet" menu under "Applications."
Use Google Earth just as you would on Windows. Fly to a location by typing it in the "Fly To" box and pressing "Enter." Explore layers by clicking the checkboxes next to them in the "Layers" box. You can check out more content in the Google Earth gallery by clicking the "Earth Gallery" at the top-right corner of "Layers" box.
Troubleshooting 3D Performance
If you receive a message stating the Google Earth is running in "OpenGL Software Emulation" mode, you don't have the appropriate 3D graphics drivers installed for the video card in your computer. Install the official NVIDIA or ATI proprietary video drivers for your video card using Ubuntu's built-in Hardware Drivers tool.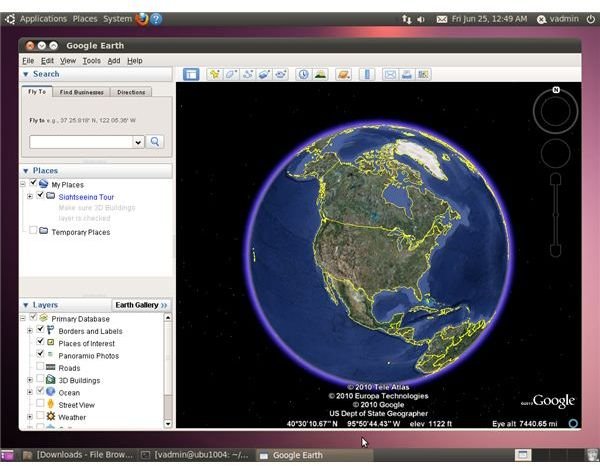 Open the Ubuntu Hardware Drivers utility by clicking "System," "Administration" and "Hardware Drivers."
Click the checkbox next to an NVIDIA or ATI video driver in the hardware drivers window and click "Enable Driver" in the confirmation window. Restart to enable the drivers by clicking "Restart" when prompted to do so.
If there are performance issues, it might help to disable Ubuntu's 3D desktop effects to free up more of the video card's performance for Google Earth.
Open the Appearances configuration tool by clicking "System," "Preferences" and "Appearance."
Click the "Visual Effects" tab at the top of the "Appearances" window.
Disable visual effects by clicking "None" under the "Visual Effects" tab. You can also try clicking "Normal" if it's currently set at "Extra," which might be enough.
References
Screenshots provided by writer.