Help, MS PowerPoint Won't Open My OpenOffice File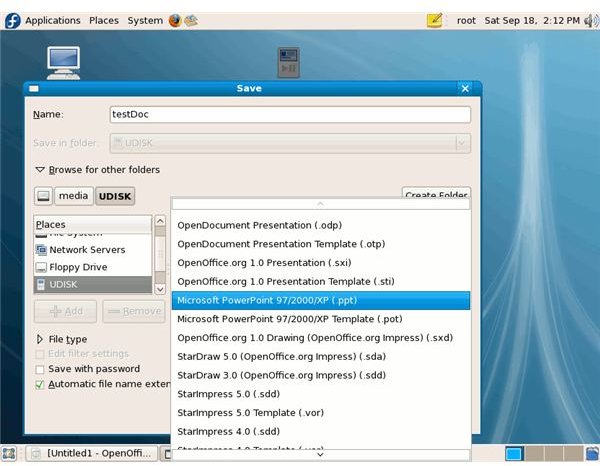 Why Won't PowerPoint Open My OpenOffice File?
The slide show creation program of OpenOffice, Presentation (known as "Impress" in older versions), is designed to create and work with Microsoft PowerPoint files. However, if you're one of the people who've said, "PowerPoint won't open my OpenOffice file," you'll find that the following tips should prevent this frustration.
When PowerPoint won't open an OpenOffice file, it's usually because the format of the file isn't one that's handled by the software. Every program has what's called a native file format that, like all file formats, is recognized by the file extension. That is ".ppt" for PowerPoint. The native format for presentations created by OpenOffice is indicated by the extension ".odp." These formats may be thought of as defaults for saving files. If a presentation created in OpenOffice is inadvertently saved in the default format (.odp), it cannot be opened by PowerPoint.
When saving presentations in OpenOffice, it's important to remember to indicate the file type, an option you have when saving a file for the first time or by choosing "save as" for previously saved work. Simply expand the triangle next to "file type" to see all of the options available. In the list will appear "Microsoft PowerPoint 97/2000/XP ppt." This is the option to choose to allow PowerPoint to open an OpenOffice file. Simply renaming an .odp file with the extension .ppt will not convert it to a true PowerPoint document.
Also, if you need PowerPoint to open your files on platforms running Windows Vista and higher, I recommend using the latest version of OpenOffice (3.2.1). Recently, a college student running Fedora Core 4 on her PC created a presentation in Impress to be opened by PowerPoint. During the saving of the file, she chose the appropriate file type (Microsoft PowerPoint 97/2000/XP ppt) and was able to open the presentation with PowerPoint running on a PC under Windows XP. However, PowerPoint wouldn't open the file on another PC running Vista.
The first thing I did was check the properties of the file by right clicking on it and choosing "properties." I saw that somehow after working with the file in OpenOffice on Fedora Core 4 again, it had reverted back to the native format. The file type read, "OpenDocument Presentation." I copied the file to my PC running Fedora 8, opened it with OpenOffice, saved it again as a .ppt file, and the problem was solved. PowerPoint under any of the recently released Microsoft operating systems was able to open it without any loss of formatting.
Not only should you make sure to choose the .ppt file type, it's also a good idea to double check by viewing the properties of the file as described above. Following these simple instructions should protect you from ever having to say, "PowerPoint won't open my OpenOffice file."