How to Sync Firefox Bookmarks, Passwords, History and Settings between Linux, Windows, and Portable Devices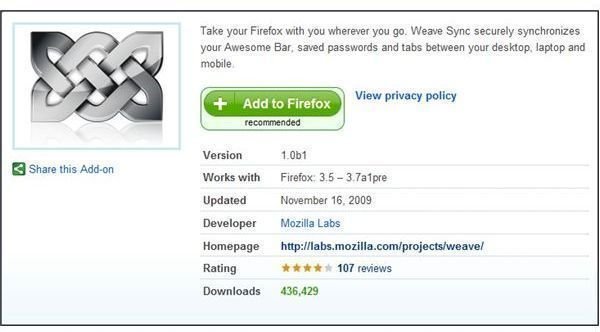 Want to have the same bookmarks, preferences, history, tabs, and settings automatically synchronized between all the devices- at home, work, and mobile- that you use Firefox on? If so, Weave Sync, brought to us by Mozilla Labs, is available now and can perform these functions for us, both automatically and in the background, so as to have a minimal effect on our browsing experience.
How well does it work? Join with us as we download the add-on and set it up on an Ubuntu Linux laptop and a Windows desktop PC.
Get Sync Weave and Set Up an Account
First you'll need to go to the Mozilla add-on page and click "Add to Firefox." The download will be about 400 KB, and, in normal fashion, a restart of Firefox will be needed to complete the installation.
After the restart, a new panel called "Services" will appear in Firefox Preferences. If this is the first PC that you've set up Weave on, click the "Create Mozilla Weave Account" button.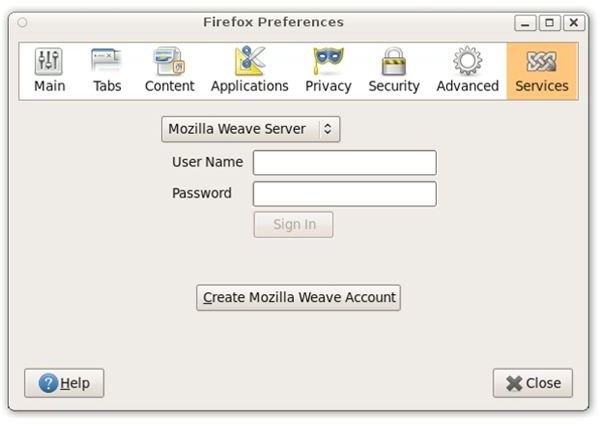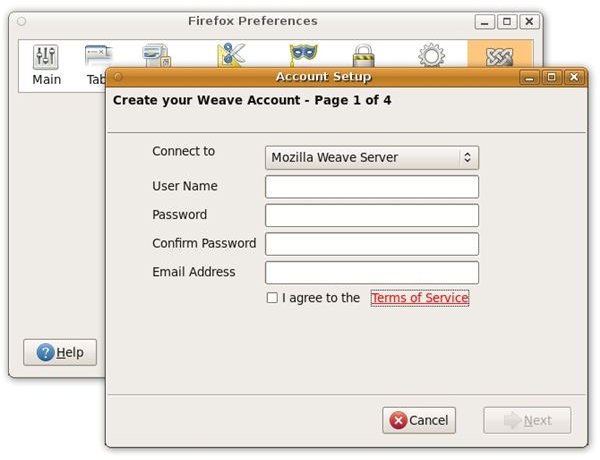 You'll be asked to agree that you've read the Terms of Service. Not surprisingly, the first part of the agreement stipulates that they can pull the plug and discontinue or change the service with no prior notice. (You should read the rest of the TOS, of course.)
In the next step, they try to determine if you're human by asking you to decipher a "reCAPTCHA."
Then it asks for a "secret phrase" to be "used to encrypt all your data so only you can access it." It also warns that this should not be the same as your account password.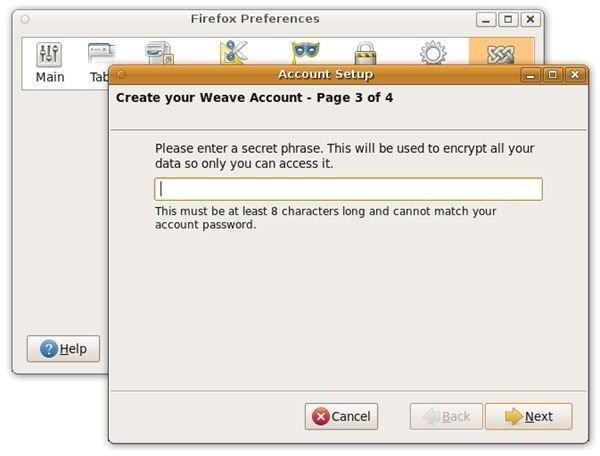 The next step has a "Start Syncing" button. Of course, if this is the first PC that you've set it up on, you won't see any changes in your browser.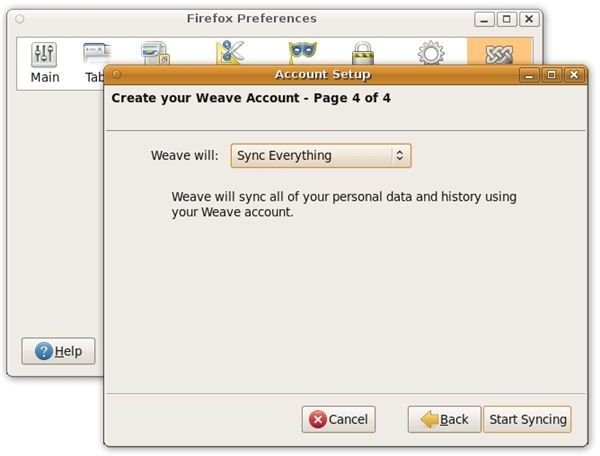 And that's it for the first PC. (We did this on a ThinkPad running Ubuntu.)
Install Sync Weave on Other PCs
The steps are basically the same for installing Sync Weave on your other PCs, except there is one other step. Since multiple PCs are involved now, you'll need to decide for each one if you want to merge the settings between the PCs, overwrite the remote PC, or overwrite the data on the PC you're using.
Be careful here! You can lose data. Remember that, unless you select otherwise, by default Weave Sync syncs all sorts of data, including your bookmarks, stored history, tabs, preferences, and if using 3.6 beta, personas (sort of minor themes for Firefox).
Unless the second PC you install on is your primary PC, it's safest to merge your data.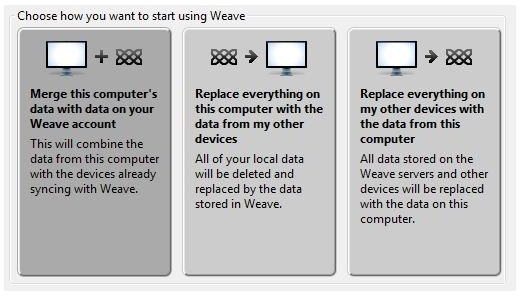 Trying Out Sync Weave
After Sync Weave is installed on the second PC and you've specified the sync settings and told it to sync, you can go back to the first PC and select Tools → Weave → Sync Now.
Watch the bottom toolbar in Firefox. It will show what it's syncing. Bookmarks and toolbar bookmarks came first when we tried it. Mozilla warns that the first sync can takes a few hours to complete. For that reason, they invested the program with hueristics- routines that determine the "interestingness" of data to help it to decide what to sync first each time. As time goes by and we use the add-on, less data will be synced, and the sync will happen much faster.
It works! We synced the settings from a desktop PC to a new installation of Ubuntu 9.10 on a laptop, and Firefox there soon created the bookmarks. That was about an hour ago, and Firefox on the laptop has not yet obtained the "homepage" setting, but View → Sidebar → History already shows all the websites visited on the PC today and going back a couple of months. Also, entering a single character into the "Awesome Bar" brings up familiar URLs.
This is a very handy and promising utility in the Firefox ecosystem, but if you've visited any red light districts on your syncing PC, you might want to consider cleaning up the search history before that first sync.
Resources for Sync Weave
Related Reading
How to Dual-Boot Linux and Windows 7 - Are you a Linux user wondering about all the Windows 7 hoopla? No matter what you think about Microsoft, nobody will mind if you try it out in secret. Here we'll look at shrinking a Linux partition to make room for Windows 7 and then installing Windows 7 on the PC.
How to Undelete Files in Ubuntu Using Foremost - Although there's no common "undelete" command for a Linux EXT3 file system, you can recover many types of accidentally erased files, including documents, graphics, and system files using the "Foremost" console application. Here we'll look at installing it in Ubuntu and giving it a test run.
How to Install "Device Manager" in Ubuntu - Is there an Ubuntu equivalent for the Windows Device Manager application? Yes, there IS a similar application, but it's not installed by default, and the focus of the program has less to do with drivers than it does with properties, which are, in fact, types of different messages in Linux.