Top Linux Media Center Reference Guide - Linux Multimedia Applications Review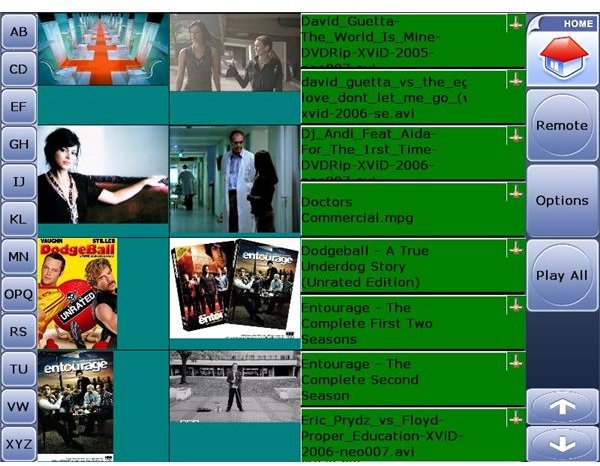 Introduction
As a first port of call, Pranav Thadeshwar takes a look at Multimedia in Linux - Video and Audio Players, discussing the media capabilities of Linux as a viable alternative to Windows and Mac, as an entertainment platform. For music, movies, and image manipulation, across all multimedia genres, on or offline, Pranav opens up with five apps that offer the very best in media center functionality - MPlayer, VLC Media Player, MythTV, Amarok, and Audacious.
Top Linux Media Centers
LinuxMCE
Feature rich and performance savvy, this is one of my favorite Linux apps. In LinuxMCE - A Top Linux Media Center? Nothing is Better, Tolga Balci takes a look at this outstanding media suite, discussing its widespread appeal, excellent media controls, and management of all streams of multimedia, photos, music and video.
XMBC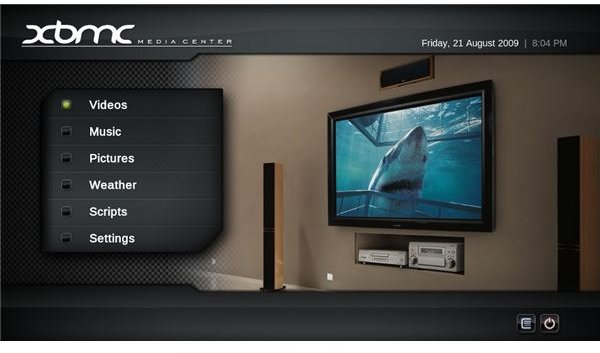 Released in 2002 for the Microsoft XBox, but also available on Linux platforms across PC architecture, XMBC is another excellent media center for images, audio and video, in all common formats. In Linux Media Center XBMC - Coming to Linux from XBoX Hacks Tolga explores how simple and intuitive it is to use, and how it is a top media player for theming and standalone use. Easy to install with Ubuntu and Mint, it does however require 3rd party tweaking to run on some of the other most common distros.
MythTV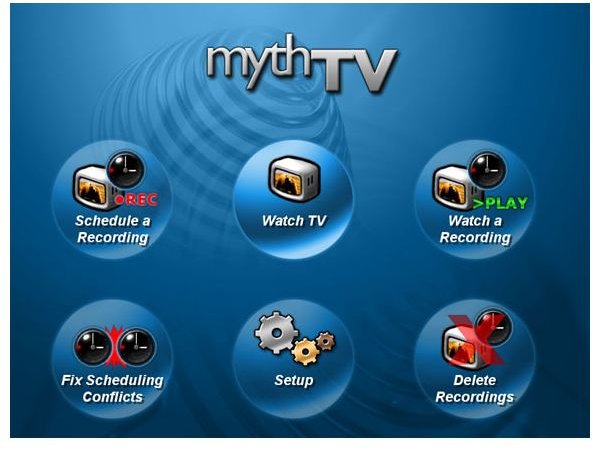 Further to Pranav's opening introduction to MythTV, Tolga takes a closer look at the mother of all Linux media centers - MythTV for Linux - A Real Myth Media Center Application. With an easy install across multiple Linux platforms - Ubuntu, OpenSuse, Fedora, Mandriva and others, MythTV comes with digital video recording (DVR) capability, and some excellent plugins across the "Myth" portfolio. Thus catering for a huge array of multimedia needs with MythArchive, MythMusic, MythVideo, MythWeb, Theming and Media Server capabilities.
Top Alternatives
Most Lightweight & Easy to Use Media Center - WOMP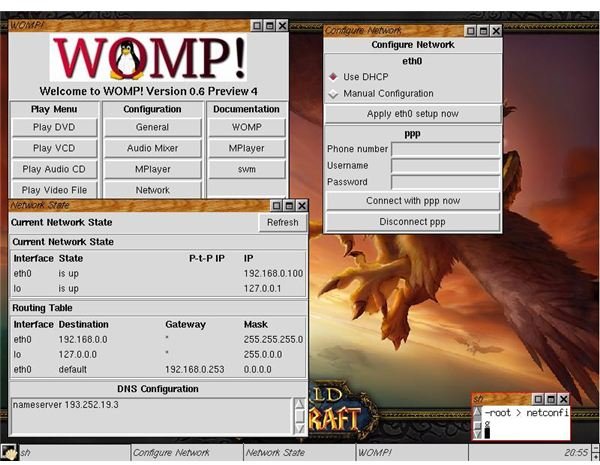 Lightweight and clean both in installation and usability, WOMP! The Lightest Weight Media Center is arguably the simplest of all Linux media centers to use. A no nonsense application, it does not have the deep features or functionality of eAR OS, but for the average user it is an exceptional piece of open source software. WOMP can burn and play audio and video files, and has a small install footprint, thus leaving plenty of space for multimedia storage/navigation. It may have a dated look and feel, and would benefit from YouTube integration, but this is a very neat, no frills, no fuss media center for playing and burning of media files in Linux.
Most Comprehensive Media Center (Actually it's an Entire OS) - eAR OS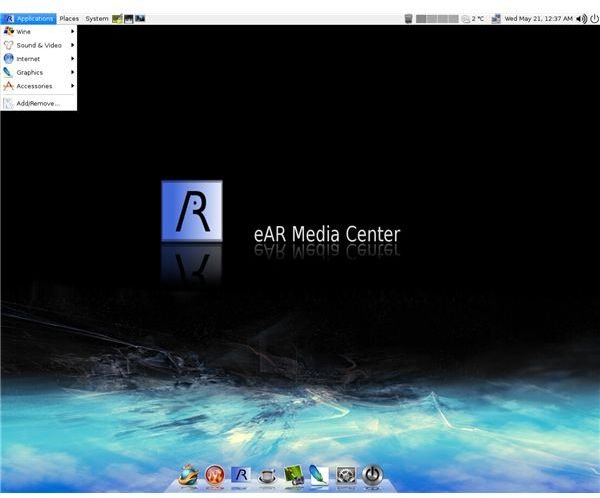 From Acoustic Reality, a sound and storage company of considerable repute, we look next at eAR OS - A Linux Media Center for Your PC. eAR OS is not simply a media center application but an entire OS, specifically designed for the multimedia expert. Thus it is a highly specialized platform, rich in media options for burning, browsing, listening and watching all formats of multimedia. Although geared specifically for the home theater PC and serious multimedia user, we feel eAR OS is well worth a look.
Top Linux Music Players
Amarok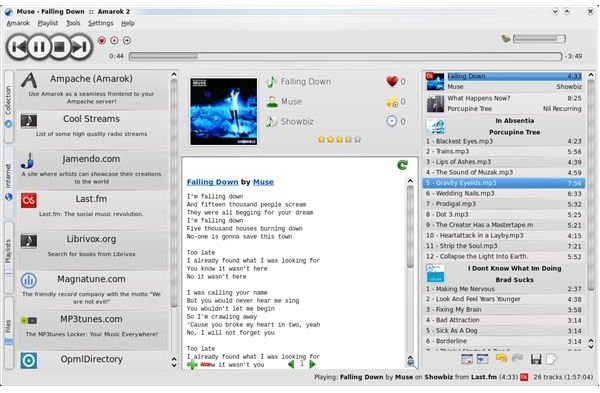 Turning our attention to the best music players for Linux. First up is Amarok - A Music Player for Linux. Along with RhythmBox, the most popular Linux audio player, Amarok features excellent music and device management functionality, play-listing, collection management, file organization and 3rd party add-ons.
RhythmBox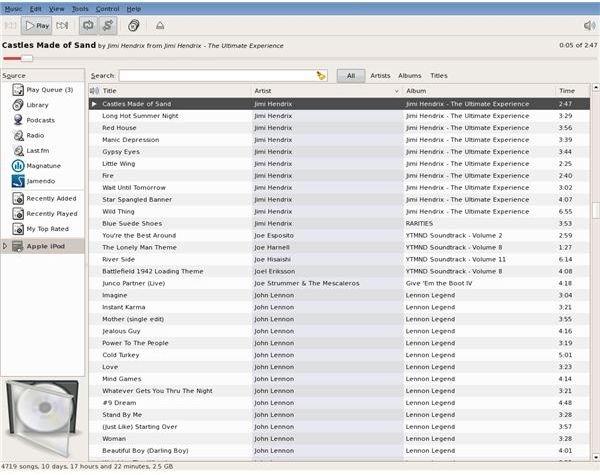 Not to be outdone, the aforementioned RhythmBox Music Player for Linux is an equally impressive application that works seamlessly on most distros and runs with incredible stealth in the background of the OS. It has a simple design and navigational GUI, clean install, and slick set of features. RhythmBox covers all your basic to intermediate audio playing needs, such as music libraries, podcasts, Internet radio, Last.FM, visualizations, preferences, and extensive configurability for track, artists, genre, and play queue setup.
Banshee
Another excellent Linux audio player and one which is much improved from previous versions is Banshee. In Banshee - More Than Just a Linux Audio Player, Josef Nankivell explores this top desktop media player. Using a slick import engine, Banshee is extremely fast, has an exceptional search facility, social media integration (Last.fm), mixing, play-lists and queue setup configuration.
Linux Media Utilities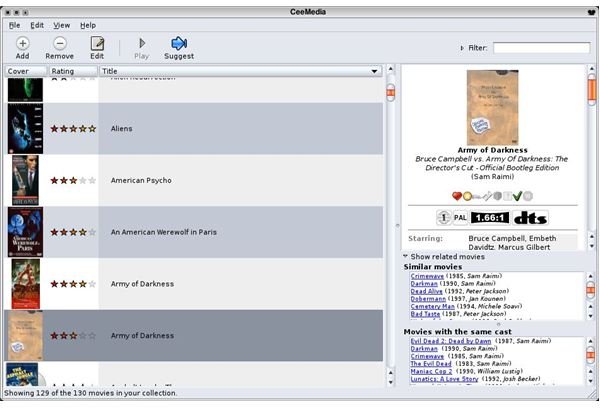 Last up, we have three "worthy of a mention" Linux multimedia utility guides.
Mandi Weems takes a look at Keeping Track of Your Movie Collection with CeeMedia. An excellent movie cataloging app, CeeMedia is easy to use, running a simple interface for managing movie additions, updates and deletions.
Kristen Grubb discusses How to use an MP3 Sort Script to Organize your Media on Linux. This is a simple reference guide to managing your Media throughout Linux.
Finally, Walter Michaelson provides an excellent, and topical piece on Tethering an iPhone in Linux. Explaining the process of tethering and SSH, how to set it up? And what can be achieved with such an interface?
This post is part of the series: Top Linux Applications
Referencing the best Linux apps as rated and reviewed on Bright Hub. From Office suites and productivity management, to security and multimedia, these linux applications are designed to help you get the most from your Linux distro.