How to Make a Personalized Custom Calendar in Linux with Scribus: Page 1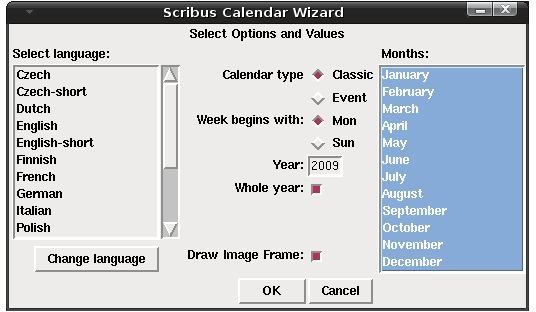 Selecting the Software: Scribus
I have often been asked questions about making printable, personalized calendars in Linux: "How do you make personalized wall calendars?", "How do you make desktop calendars?", "How do you make a customized calendar?" – the list goes on and on. Finally, I decided to write an article about this. The program that we will use for this project is Scribus, which is available for the Windows platform as well.
There are many articles at Bright Hub about Scribus. Therefore, I will not go into any detailed explanations concerning the software. (Also, I will not do this because I can not write anything better than what has already been done.). You can check Brian Nelson's Getting Started with Scribus and jlwallen's Linux Applications: Scribus if you do not have any idea or have never worked extensively with the software. Throughout the article, I will assume that you can at least find your way around in Scribus.
Just for a quick start, Scribus is present in almost all distributions' repositories. Ubuntu users can go through Synaptic or apt-get install Scribus to install the program.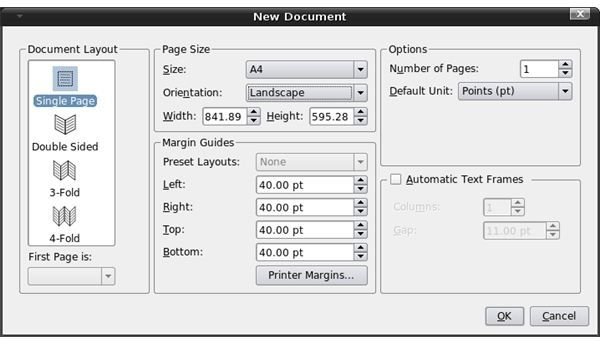 To create our calendar, we fire up the program and go to Script -> Scribus Scripts -> Calendar Wizard (the screenshot on the left). Select your language from the left menu, choose if you want Sunday or Monday as the first day of the week, and select the months that you want to use in your calendar. For the whole year, check the "Whole year" option. "Draw Image Frame", as is self-explanatory, sets an image frame on the calendar. Leaving this on or off depends on your visual pleasure. I selected this option and clicked "OK" to proceed.
In the next window (the screenshot on the right), you select the paper size, orientation, width, height, margins, and number of pages. I have a note here: Do not think that for a twelve-month calendar year you need to set the number of pages to 12. Scribus automatically arranges every month on a separate sheet. There is another small thing to note here: You can select A4 paper size for a wall calendar, A5 for desktop calendar, folding paper for an easy-to-carry calendar, and so on. When you are done with this screen, click "OK".
In the newly opened window, you can perform as many customizations as you like. You can set the background, you can change the font color, font face, size, arrange your text, and make any other changes you wish. When done, accept your changes and wait for a few seconds for Scribus to process all of your settings and finalize your calendar.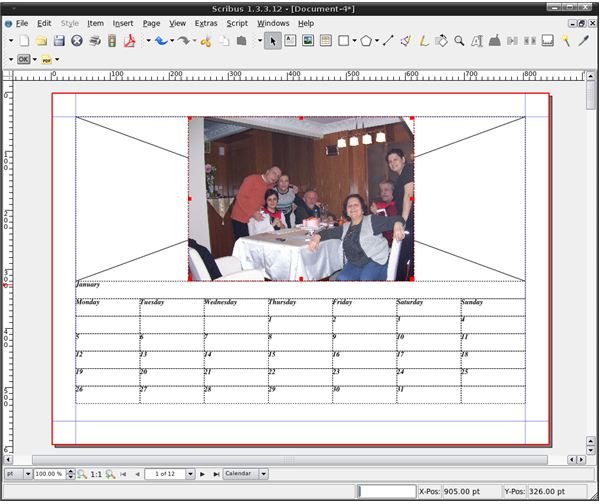 When done, we will insert images that will make the calendar really belong to us. From the menu, select Insert -> Image Frame. Drag your mouse and select an area you want. After you set the area, right click on it and select "Get image". A file explorer will open, letting you select any image from your computer. Select one, click OK, and Scribus will place the picture. If the image size is bigger than the area you set, you will have to modify the size. If so, right click on the image and select "Properties." Select the "Image" tab and scale your picture by changing the percent. When done, you can go to the "Position" or "Shape" tabs to tweak your image further. If you are not satisfied with your picture, you can right click and select "Image Effects" where you can add brightness, contrast, blur, colorize, grayscale, invert, posterize, and sharpen the effects of your photo. If still not satisfied, you can choose to edit the picture in GIMP from the right click menu on the image.
For sharing, you can click on the PDF icon on the tool bar and export your calendar to a PDF file. You can then easily send your calendar as an e-mail attachment to your loved ones or have it printed out on your computer. The screenshot shows a St. Valentine's Day that we celebrated with my and my wife's families. (The calendar was not exported to a PDF in the image here since I had taken the screenshot when I was still editing.)
Fınal Words
I have chosen Scribus for this task on purpose – it is a powerful desktop publishing software with many features available as scripts. In my opinion, it is a must-have application for all Linux users. I recommend you spend some time with it and discover its many available features. For example, instead of using a boring text processor, I find it much easier and more enjoyable to create brochure-like end-year reports with Scribus.