Bright Hub Guides About Running and Installing Linux Virtual Machines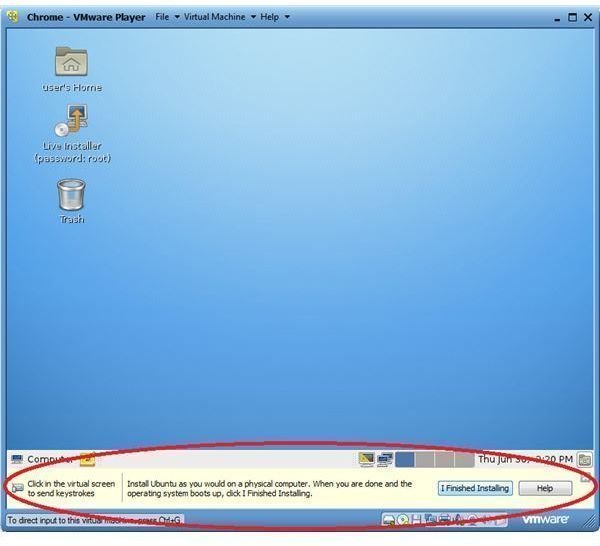 For some people, Linux is one of those things that they just have to try, but haven't quite got around to. With the open source operating system becoming more and more popular, however, there is every chance of being left behind. Considering that almost all Linux distros can be downloaded legally and at no cost there is no need to be left wondering "what if?" – you can get in early and enjoy Linux in any of its desktop guises.
One consideration that many have concerning Linux is whether to make the switch from Windows in one fell swoop. After all, years of using one particular operating system is bound to leave you afraid of change. Fortunately, Linux operating systems such as Ubuntu make it very easy for you to try them out without installing.
When you download a Linux distro and burn it to CD-ROM, if you insert the disc while Windows is running you will be given the opportunity to either install Linux as an application within Windows or run it as "live" from the disc following a reboot (the third option is, of course, to restart your computer and install the OS on the hard disk drive).
This Live CD method allows you to try out Linux without installing it, and is a great way to get started, although bear in mind it isn't reliable for use as a permanent operating system.
Another way in which you can try out any of these open source operating systems, however, is via a virtual machine. This option offers a more permanent solution without forcing you to change from Windows or Mac OS X before you're ready.
How to Run Linux in a VM
There are three main ways in which you can create a virtual machine in Windows:
Virtual PC 2007 – Microsoft's proprietorial virtual machine solution is ideal for running VMs of Windows and various Linux distributions, and best of all it is free! Note that there is a later version of Virtual PC available to Windows 7 users, but this isn't as flexible with the operating systems that it permits.
VirtualBox – this open source solution is also ideal for running Linux and with its slick user interface you can be up and running in just a few minutes
VMware Player – a free option from VMware, this application allows the creation of virtual machines with a wealth of options. Note that there is also a VMware Workstation which offers far more options, although this is a paid solution.
You can also run Linux in a VM in Mac OS X, using either VMware Fusion (the Mac version of VMware Player) or the OS X release of VirtualBox.
It should not be ignored either that existing Linux users – that is, those running a Linux distro as the main operating system – can also use VirtualBox to create VMs of Windows and other Linux distros. This is particularly useful for anyone using Linux for the first time who requires access to previously used Windows apps, perhaps tools that don't have a Linux alternative, software that must be used running under Windows for contractual or financial reasons (such as online business banking) or even gaming.
Note that VMware Player is also available for Linux.
Where Can I Find Linux VM Guides?
As Linux becomes a more popular operating system, so does the user community online. Just a few years ago you would have been hard pushed to find any useful information about Linux at all, but thanks to its growing popularity as well as the increased use of virtual machine solutions, there is more and more help available online, often in the shape of community forums or guides.
Here at Bright Hub we regularly publish articles on Linux-related matters ranging from changing the names of directories to running a fax server. Thanks to the flexibility of VM solutions, however, we've also features plenty of Linux virtual machine guides.
For instance, you might be interested in running a virtual machine of an untried new OS such as Google Chrome. Can I Install Chrome OS in a Virtual Machine? deals with the ease with which this can be achieved, but you might be just as interested in learning how to install the popular Fedora distro in a VM or even the CentOS server operating system.
These guides are just the tip of the iceberg with what can be achieved with both Linux distros and virtual machines. Digging deeper down, either here or on the web, you will find far more interesting and exciting ways in which these technologies can be used.
References
Author's own experience.
Screenshot provided by the author.