Monitor Calibration: Linux Howto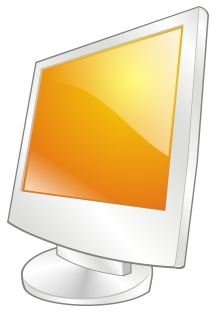 General Monitor Calibration in Linux
One thing to keep in mind when calibrating a monitor in any OS (operating system) is that, in its truest form, calibrating a monitor is simply making an image/video look proper to you. That being said, your environment will also play a big part in how you calibrate your monitor. A monitor sitting in a brightly lit room will need to be calibrated differently than a monitor in a dimly lit basement. There is, however, one constant when calibrating a monitor: black should appear as black as possible and white should appear as white as possible to the naked eye, regardless of your environment. The colors in between will then smoothly transform from absolute black to absolute white.
Not everyone will agree on what absolute black is or absolute white for that matter so again, the best you can do is calibrate your monitor to what looks best to your naked eye if you are doing your Linux monitor calibration without the use of a hardware monitor calibrator. In the end the result should be close enough to what others see to have the resulting image/video appear correct to a large percentage of the population. If you are a professional photographer you may need more precise calibration than this guide can offer and you will have to invest in a piece of hardware to assist you in your monitor calibration.
(Image: Stock.Xchng)
Basic Monitor Calibration in Linux
Like I said above, the best you can do with the naked eye is make sure the display performs to its fullest potential to your personal preferences. For me that means making sure black is the deepest black possible with your display, and the same goes for white. The easiest way I have found to achieve this is with the use of an excellent little "tool" designed by Norman Koren. This is basically just a simple image file to aid in adjusting your monitor, and he provides some excellent instructions on his website but to sum it up… What you will want to do is save this image to your PC and then make adjustments based on how your monitor displays theimage. With a few simple adjustments, you can get a much more accurate monitor calibration in Linux:
Downloaded the image and open it in your default image viewer.
Using the OSD (On Screen Display) of your monitor, lower the brightness of your display and slowly raise it until you can see black bar A across from 2.2.
If you are not satisfied with the result or cannot get the image to display properly, adjusting your gamma in combination with brightness may give you better results. For gamma again use the provided image and stand back from your monitor. Your goal is to have the horizontal lines blend in as closely as possible with the grey background at around 2.2 on the scale.
You can play around with the settings as much as you like as most monitors have a "reset to factory defaults" setting should you not be happy with your changes. Don't be afraid to tinker with these settings remembering that you want to be able to see black bar A across from 2.2, see the B black bar much clearer and have the horizontal lines under "Gamma" blend into the grey background at about the same point.
.
Hardware Monitor Calibration in Linux
The naked eye is never going to be as accurate as a hardware solution to calibrating your monitor in Linux. While the above technique will most likely improve the image quality of your monitor if you require precise monitor calibration in Linux a hardware solution like those offered by Datacolor or X-Rite might be the way to go for you. Keeping in mind that most of these hardware solutions for monitor calibration will require a temporary install of a Windows OS to use the included software.
References