A Review of the ASUS Eee PC 1000 Netbook: About the PC
Introduction (3 out of 5)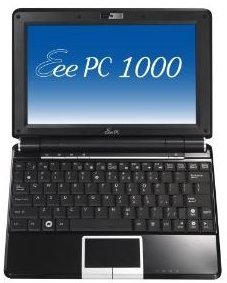 The Asus Eee PC 1000 (as shown on the left) is a small, lightweight (under 3lbs) netbook that comes at a reasonable price (as low as $550). It is available both in Windows and Linux platforms. Those interested can buy it from a local computer store or online from ASUS. Of course, there are other places online to find the PC, too.
With a built-in wired Ethernet (10mb / 100mb) adapter, the Eee PC can be used for networking. It also features an Intel Wireless Wi-Fi Link, so it can be used as a portable PC for network connectivity.
Note: Users can check the ASUS specifications for more details.
Features and Performance (3 out of 5)
The Asus Eee PC 1000 features a 10-inch backlit screen with a resolution of 1024 x 600 pixels (WSVGA). The netbook comes with a 1.6Mhz Atom processor, 160Gb hard disk, and a 6-cell battery. Furthermore, it has a 40GB Solid State Drive (SSD) storage and 60GB Eee Storage. And, with 1GB of RAM, it is a good portable PC for mobile users as it can offer high-speed connectivity to the Internet (for doing work, checking emails, chatting, navigating Web sites, and so on).
Here are some other features the Asus Eee PC 1000 includes: tri-mode Wi-Fi networking (802.11b/g/n) and integrated Bluetooth connectivity. It even comes with a 1.3-megapixel webcam and USB ports- to support flash drives, memory sticks, and external disk drives. In addition, there is a VGA output for connecting to a monitor.
The performance of the Eee PC is really great. It takes less than a minute to boot up and less time to shutdown; it takes less than 30 seconds for an application to completely load. Note that the netbook's Intel's Atom processor isn't that fast, but it will work well for users interested in web browsing, IM chatter, email, word processing, and a little spreadsheet work.
Inside the PC (3 out of 5)
Users eager to get their hands inside the case will be pleased to know that just a couple of screws separate them from the inner components of the Eee PC. There isn't much they can do with the 40G once it's opened up, but users can see the single SO-DIMM slot occupied by 1GB of DDR2 memory. The slot itself should support 2GB DIMMs, but previous versions of Asus's Xandros-based Linux distro haven't been able to use more than 1GB of memory. That shouldn't be an issue if a user swaps the Eee's OS for another Linux variant or a version of Windows. Note: To the left of the DIMM slot, users can see the SDHC card responsible for 32GB of the 40G's storage capacity. A separate 8GB solid-state drive rounds out the rest.
The Operating Sytems (Windows and Linux) (4 out of 5)
The Asus Eee PC 1000 comes with a great selection of software- over 40 built-in applications. Asus even has software updates, too, which allows the Eee PC to automatically download new BIOSes, drivers, and software patches as easily as Windows Update.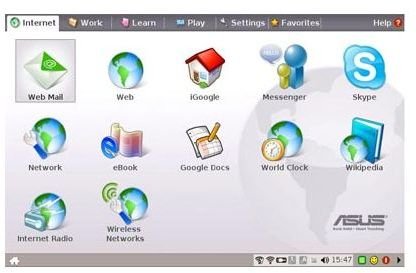 Note: For those users who have bought the Asus Eee PC 1000 with the Windows XP platform, they may want take a look at some of the available XP Drivers and Utilities.
Advice: It is a good idea to check out the "Average User Reviews for Asus Eee PC 1000 XP" from PCWorld.
And Attention Linux users: The Asus Eee PC 1000 40Gs are equipped with a surprisingly user-friendly Linux-based operating system. Mainstream users may not be familiar with Linux, but even the Eee's interface is appealing and easy to use. (See image to the right.) As you will see, all the essentials are there, and it offers an easy point-and-click interface.
Conclusion
The Eee PC is a great netbook overall that can perform well for people needing a computer on-the-go. The Eee PC 1000 delivers great performance and has the necessary applications a user needs on a portable PC. Of course, the Eee PC may not be as fast or as power as other netbooks; it is however a good one.
The Eee has incredible battery life. Achieving six hours of run time is an impressive feature to say the least, and it's by far the best battery life some users have seen from a netbook. Asus also scores points for not skimping on extras, bundling in Bluetooth and 802.11n wireless connectivity that you have to pay extra for with most notebooks.
Users that criticize netbooks will be quick to point out that the 40G's $650 street price is really quite expensive, but calling the system over-priced would not seem fair. Keep in mind that users are getting a much bigger screen, a comfy keyboard, better Wi-Fi, a six-cell battery, and 40GB of solid-state storage (and SSDs aren't cheap).
Personal opinion: If I were to shop for a netbook today, the ASUS Eee PC 1000 would be one I'd consider.
Image credits: Amazon
References Section
CNET Reviews: https://reviews.cnet.com/laptops/asus-eee-pc-1000/4505-3121_7-33204712.html
The Tech Report: https://techreport.com/articles.x/15338
This post is part of the series: A Review of the Slim and Shiny ASUS Eee PC 1000 Netbook
This review will take a close look at the stunning ASUS Eee PC 1000, which, has been on my mind since I first heard about it. The Eee PC 1000 has a 10-inch LCD display which makes it one of the largest displays in the ultra-portable class.