A Review of the ASUS Eee PC 1000: An Inside Look at Features and Storage
PC Features: Storage (4 out of 5)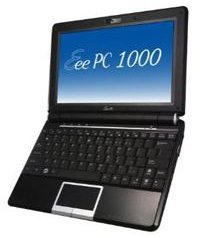 On the storage front, the ASUS Eee PC 1000 40G comes with 40GB of solid-state capacity. This configuration is also equipped with a Xandros-based Linux install. This system ditches solid-state storage in favor of an 80GB mechanical hard drive, and Asus throws in a copy of Windows XP for good measure. Furthermore, Asus offers 20GB of internet storage–space in the cloud--to users as well.
Over on the right-hand side of the Eee, users will find an SDHC slot that provides an easy path to bolstering the system's storage capacity. However, with 40GB of solid-state storage under the hood, the 40G isn't desperate for additional storage like the first Eee PCs. Also there is the 1000's VGA output and the remainder of the system's USB ports. These ports are capable of charging portable devices even if a system is turned off. The ports only get power if the Eee is plugged into a wall socket, so you can't charge on the move. But you won't have to worry about unwittingly draining your battery, either.
Connections and Slots (3 out of 5)
Around the left side of the system we can see headphone and microphone jacks, one of three USB ports, and an RJ45 Ethernet port that tops out at 100Mbps. Gigabit Ethernet would be nice, but for a netbook, the 40G's built-in 802.11n wireless connectivity is probably more important. I had no problems getting the Eee connected to a handful of different 802.11g networks in my area, although I don't currently have access to any n-capable hardware.
Complementing the new Eee's already impressive Wi-Fi component is Bluetooth 2.0 connectivity. This is a nice little extra to have, and something that isn't standard equipment on many full-size notebooks.
Prevents Overheating (3 out of 5)
The underside of the system has plenty of venting to keep internal components cool. The Eee can't get by with passive cooling alone, though. Asus equips the unit with a small fan that seems to be on just about all the time. I suspect this fan is charged more with cooling the chipset than the Atom processor; after all, Intel's Atom-based Mini-ITX board gets by with a tiny passive processor heatsink but requires active chipset cooling.
Fortunately, the Eee's fan is practically inaudible. Unless you're sitting in an absolutely silent room, you'll have to hold the system up to your ear to hear the fan's gentle whir. The air the fan exhausts from the left side of the system isn't much warmer than room temperature, either.
Power (3 out of 5)
The Eee PC 1000 is powered by a six-cell, 6600mAh Lithium Ion battery that feels like it makes up most of the system's total weight. Because of its position at the rear of the system, the battery makes the Eee a little back-heavy, almost like it's about to tip over if you open the screen too far. Tipping wasn't an issue in normal use on my desk or my lap, though. And speaking of my lap, after a four-hour writing session with the Eee PC perched on my thighs, I can happily report that the bottom of the system barely gets warm.
Asus claims that up to eight hours of run time can be squeezed from the 1000's battery, but that estimate may be a little ambitious. For the first battery life test, I loaded up Bright Hub over Wi-Fi and let the system sit, ensuring that its screen didn't power down. The system was left in its standard on-battery config, which drops the screen brightness by what looks to be about 10%. Just about six hours later, the battery finally gave up. The next test probed video playback, looping an hour's worth of standard-definition DivX video. The Eee handled this task with ease, managing fluid playback for nearly five-and-a-half hours
Conclusions
The ASUS Eee PC 1000 offers a mix of power and portability. It's an average rated netbook, but it is worth a look at when comparing others like it. Overall, users find it easy to use. It contains the needed software and high speed wireless connection (as well as bluetooth connectivity) that users look for too. The price is not too bad for a portable netbook, especially when it comes available with Windows XP and Linux OS.
Image credit: Mini-Laptops-and-Notebooks.com
References Section
ASUS Eee PC 1000: https://www.linux-netbook.com/asus-eee-pc-1000
Asus Eee PC 1000 Review: https://computers.toptenreviews.com/netbooks/asus/asus-eee-pc-1000-reviews-23543.htm
This post is part of the series: A Review of the Slim and Shiny ASUS Eee PC 1000 Netbook
This review will take a close look at the stunning ASUS Eee PC 1000, which, has been on my mind since I first heard about it. The Eee PC 1000 has a 10-inch LCD display which makes it one of the largest displays in the ultra-portable class.