Logitech Wave Keyboard Review - The Best Keyboard for Writers?
Upgrading Your Keyboard
It's funny how attached you can get to a keyboard. As a writer I use my keyboard every day for hours on end. I need something durable and comfortable. For a long time I had a cheap basic keyboard from Ideal which arrived with my old computer. It was a flat rectangular layout, the keys were worn away and there were a few burn marks from the days before I gave up smoking. When I upgraded my PC I kept the keyboard, not because I liked it or it had any special features but because I was so used to writing on it that everything else felt unnatural.
The time came when, with aching wrists, I decided to upgrade. At first I tried out one of those split design keyboards but no matter how hard I tried I could not get into writing on it. I decided to research popular keyboards for writers. In looking for the best keyboard for writing I came across several recommendations, once of which was for the Logitech Wave. This Logitech Wave keyboard review takes an in-depth look at Logitech's mainstream keyboard.
Aesthetics (4 out of 5)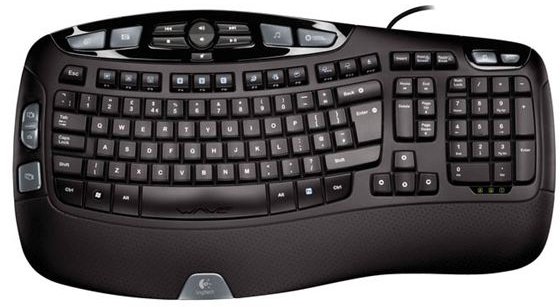 In terms of looks the Logitech Wave is fairly attractive with its gently undulating keys and generous curves. There is no denying this is a fairly sizable beast though and if you don't have a decent amount of desk space you might find this keyboard a little too large. It is nearly 20 inches wide and just over 10 inches deep. It has three height positions so you can find the one most comfortable for you.
The keys are arranged in a wave pattern which corresponds to your finger length and the padded vinyl wrist rest is built in. There are plenty of extra keys arranged around the QWERTY set up and the body is a mixture of matt black and shiny black with a few gray keys and a gray Logitech logo at the bottom. The word Wave is carved into the Space Bar. Everything is clearly labeled and there are a couple of light up indicators to show when Num Lock and Caps Lock are on.
It isn't the most attractive keyboard in the world, that would have to be the Logitech diNovo Edge, but it sure beats my old battered keyboard and there's a lot more to the Logitech Wave than looks.
Tactile Feel (5 out of 5)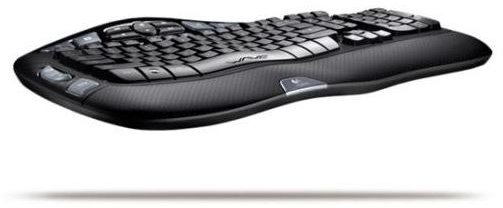 This may be the most important factor when it comes to buying a new keyboard. It is vital that the keyboard you choose feels right. You want a satisfying tactile experience which makes typing at speed easy and unencumbered. The problem is it can be very tough to judge the feel of a keyboard until you have tried it out for a decent test period. A quick spin around the block doesn't tell you enough. You need at least a few days to decide whether you like it or not.
The Logitech Wave is very comfortable to use. The clever undulating key design places keys at different heights according to the length of your fingers. The keys that are further away are higher so you never have to reach too far to hit them. It is very easy to type quickly with minimal mistakes. The vinyl wrist rest is also a welcome addition and I found that after using the Logitech Wave for around two weeks some wrist pain I had started to fear was permanent, simply evaporated.
Features (4 out of 5)
So what about the actual features? Well there are a few nifty and convenient extras. In the top right there's a power button and a calculator shortcut key. Along the top you've got media controls and shortcuts like a music button which brings up iTunes and a photos button which gives access to My Pictures. On the left there is a nifty zoom control that lets you zoom into images, documents or web pages. You can also hit the Fn key down at the bottom right to access more Function Keys. These can all be configured in Logitech's Set Point software which comes with the keyboard.
The software may annoy some people. It is easy enough to use but it does add another process to your PC and it will want to update itself from time to time. One feature I particularly like is the screen prompts that accompany things like Caps Lock, as they alert you to any accidental key presses immediately. The Logitech Wave keyboard plugs in via USB.
Usability (5 out of 5)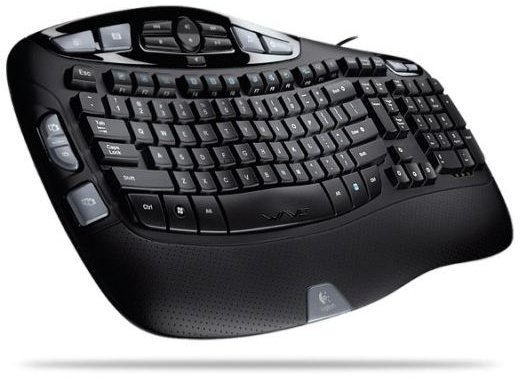 This is by far the most comfortable keyboard I have ever used. It felt odd for the first couple of hours but quickly became comfortable and after a couple of weeks my typing speed was increased. I now find flat rectangular keyboards very uncomfortable to use. The shortcut keys on the Logitech Wave are handy and I do use the calculator shortcut and the zoom function quite a lot. The Function keys are great for gaming and fully programmable.
This is very much a writing keyboard but I don't find any problem using it for gaming as well. I still play first-person shooters fairly frequently and the Logitech Wave serves me well. If you want something principally for gaming there are better options out there, check out Top Ten Gaming Keyboards for more on that topic.
Overall (5 out of 5)
As I've outlined in my Logitech Wave keyboard review, the Logitech Wave is a solid, reasonably attractive keyboard. The real selling point is the tactile comfort when typing. It is easy on the fingers and wrists and it feels satisfying to type on. The key presses register but you don't need a heavy touch. Combine that with an excellent price which offers terrific value for money and the Logitech Wave keyboard is a great product. You can buy the corded variety on Amazon for $39.99. There is a wireless version as well. It may not be the future of keyboards but if you are a prolific writer I highly recommend you try this keyboard out.