The Steel Series 7G Mechanical Gaming Keyboard Could Be the Best Gaming Keyboard
Chic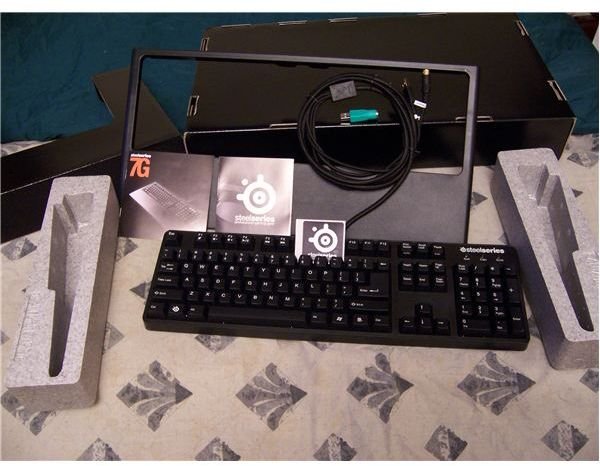 Insanely high quality and durability
Luxurious tactile experience
"Clickless" keys are fast and accurate
Understated, solid, yet upscale appearance perfect at LAN parties or in the office
Super low-latency
Absurd number of simultaneous keypresses
Weak
Pricey at $149.99 USD MSRP

No extra programmable keys

Included PS/2 to USB adapter not gold, and is mouse green not keyboard purple

Latency and simultaneous keypress features are overkill in practical terms
The Perfect Keyboard, But Not Necessarily for Gaming (4 out of 5)
As much as this is the most comfortable, accurate, and fastest keyboard, I have ever used, I can't recommend it without reservation to the average gamer. Programmable buttons and accompanying software are critical features of a keyboard for most gamers, and spending twice as much on a keyboard that doesn't have them is just not a good option. Even if it is, in every other measure, the best keyboard out there and worth every penny, it isn't worth every penny to someone who doesn't already have a high end computer and programmable keys.
That's not to say it is not great for some gamers. Some purists don't believe in using even mapped hot-keys, let alone macros. Some gamers don't bother setting up extra keys but still want an awesome, durable keyboard and can afford the premium. Also, if you happen to own a Fang from Ideazon (which SteelSeries owns), you have a nice wasd pad and a few dozen programmable keys in a highly ergonomic semi-circle, but need a keyboard for mundane typing duty (even if it is just the chat window). Using the Fang and 7G has been something of a best of both worlds setup. All the programmability I could want on the Fang, and the best typing tool I could want with the 7G. This is only going to work if you have the extra 8 inches (5 if you figure the 7G is narrower than a normal gaming board) of desk space and fifty bucks for the Fang, though.
But It Is a Great Typing Keyboard (5 out of 5)
The best I have ever used. As a Hardware Writer and Editor, when I am not playing, I am typing, and I am completely thrilled with the 7G. It oozes quality in look and feel, and using it is a delight. Also, the lack of features that will keep away many gamers leaves the 7G with a solid, clean, classy, appearance that won't leave your clients wondering if you will boot up Warcraft as soon they vacate your office.
If you spend all day typing or have a good looking office and need a keyboard to match, you can't beat the SteelSeries 7G.
SteelSeries' product info site is here.
Newegg has the 7G for $131.99.
This post is part of the series: SteelSeries 7G Keyboard: You Get What You Pay For
Some tools offer all kinds of features to simplify the tasks faced by their users. Some just do what they are supposed to do so well that they are a joy to use, and are built so well that they will be a joy to use for years to come.