We discuss the keyboard's aesthetics below, and following articles cover Build Quailty, Feel, and Features, in that order, before we wrap things up.
Looks (5 out of 5)
While other gaming keyboards can immediately be identified by backlighting, extra buttons, and in some cases, graphics and colours, SteelSeries dressed the 7G in minimalist black, with white key lettering, logo, and lights. Where your typical gaming product looks like a tuner Acura with all kinds of decals and lights, the 7G is a Mercedes sports coupe. You can take it to the office and go straight to the track after.
This isn't just a gaming keyboard; if you want a high quality keyboard for business reasons, the 7G will look the part in a well decorated office more than a ho-hum keyboard. Don't spend thousands on a desk to impress clients and cheap out when it comes to the keyboard that sits on it. The solid look of this thing gives the impression that you are ready to work through an earthquake or military coup.
The lack of macro buttons may be an inconvenience to gamers, but it keeps the keyboard's appearance on the stealth side and prevents an out of control foot print.
Blinded by the Light
The one of a kind white lights for Num, Caps, and Scroll Lock, carry through on the understated black and white theme. Hit any one of those buttons, and the light (in the traditional location for these lights) shines; and I mean shines. It looks great from the user's perspective because of how they are angled, but it could be distracting if used with a predominantly dark screen in a dark room. The lights are bright enough to be very distracting if you are standing over the keyboard while firing off a quick IM or something.
That's Some Nice Plastic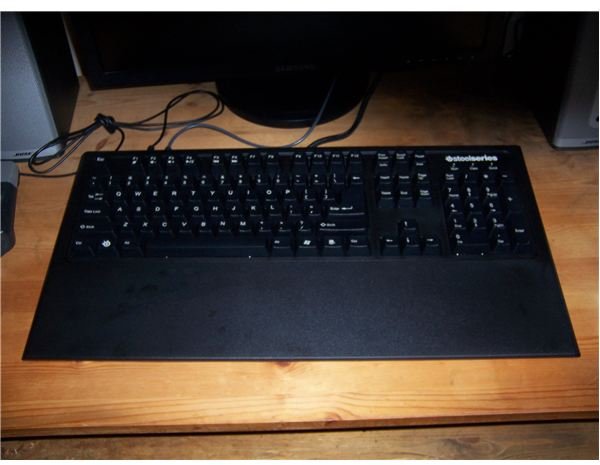 The plastic ("iron-infused plastic" according to SteelSeries) looks good, and won't hold finger prints. The large, simple, wedge of a wrist rest keeps up the smooth, minimalist look. It matches the angle, colour and feel of the keyboard perfectly, so the keyboard/wrist rest combo looks like one big, solid, pleasing shape.
Indeed they are not: the wrist rest is a rectangle that fits over the keyboard. It would be nice if they were attached somehow other than gravity, but since you usually push down on a wrist rest, and use them on earth, it works out fine.
Speaking of things that work, looking good is no substitute for being good, even if perfect fit and finish are a good indicator. The 7G is built like a tank, which we discuss in the next article.
This post is part of the series: SteelSeries 7G Keyboard: You Get What You Pay For
Some tools offer all kinds of features to simplify the tasks faced by their users. Some just do what they are supposed to do so well that they are a joy to use, and are built so well that they will be a joy to use for years to come.