Brother MFC9460CDN / MFC9560CDW Printer Review
Introduction
Printers have come a long way for home and home office users in the last decade. Laser printers in particular continue to replace inkjet printers at a fast pace due largely to the high prices of inkjet cartridges, increases in color laser quality, and the introduction of low-priced color laser printers in the price range of home users.
Brother is a company known well for quality and reliability when it comes to the printing needs of homes and home offices. Two of the company's newest color laser printers, the MFC9460CDN (MSRP of US$599.99) and MFC9560CDW (MSRP of US$649.99), fit the bill for reliable, feature-rich, all-in-one color laser printers that deliver good print quality at a reasonable price. This review covers both printers since they ship with largely the same features. However, potential buyers should be aware of a few key differences. Read on to find out if the MFC9460CDN or MFC9560CDW should be your next home or home office printer.
Printer Features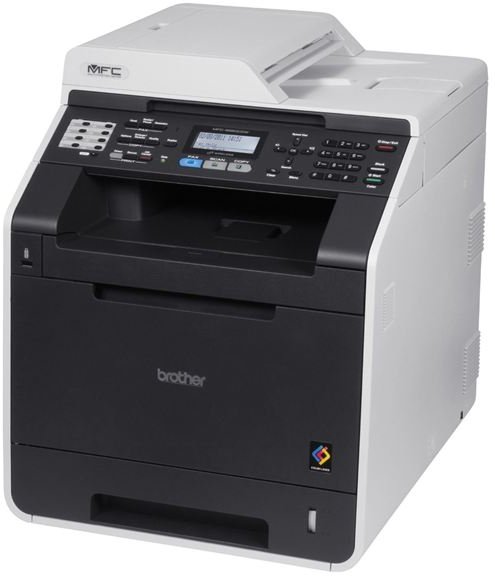 The MFC9460CDN and MFC9560CDW share so many features in common that they are almost the same printer. Both feature color laser technology and have print resolutions of up to 2400 x 600dpi. They print at speeds of 25 pages per minute (ppm) for both black & white and color. Each features a 300-sheet input capacity and both are capable of duplex printing.
Both printers have basic fax capabilities via a standard, built-in 33.6k bps modem. One great feature is the ability to fax directly from the PC. Each has a 500-page fax memory but neither printer has a built-in handset.
Both the MFC9460CDN and MFC9560CDW operate as stand-alone copiers for both black & white and color copies. Both feature a 35-page maximum automatic document feeder. This feature is amazing for printers in their size and price range. Even more impressive are these printers' ability to reduce and enlarge copies from 25% to 400%.
The MFC9460CDN and MFC9560CDW feature interpolated scanning at 19,200 x 19,200dpi and optical scanning at 1,200 x 2,400dpi. The color scan bit depth for both printers is 48-bit. Neither printer sports PhotoCapture technology but both are compatible with Windows and Mac OS platforms.
Differences between the MFC9460CDN and MFC9560CDW
Despite the number of features these printer share, there are a few differences that just may make a difference when choosing one or the other. The MFC9460CDN comes standard with 128MB of memory while the MFC9560CDW ships with 256MB. This difference is minimal since a new memory module can be installed in either.
Both printers feature USB interfaces for local printer connection but it is in the networking features where the printers differ. While the MFC9460CDN features wired 10/100 Base-TX Ethernet networking, the MFC9560CDW features both built-in 802.11b/g (Wi-Fi) wireless networking in addition to wired Ethernet.
Unlike the MFC9460CDN, the MFC9560CDW features duplex copying, scanning, and faxing. Unless you have a real need for these features, it is hard to justify the higher price for the MFC9560CDW. It is the networking features that really make the higher-priced printer stand out.
Continue on to page 2 to learn about print quality, print speed, and interface.
Print Quality (4 out of 5)
Although the MFC9460CDN and MFC9560CDW both sport some impressive features for all-in-one printers, the print quality really matters. That's the feature most used by home and home office users. Luckily, both printers are capable of some impressive printing.
Although higher-priced color laser printers can print at a higher quality, both the MFC9460CDN and MFC9560CDW produce excellent color, texture, and durability on standard copy paper. The quality only increases on thicker, brighter paper. For these printers, invest in some thicker (22-24 lb) and brighter (98-100) paper to get the best results.
Print Speed (3 out of 5)
As stated on page one of this review, both printers print at 25 ppm for both black & white and color. Sometimes, printer manufacturers get a little overzealous with their reporting of such figures. Luckily, Brother got this one right. The printers truly print near this speed.
If you print out large volumes of pages, you know that nothing is worse than waiting around for your pages to come out of your printer. At 25 ppm, the MFC9460CDN and MFC9560CDW are fast but not that fast. Other printers are faster so look elsewhere if a fast print speed is essential to your workflow.
Interface (4 out of 5)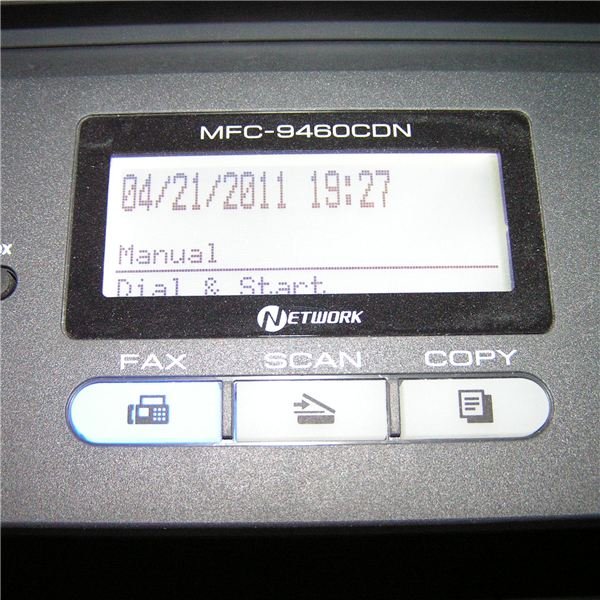 These printers' four main features (print, fax, scan, copy) are largely accessible from the front panel. A USB port lets you print directly from a USB flash drive or digital camera. Faxing, scanning, and copying are accessible from the printers' three main buttons.
Although both printers feature a backlit LCD display, the interface does require you to cycle through menus to get to the features you want. The MFC9460CDN and MFC9560CDW both operate as standalone faxes, scanners, and copiers but it is best to use the controls included in the software to get the most from these features.
Features that would have been nice on these printers include a larger LCD screen and an interface that didn't use nested menu options. Still, those features would have increased the price for both printers and may have pushed the price out of the range most home and home office users were willing to pay.
Software and Drivers (5 out of 5)
Where the MFC9460CDN and MFC9560CDW really shine is in the software that ships with these printers. The ControlCenter4 is an application that runs inconspicuously in your Windows task tray until you need it. The application's three main tabs (Scan, PC-Copy, and PC-Fax) offer you instant access to these features.
The best part about ControlCenter4 is that each of these tabs breaks down the features into quick access buttons. For example, the Scan tab contains four buttons: Image, OCR, E-mail, and file allowing you to choose how the scan will be used.
Each of the buttons on the tabs is customizable so you can set the default settings for each. This is especially useful when you do the same tasks repeatedly; you can setup your default settings and scan, copy, and fax more quickly.
Continue on to page 3 to learn about cost of replacement toner, and the overall experience.
Cost of Replacement Toner (4 out of 5)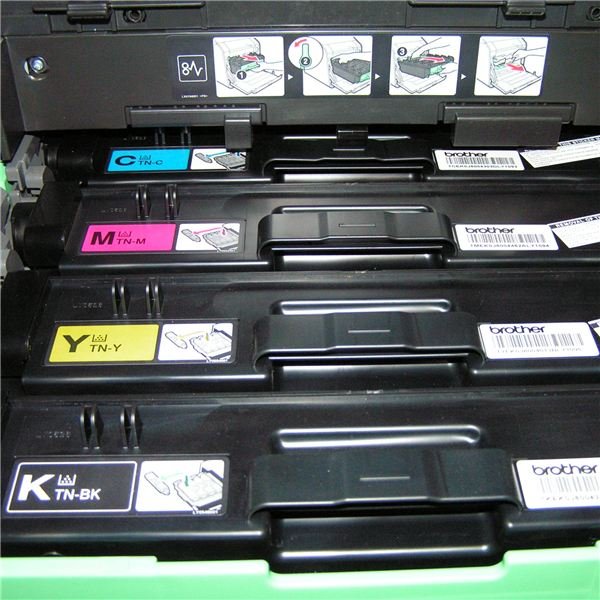 Like many color laser printers, the MFC9460CDN and MFC9560CDW use four toner cartridges (black, cyan, magenta, and yellow). The toner cartridges are partially responsible for these printers' size and weight. At nearly 60 lbs., make sure these printers are on a solid foundation so kids and pets don't cause an accident.
Toner cartridges for these printers are available in two sizes, standard yield and high yield. The standard yield cartridges are good for 2,500 pages black and 1,500 pages color. The high yield cartridges are good for 6,000 pages black and 3,500 pages color. Although the better deals on a per page basis are the high yield cartridges, it is nice to know that a lower cost option exists in case your budget doesn't include money to invest in long-term toner needs.
Overall Experience (5 out of 5)
Every printer ships with a set of features that either does or doesn't fit into the user's workflow. Although the MFC9460CDN and MFC9560CDW did not receive the highest scores possible for all features covered in this review, these printers are amazing machines when viewed as a complete package.
The duplex feature on these all-in-ones is amazing if you are accustomed to lesser printers that require manual duplexing to print on both sides of the paper. The automatic document feeder is equally amazing for a home office printer in this price range. Even the 300-sheet capacity paper tray is a welcomed feature for users who print out large stacks of documents.
From a complete package point of view, the MFC9460CDN and MFC9560CDW are well worth the money when investing in a reliable all-in-one printer. Of course, these machines may be too much printer for some home and home office users. However, if you have need for more advanced features, investment in one or the other is an excellent alternative to leasing used equipment and having to pay for a service contract.
Final Verdict
Both the MFC9460CDN and MFC9560CDW printers are excellent choices when looking for a color laser all-in-one that does more than the average printer in that category. The MFC9460CDN is a solid and reliable printer that is surprisingly low priced given its features. The MFC9560CDW is the choice, however, when you want to push a printer's features to the limits. Its scan, fax, copy duplexing feature and built-in Wi-Fi wireless networking are worth the price increase if you need those features.
On a final note, both printers ship with standard yield black and color toner cartridges. One problem with lower-priced printers (from Brother and other companies) is that they ship with so-called starter toner, which is usually good for a few hundred or so printouts. If you buy a lesser printer, you will likely very shortly have to invest a couple to a few hundred dollars in toner. Why not instead invest the money in a MFC9460CDN or MFC9560CDW? You'll come out about even and get to enjoy all the extra features as well.
References
Technical Specifications: https://www.brother-usa.com/MFC/ModelDetail.aspx?ProductID=MFC9460CDN
Image 1: https://www.brother-usa.com/MFC/ModelDetail.aspx?ProductID=MFC9460CDN
Images 2 and 3: Taken by author