HP Netbook Reviews - The HP EliteBook 2540p 12.1" Business Class Ruggedized Netbook with Notebook Performance
HP EliteBook 2540p
The HP EliteBook 2540p is a rugged business class notebook computer that is closer to netbook size but with far superior hardware. It features a sleek design, impressive performance, and all comes in a compact size that makes it perfect for travel. As of this writing, HP offers this PC in three main configurations for prices starting at $1099 on up to $1699 depending on which features are installed. The model reviewed here retails for approximately $1199. Read on for more detailed information in this HP EliteBook 2540p review.
Features (5 out of 5)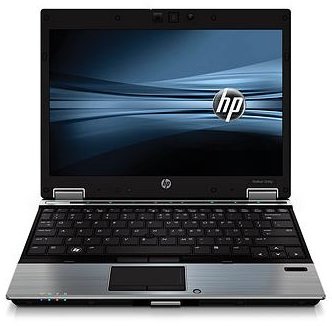 HP equips the EliteBook 2540p series with either an Intel Core i5 or i7 processor, the fastest being the i7-640M. The model I reviewed sports the Intel Core i5-540M 2.53GHz processor and 2 GB of RAM, though only 1.86 are usable by the operating system with the rest devoted to the Intel graphics chipset for video memory. This machine is running Windows 7 64-bit and can support up to 8 GB of 1333 MHz DDR3 SDRAM.
There are a lot of drive options on this ruggedized business netbook, including 80 and 160 GB optional SSD (solid state drive) support. You can get a 250, 320, or 500 GB Smart SATA II hard drive running at 7200 rpm. For lower power consumption, you can opt for a 160, 250, or 320 GB Smart SATA II hard drive running at 5400 rpm.
HP put nearly as many ports on this notebook as they do on a desktop computer. It features 3 USB ports with two in back and one on the side. This particular model features both an RJ-45 and RJ-11 connector. Internal modems are not commonly found on laptops these days, but there are still plenty of applications where they may be necessary.
The EliteBook 2540p that I evaluated did not include an optical drive, but instead there is an extra USB port on a panel in the slot where the drive would normally be found. There is also an SD card slot on the side for easy access to memory cards from devices like digital cameras or cell phones.
(Image source: HP.com)
Multimedia Capability (4 out of 5)
The 12.1 inch WXGA LED screen is just the right size being not too large for travel nor too small for practical usability. It runs at a native resolution of 1280 x 800 and at that size the fonts are all very sharp yet easy on the eyes. It has the capability of showing levels of brightness that allow it to work outdoors. For video output, it has both a DisplayPort and VGA connector so you can easily connect this machine to an external monitor, HDTV, or projector.
The DisplayPort connection can support up to 2560 x 1600 output, which is actually higher than full HD, which is 1920 x 1080. The VGA port can support up to 2048 x 1536, so you certainly won't be limited if you want to connect this laptop to an external display. Because there was no optical drive on this review model, I was not able to test DVD performance although I did try some full screen video content on Netflix and it looked just fine. I also played a compressed DixV video in full screen mode and it was very smooth without any choppiness or frame loss.
PassMark rated the graphics capability very high for image rendering, fonts and text, and the Windows interface, but not so well for complex 3D animations. In other words, this is not much of a gaming computer.
Design (5 out of 5)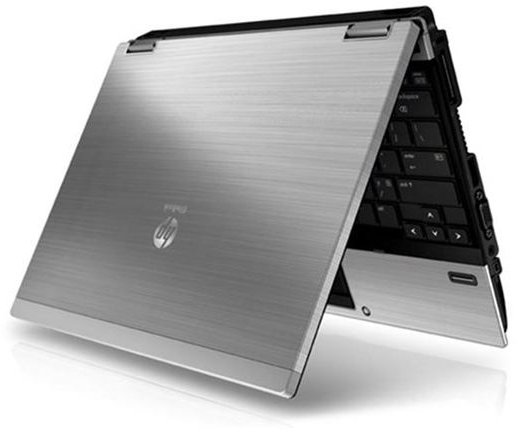 The HP EliteBook 2540p is impressive before you ever turn it on thanks to its metallic design. It is housed in a magnesium alloy casing and meets the rigorous military standards for withstanding various environmental conditions as well as strong shock absorption. This model notebook is comparable to Panasonic's line of Toughbook computers, but is not nearly as expensive.
I thought the metal casing felt really nice to the touch. On most notebook computers you will have a plastic front piece where people tend to rest their palms while typing. On this EliteBook, that part is covered in metal and it feels better than plastic. It is so smooth that it cleans very easily, plus it simply looks good.
Because there is so much hardware packed into this small case, you can expect quite a lot of heat from the underside of the case. The heat exhaust port is on the rear right side of the notebook, and the air the seeps from it is quite hot.
When the lid is closed, a somewhat large pin snaps into place to hold the screen down and a large button on the front of the PC is used to release it. This mechanism will hold the screen down tight and help it not to spring open during travel. If that's not enough, according to HP this rugged business notebook can withstand up to 300 pounds of pressure while it is closed.
Performance (5 out of 5)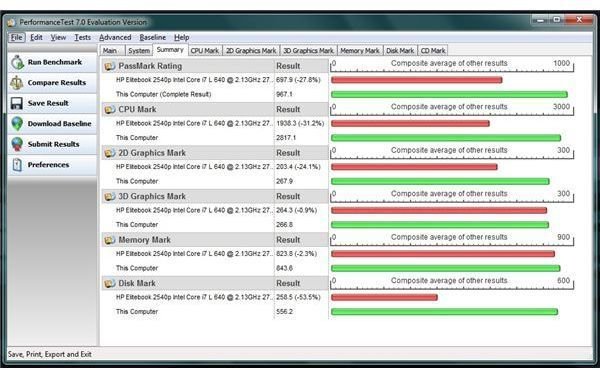 The combination of a fast processor, adequate RAM, and a higher speed hard drive make this a very responsive machine. Once it is fully booted, Internet Explorer opens and closes in a second, and other applications like the Control Panel all respond instantly. As for hard drive performance, Windows Defender was able to complete a full hard drive scan (31 GB total) in just under 30 minutes.
Passmark benchmarking, when compared with their database, ranked this computer higher in nearly every performance category when compared to a similar model EliteBook 2540p with the more expensive Intel Core i7 L640 processor and more RAM, but using Windows 7 32-bit instead of 64-bit. For a complete comparison, see the benchmark test results in the image to the right.
Overall (5 out of 5)
Overall, the HP Elitebook 2540p is a powerful ruggedized business class notebook PC that performs just as well as its larger size counterparts. At just 3.38 pounds, this would make an excellent addition to any business traveller's tools.
Pros:
Excellent hardware specs
Lots of customization options when ordering from HP
Ruggedized
Good value given rugged and performance specs.
Cons
Gets very hot underneath
Weak chipset integrated graphics
No HDMI output (just DisplayPort)