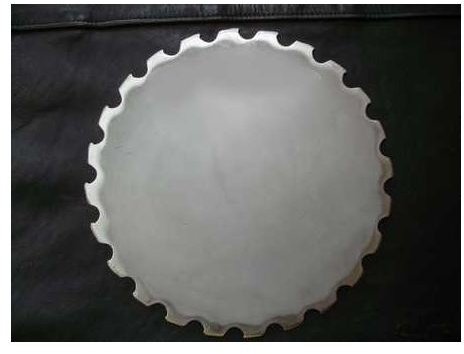 Fancy Mouse Pad Options
The truth is that most people don't even need a mouse pad anymore. Sure, the folks that make mouse pads insist that dust on the desktop shortens the lifespan of your mouse, but how long does the average mouse last anyway? The mouse drivers will be out of date before dust ruins your mouse.
The only people who really need a mouse pad are certain freelance writers who symbolized their break with corporate America by shunning any desk made of oak, mahogany, plywood, Formica, or cubicle walls turned sideways, by configuring their home office with a brushed metal desk with a glass desktop. (Ahem!) For us – I mean them :) – mouse pads are a necessity.
Be that as it may, there is still something about mouse pads that is comforting. Whether it's making the mouse's location seem more tangible, or some carpal tunnel thing, more people have a mouse pad on their desk than do not. If you're going to have a mouse pad, it might as well be a fancy mouse pad.
There are a lot of ways to go if you are interested in buying a fancy mouse pad. Some mouse pads are made out of fancy materials; other mouse pads have fancy graphics or designs. Some unique mouse pads are fancy just because no one else has ever seen the likes of them.
How do you find a fancy mouse pad? Well, the first thing you do is stop trying to put your dog's picture or a photo of your kids on a mouse pad. That WAS fancy… when Bill Clinton was still President.
Unique Mouse Pad Materials
Sometimes, being fancy is as easy as being made out of something original. Some writers think desks made out of glass are cool just because most desks are made of some wood or wood-like substance, for example.
When it comes to mouse pads, nothing says plain like foam rubber covered with fabric. It doesn't matter if it's a pink mouse pad, or if it says Employee of the Month 2004, it's just a thin hunk of rubber. Think that there's nothing else mouse pads can be made out of? Tell that to Greensforged Cirque du Pwnage's face!
The Cirque du Pwnage mouse pad is made of steel, just like tanks and battleships and circular saw blades. Speaking of which, the Cirque is shaped like a circular saw blade! Your cubemate's little square of foam rubber just wet itself and hid behind the printer.
If a nine-inch saw blade is too subtle for your tastes, you can always get the Hugepad instead. It's a 8.5" x 11" hunk of steel. It weighs 4 pounds! No manager will ever slide this thing over to the side so they can sit on your desk while saying you have to work this weekend.
Of course, fancy mouse pads should be custom made. Don't worry, Greensforged mouse pads come with custom engraving so that you can say a little more with your steel mouse pad.
Of course, not everyone likes steel. No problem, Greensforged mouse pads come in brass too.
Image courtesy of Greensforged.
Fancy Precision Mouse Pads
While it's true that most users can get away without a mouse pad, there are those whose mouse movements are so precise that "good enough," isn't good enough. And, for gamers, every little twitch has to register. These high-end mouse users need a fancy mouse pad that makes you say, "Wow, that's a cool mouse pad."
The Wow!Pad mouse pad offers a cool graphic design that's just as functional as it is sharp. Its gradient grid design ensures that the tiniest of movements are fully registered by a modern laser mouse or any optical mouse. On top of that, it's thin, really thin, and the backing almost suctions down to the desk keeping it in place.
Oh, yeah. It's big. It's even bigger than the huge pad. You can scroll all day across the screen of your first person shooter or graphic design program before you drop off the edge of this mouse pad.
Fancy Ergonomic Mouse Pads
If you want a fancy mouse pad without going "hardcore" look no further than the HandStands Memory Foam Ergo-mat. It's not made of metal, and it doesn't boast enormous size and precision. What it does offer is a fancy ergonomic mouse pad shape.
If that weren't enough, it's made of memory foam, just like those overpriced beds on TV! Only this is way cheaper, and it might help keep you from getting carpal tunnel syndrome. Or, it just might make your mouse hand feel really comfortable. Either way, it's a luxury mouse pad for sure.
Best Fancy Mouse Pads
No matter which way you decide to go, these fancy mouse pads offer the best in luxury, comfort, precision, or style.
Now all you need is a fancy wireless laser mouse that deserves to be on one of them.