Microsoft 5000 Wireless Laser Mouse Review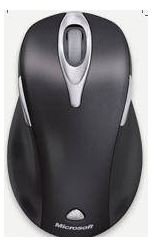 Microsoft Wireless Laser Mouse 5000 (4 out of 5)
The Microsoft Wireless Laser Mouse 5000 is a good all-around cordless mouse for most desktop users. The Laser Mouse 5000 features many of the standard features found in most wireless mice today. If offers precise movement and smooth pointer tracking thanks to Microsoft's "High Definition Laser" technology, a scroll wheel, and battery saving technology that keeps the mouse responsive at all times without constantly transmitting when not in use.
The Wireless 5000 Laser Mouse has some additional features that make it very handy for a wide variety of users. Like many computer mouse devices these days, the 5000 has an ambidextrous design. That means that not only is it usable by both left-handed and right-handed people, but also that you can switch to using your other hand if necessary, say when you have the phone to your ear, a pen in one hand, and just need to click a button to see that next report page!
Many mice, both wireless and wired mouse devices, provide the three-mouse buttons. The Laser 5000 wireless mouse is no exception. The left mouse button and right mouse button are symmetrical and easily depressed. The middle mouse button is the scrollwheel itself. The wheel can be clicked just like a regular mouse button.
The scroll wheel offers full four-way scrolling. Not only can you roll the wheel forward and back to scroll up and down, you can also press the wheel itself to the left or right to scroll in those directions as well. Many users find this useful in gaming, but it can also be a great asset when working with large images, or on a smaller monitor. In addition, for users who like having multiple windows open at a time, scrolling left and right keeps one from having to find the scrollbar at the bottom of the window just to catch those two or three words that seem to not fit on a half-screen sized window.
Four-way scrolling also comes in handy when using another Wireless 5000 Laser Mouse feature. The 5000 features a magnifier button that is easily pressed by the user's thumb. The ambidextrous design means that unlike many wireless mice with a zoom or magnify feature, there is a button on both sides of the mouse.
All 5 buttons on the Microsoft 5000 Wireless Laser Mouse can be customized to fit the user's needs.
Microsoft Wireless 5000 Laser Mouse Review
The features and functions of the Wireless Laser 5000 Mouse work smoothly. Button clicks are solid but effortless. The mouse click sound is not as loud or annoying as on some other Microsoft mice.
The mouse fits comfortably in the hand, even for long periods of time, and it tracks smoothly and easily across even large wide-screen monitors.
The 5000 Laser Mouse does lack some of the buttons and features offered on more complex computer mice. For example, while there is a zoom button, there is no zoom out button. There is also no search or volume control like some other mice have. However, for users who don't frequently require such features, it is actually nice to have a clean, simple, mouse uncluttered with buttons that are never used.
The one drawback to the 5000 Wireless Laser Mouse by Microsoft is that re-assigning button functions isn't as easy as it could be. Like many Microsoft mouse pointers, the 5000 uses the IntelliPoint driver software suite which can be a bit bloated if you just want the basic functionality of nothing but a Microsoft wireless mouse driver.
Overall, however, the Laser 5000 Wireless Mouse is a solid, well-performing mouse for any user that doesn't need a lot of buttons or reprogrammable functionality.