Logitech Comfort Wireless Ergonomic Keyboard Mouse Combo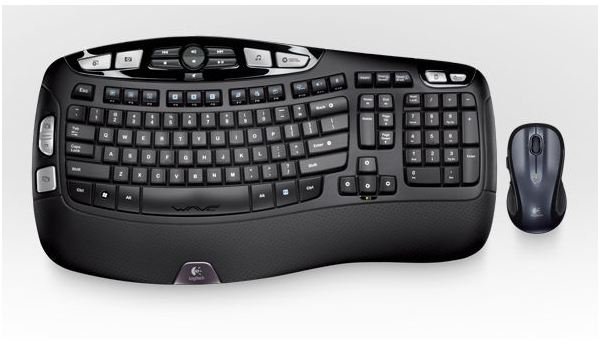 Logitech Comfort Wireless Ergonomic Keyboard Mouse Combo
Logitech's wireless keyboards are an industry standard. Businesses and companies use Logitech keyboards at the requirement of professional IT departments who don't want to troubleshoot keyboards all day long. That goes double for wireless keyboards with their receivers, drivers, and batteries. No one wants to spend their day finding wireless mouse drivers.
In addition, Logitech keyboards are comfortable to type on, have a solid feel to the keys for touch-typing, and come with a wide variety of extra keyboard keys and features that can help increase user productivity. These features and function keys can be configured to perform customized tasks, so if the user doesn't need a Voice Over IP dial key, it can be reconfigured to display a phone directory, contact list, or anything else that the user might need (mine has been re-programmed to launch Skype). Users who want to have access to all options to fully customize Logitech keyboards need Uberoptions keyboard setting utility.
The Logitech Cordless Desktop Comfort Laser keyboard-and-mouse combo is a user favorite. Keyboard reviews from a wide variety of computer shopping websites and Amazon.com frequently praise the comfort, functionality, and feel of the Logitech Cordless Comfort Laser keyboard and mouse. The split-key layout was said to keep the user's arms in better alignment with the shoulders and wrists during long typing stretches. Judging by the popularity of the Logitech wireless ergonomic keyboard, the company was on to something. Unfortunately, Logitech has discontinued split-key keyboard layout designs in favor of its new Comfort Wave keyboard and mouse products, and its intention that every keyboard be "ergonomic" no matter what is in the title.
Latest Logitech Wireless Ergonomic Keyboard and Mouse Combo With Comfort Wave
For buyers looking for a wireless ergonomic keyboard from Logitech, there is really only one option. This is not because Logitech does not make more ergonomically correct keyboards that allow for the proper alignment of your fingers, wrists, arms, and shoulders, but because, according to Logitech, all of their keyboards allow for the proper alignment.
If this seems odd after years of thinking that an ergonomic keyboard is one where the letter keys have been split apart and tilted outward, you aren't alone. Recent thinking in the realm of ergonomics has stopped blaming the keyboard for so much and started to look at the impact of things like keyboard height, keyboard placement, and even user error on ergonomics. The concept is that if you get the rest of your desk correct, you don't need an extreme keyboard layout to be ergonomically correct.
Logitech, however, understands that some companies, government agencies, and individual buyers will not be satisfied with anything less than a keyboard designated as the ergonomic keyboard. For Logitech, that role is filled by its Logitech Wave keyboards.
The Logitech Wireless Wave Combo MK550 is the company's current standard bearer in the world of wireless ergonomic keyboards. Instead of a space in the middle of the keys on the keyboard, the keys on the Logitech Wireless Comfort Wave Combo are both contoured toward the natural tendency of the fingers to reach further for outer keys and for the different lengths of fingers on the human hand. The result is proper finger alignment without an annoying gap between keys.
The wireless mouse is also contoured to fit the human hand without unusual or strained finger or wrist positioning, with or without a mouse wrist rest.
The best new feature of the Logitech cordless wave combo is it's long battery life. Logitech claims that its wireless keyboards can get up to three-years of battery life. That is so long that it's likely you'll only have to change them once, if ever, before a new keyboard comes your way.
As with other wireless combination kits, only a single USB receiver is required to use both the keyboard and the mouse without cords.
Comfortable Ergonomic Keyboards With The High Price or Wave Brand Name
Although Logitech puts plenty of marketing muscle behind its Comfort Wave technology brand name, don't think that just because a keyboard doesn't have the word, "wave," in its name that it doesn't have the same comfortable shape. The Logitech Wireless Keyboard K350 also has a three-year battery, and the comfort wave curve built-into the keyboard. It just doesn't say so in the name. The K350 Logitech wireless keyboard also does not come standard as a keyboard-and-mouse combination product, but with Logitech's unifying receiver, most current wireless Logitech mice can be paired with the wireless keyboard without having to use another USB slot for a mouse receiver.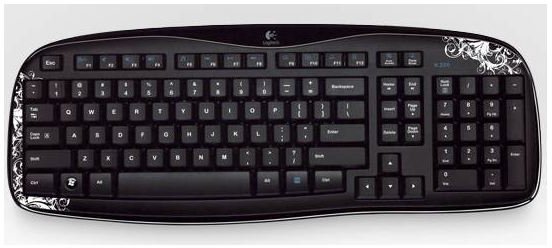 Likewise, the Logitech Wireless Keyboard K250 has the Logitech Unifying receiver allowing users to build their own custom wireless keyboard and mouse combo. For users that just want a regular wireless keyboard without a bunch of extra keys, the K250 offers a simple layout of letters and numbers without all the extra multi-media keys you'll find on the MK550 keyboard and mouse combo.
Fortunately, it's hard to go wrong these days with a Logitech wireless keyboard and mouse. Find the one that has the features, layout, and buttons that you need and buy it.
Image credit: Courtesy of Logitech.com