The Best Portable Printers for Notebook Computers - HP and Canon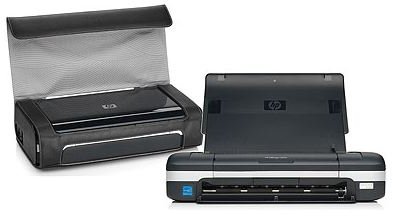 Portable Printers
It is impractical for notebook or netbook computer users to lug around a giant laser printer with them. Even most inkjet style printers can be large when so many include scanners and other features. For mobile computer users, a portable printer is something that can fit inside a laptop bag and still provide printing function without taking up too much space or adding a lot of weight. In this article, we'll look at some of the best portable printers for notebook computers and compare their features and prices.
HP Officejet H470 Mobile Printers
HP has long been one of the top brands of computer printers, and it should be no surprise that they make one of the best portable printers for notebook computers. Their OfficeJet H470 Mobile Printer series all feature wireless, Bluetooth printing, and USB connectivity options, plus they come with 32 megabytes of memory. They can print up to 22 ppm (pages per minute) in black and white at 1200 x 1200 dpi, and up to 18 ppm in color at 4800 optimized dpi. With all those features, it only weighs five pounds and measures approximately 13 x 7 x 3.
Prices for the HP OfficeJet H470 series range from $249.99 for the base model to $299.99 for one with a rechargeable battery supply, and $349.99 for the model with Bluetooth printer adapter support as well as a battery. Having the battery option is a nice feature for this model because it allows you to print without a power source and it helps to not pull down so much power from your laptop while printing. If you plan to do a lot of printing in the field, it would greatly help to spend the extra money to get the rechargeable battery option.
Canon PIXMA iP100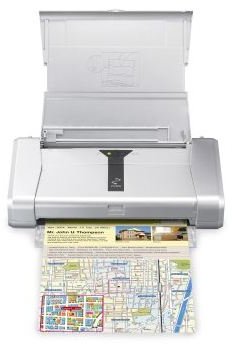 Another solid contender in the mobile printer market is the PIXMA iP100 from Canon, which is another longstanding brand for printers and other hardware components. The iP100 folds into a nice silver box, but opens to become a full fledged color inkjet printer capable of printing up to 20 ppm in black & white and up to 14 ppm in color. It supports USB, IrDA3, and Bluetooth connections, but no WiFi. This Canon printer only weighs 4.4 pounds and measures approximately 12.7 x 7.3 x 2.4, so it's a bit smaller than the HP H470. It is quite comparable as far as print quality and speed goes, plus it's a bit cheaper than the HP. Not having WiFi is not a big deal since you'll get better print speed with Bluetooth, provided that your notebook PC supports Bluetooth connectivity.
Canon currently lists the retail price for this printer at $249.99, though you can get them on Amazon.com for just $180, so shop around for the best price before you buy. An optional battery attachment is also available for @ $90-100.
For more information, read our detailed Canon PIXMA iP100 review.
(Image credits: Amazon.com)
Pentax/Brother PocketJet 3 Plus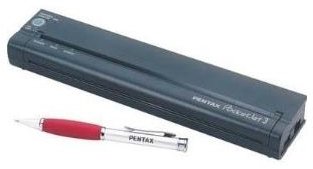 You will often see the PocketJet 3 Plus printer listed under the brands of either Pentax or Brother, but they are the same thing. The PocketJet 3 Plus mobile printer is an interesting model because it is a thermal printer and therefore does not require ink cartridges. While it is nice to not need ink replacement, which is always very expensive in the long run, the trade-off is that the thermal print quality isn't quite as good nor as fast. On the plus side, thermal printing doesn't smudge like ink does. It prints at 300 dpi, but only up to 3 pages per minute, so it's pretty slow. Bluetooth, USB, and IrDA connectivity is supported, but no WiFi.
This neat little printer weighs just a little more than a pound, and it measures roughly 10 x 1 x 2 inches in size. It's so small that most people probably won't even realize it is a printer at first glance. Prices for this model vary greatly, but normally start around $300. While the upfront cost may seem higher, keep in mind that you won't ever have to buy ink for this type of printer. The only downside is that thermal printer paper costs more than regular paper.
Most reviews of this printer are generally average, meaning that people aren't too impressed by the print quality or the lack of speed. It is not recommended for users who plan to do a lot of printing, but who may occasionally need to print something on the go, such as a customer receipt.
(Image credits: Amazon.com)
Mobile Printing Options
As you can see here, there are limited options for mobile printing and only a few manufacturers even make such options. Most portable printers you will find are specifically for photo printing, whereas these three models will print to full size paper. The reasons for the sparse selection come down to the practicality of carrying around a printer combined with the general push for 'green printing' and the desire to reduce unnecessary waste caused by printing. Perhaps you should consider going paperless to help cut down on expenses as well as the impact on the environment. If not, your three best choices are covered here.
For more information on printers, check out these articles and reviews from other BrightHub.com contributors: