Bright Hub Looks at the Best Laptop Bags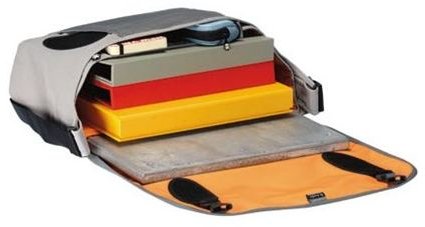 Which of the Many Laptop Bags is the Best for You?
To select the right laptop bag, you need to consider several factors.
How big is your laptop?

How often do you expect to be moving your laptop around?

Where are you likely to take it?

What else do you carry with you on a regular basis, to utilize the lap to to the extent you need?

Do you have physical constraints that need to be taken into account? Is the laptop going to be carried by a child or a small or slight person? Do you have back trouble?

Do you need a specialized case? Do you have a netbook?

Do you have a brand of laptop that you'd like to accentuate with your choice of cases? An Apple?

What is your preference for how you tote your laptop? Do you want an over the shoulder bag, like a messenger bag? A backpack? A briefcase? Or is your laptop large enough that a wheeled laptop bag is the best solution for you?

Do you want a utilitarian bag, or do you have a personal style that you'd like to have your laptop bag match?
Your answers will determine what sort of a laptop bag or case you should look for when you shop.
Crumpler Dreadful Embarrassment Laptop Bag product image
How Big Is Your Laptop?
The size of your laptop is going to determine the type of bag you look at, especially if you have one of the ultralarge laptops- greater than 17 inches.
Wheeled Laptop Bags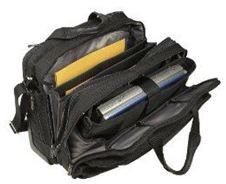 If you have a very large laptop, even if you do not move it around all that much, a wheeled laptop bag is probably your best choice. You will not have any strain on your neck or shoulders from the weight, which can be considerable, and you will not have to worry about it slipping and crashing to the floor, as it could in an over the shoulder bag. You will be able to use the handle of the bag to move it wherever you want.
Victorinox Architecture Rolling Laptop bag- product image
Backpacks
Alternatively, for a large size laptop, you could consider a backpack type wheeled laptop bag, if you are going to be traveling places with your laptop where it will be hard to wheel around. This offers you more choice than most, and the versatility does not even need to be expensive. While most wheeled laptop bags say they are for 17 inch or smaller, there are some that can comfortably hold a larger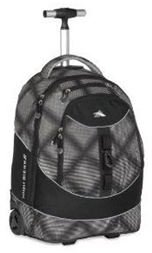 laptop.
There are a number of different laptop backpack styles, and they come in a range of prices These are all $100 or under. Laptop backpack bags also are easy to find in sizes that allow you to carry more than just your laptop. Another advantage of a backpack laptop bag is that it leaves your hands free, without any danger of a strap slipping off your shoulder and dropping your laptop to the floor.
There are also a number of laptop backpack bags which are not wheeled, and as a consequence, are a bit lighter. Many of them are built to hold much of the other paraphernalia that is needed for computers, and again, leave your hands free. There are types of laptop backpack bags that are roomy, sturdy, help keep you organized, and - look good. Carrying a heavy laptop and accessories around is easier when you have them on your back than in your arms.
High Sierra Fastforward Wheeled backpack product image
The Mac and the Laptop Bag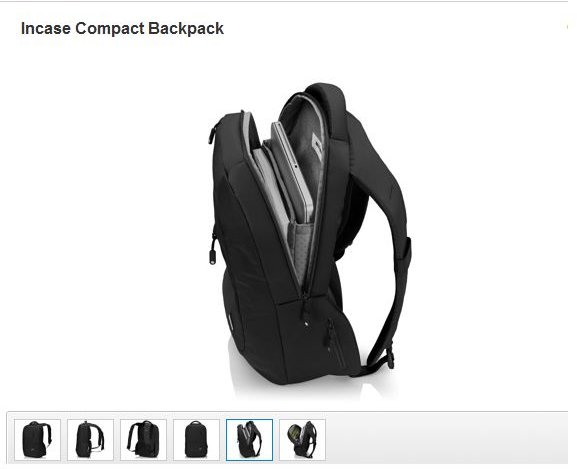 Laptops are made by different manufacturers, and each has its own peculiarities. If you own a Mac laptop, consider that the best type laptop bag for a Mac is one designed for a Mac. Mac bags also come in different types, with a sleeve designed for the Mac, or a laptop bag designed for a Mac. Incase makes a couple different laptop bags just for the Mac.
Incase compact backpack for Mac product image
Please click on Page 2 to learn more about laptop bags including carry frequency, size, use, and style.
How Often Do You Expect to Be Carrying Your Laptop?
Laptops, by nature, are portable, but that does not mean you will need to carry it around every day. If you need to travel occasionally, and your laptop is necessary on your trips, you may have other equipment you want to bring with it, especially if your normal computer is a desktop. If you have an external keyboard to make typing easier, a portable hard drive, cables, a laptop lock and more, then you will not want a sleeve that just fits snugly around the laptop.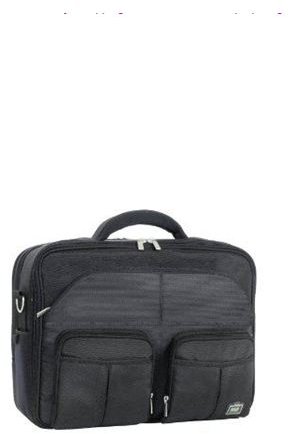 If you will be traveling by air, a laptop bag which can be opened easily to display to airport security is imperative. You want to move smoothly through the line, and you want to be able to show your laptop and yet be able to get it packed up again quickly. While bags that offer those features may not be cheap, they are worth making your traveling hassle free.
If you bring your laptop to class or work daily, a sturdy comfortable laptop bag is best. When you do this much traveling, you probably will not be toting an ultra-large around, and you probably also have streamlined the amount of equipment you find essential.
If you travel, but do not have to carry your laptop a long distance before you put it down, and do not have to worry about taking through an airport, a messenger style bag may be the best type of laptop bag for you. Some have extra pockets, some have other features. Even among messenger bags, there is variety, so check out the choices.
Skooba R101-101 Checkthrough Checkpoint Friendly Laptop bag product image
How Small Is Your Laptop?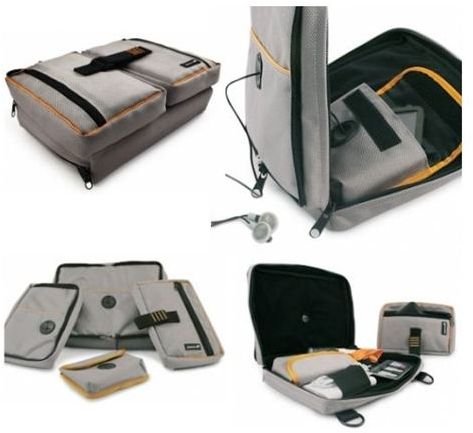 Do you have a netbook for your travel computer? Netbooks need to be held securely, so a bag that is too large is not a good idea. If you do have a large bag you put your netbook into, you should make sure the bag has a system to enclose the netbook snugly in padding.
Alternatively, you may decide that a sleeve to protect the netbook is the best laptop bag for you. In that case, you can slip the netbook in the sleeve into another bag. Netbooks inside sleeves can fit into a purse, a book bag, or a briefcase without adding too much bulk or weight.
Proporta Gadget Netbook bag - product image
Who Will Be Using This Laptop Bag?
The best type of laptop bag for you must be suited to the user's physical abilities as well. If you are getting a laptop bag for a child, you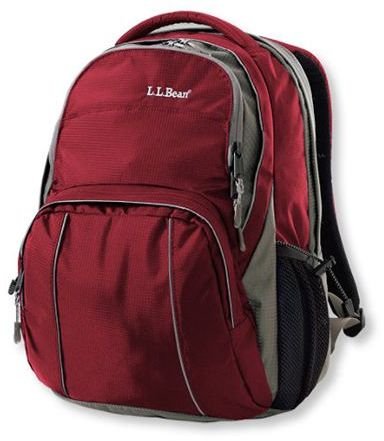 should be sure that the bag is ergonomically suitable to the user. You (or they) will be carting this laptop around, perhaps for several hours a day. You want a comfortable bag, and you want one that has adjustable straps to make it fit properly. Ergonomic bags for a child or young adult should fit well, and have padded straps. You also, for a child or young adult, need a tough bag. It should be padded, and it should stand up to getting shoved into a locker, set on the floor in the corner of a classroom, and sitting on a bus rack.
Quickload Day Pack backpack- LL Bean product image
Style and the Laptop Bag
Not all laptop bags are created equal. Some have features that make them stand out or look fashionable. One style which comes in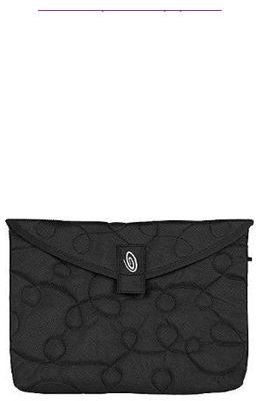 several types is the quilted laptop bag. Quilted laptop bags are available in shoulder, sleeve, and trolley styles.
Timbuk2 Curly-Q Quilted Laptop Sleeve product image
There are many types of laptop bags- for there are many types of laptops, and many people who use them for different purposes. We hope this look at the best of Bright Hub's articles on the top laptop bags helps you find the specific bag that will suit you best.