How to Perform an External Hard Drive File Recovery with Recover My Files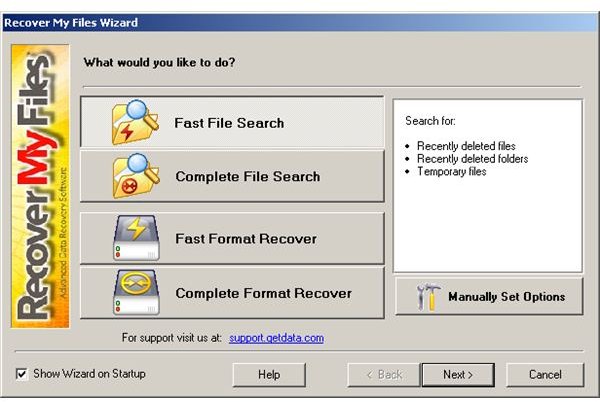 Data loss is common and so sometimes you'll need to use an external hard drive file recovery software package. A hard drive may get damaged due to various reasons. So, we have to be prepared to recover lost files. Otherwise there are chances that they will slip forever from your reach.
What to Do Before Recovering Data
There are several things you have to do before actually recovering data from your damaged external hard drive. First you have to identify the type of damage to your hard drive. It might be damage to a partition table or there may be bad sectors in your hard drive. Otherwise it might be a simple data deletion. If all the partitions in your external hard drive are displayed accurately, then the partition table might be ok in most cases. But, if there is a discrepancy of partitions, you have to first recover your partitions. Use this guide for learning about hard drive partition recovery.
If you experience an unusual behavior or decreased performance of the hard drive then, there might be bad sectors in your hard drive. You have to check your hard drive for bad sectors and errors in the file system. Use the Error checking tool or check disk command in your operating system for this. Then you are ready for the external hard drive file recovery process. Data recovery from a crashed external hard drive is not guaranteed but you can increase your chances of success with this guide.
Recovering Files from Your External Hard Drive
In this guide we use Recover My Files software for the recovery of deleted files. It is one of the leading and most popular software packages available on the internet for this. You can download the software from RecoverMyFiles.com and the cost for the standard Edition is $69.95.
Download the software, install it and run to start the recovery process.
Select Complete File Search from the Recovery My Files Wizard because, you are going to recover files that are deleted from your hard drive. So you don't need to think about formatted recovery options. Fast File Search is not effective to use. Click Next to Continue.
Software will analyze your hard drives including the external hard drive and display all the partitions it could find in your computer. Select your external hard drive by placing a check in front of the name of it. Usually it will be displayed as 2 Physical. Then, click Next.
Now you have to select the file types you want to recover. If you don't remember, then select all the file types displayed. Then you can make sure that you have recovered almost all the files from your external hard drive. Then click Start.
Then Recover My Files will search for deleted files and display the results. Select files you want to recover or select all the files by checking on the name of the drive of your external hard drive which is displayed on the left.
Now you are ready for external hard drive file recovery. Just click the Save Files icon or go to Recover menu and click Save Files. Then you have to browse and select a place to save your restored data. Select a folder and click Ok. Recover My Files will save your recovered files into the folder you selected.
Images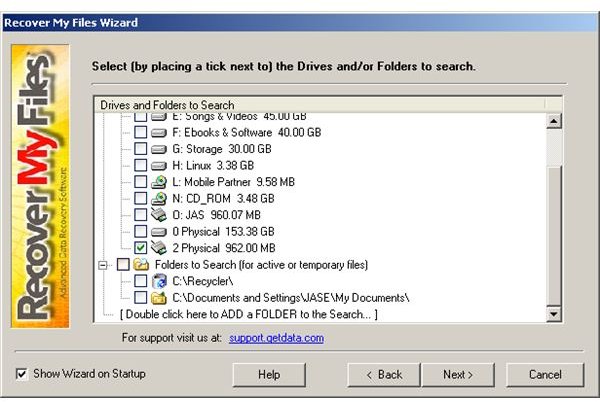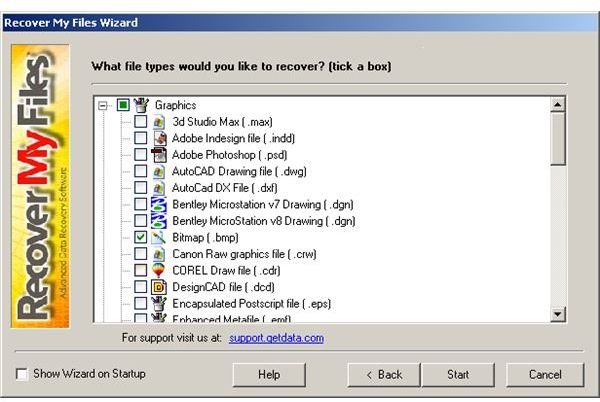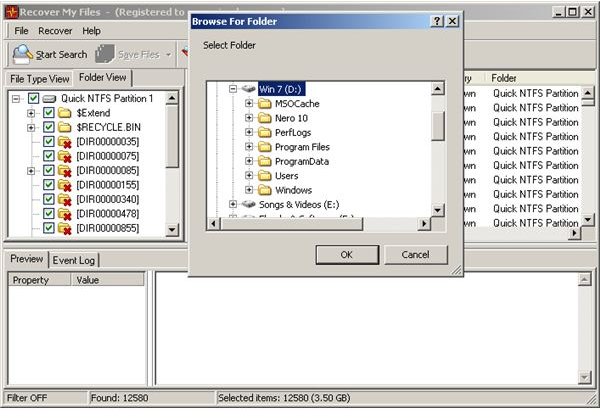 Using Recover My Files is very easy and even a novice PC user can easily get their data back with this handy tool. Also it is very quick to search for files. That's why for external hard drive file recovery, Recovery My Files is recommended by most people.
Related Links
This post is part of the series: External Hard Drive File Recovery
What can you do in a situation where an external hard drive file recovery is required? Here is a guide that shows you how to exactly recover your deleted data very easily.