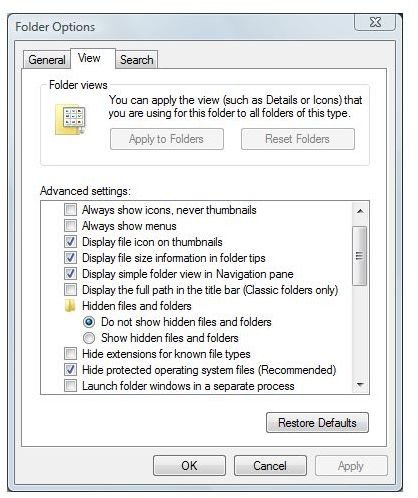 Invisible Clutter
After a while, installations and uninstalls (including software updates) may leave files and folders behind that will add up in the long run. If this problem is too severe, the best course of action would be a "fresh" installation of your operating system, which would imply making backups of your most important files, documents, music, videos and system settings.
However, it is possible to clean-up after these "messy" application leftovers. The easiest way is by running a junk files cleaner, such as Wise Disk Cleaner (free software).
Another free software download that will remove junk files from your internet browsing activities is CCleaner (also free).
If you are sufficiently experienced and familiar with your system, you can make your hidden files and folders visible and look for the ones you are ABSOLUTELY certain have no purpose in being there. Once you find them, delete them. Here is how you do it:
Open "Control Panel".
Double-click "Folder Options".
Select the "View" tab.
Under "Advanced Settings", scroll down to "Show hidden files and folders" and select it.
Click Ok, and start your investigation work.
After you are finished, repeat this process and select "Do not show hidden files and folders" to return your system to normal.
Warning! DO NOT uncheck "Hide protected operating system files". When performing this cleanup, be mindful of its dangers. Once you delete a folder or file you are not sure about, the consequences may be painful. Do this at your own risk.
Hard Drive Corruption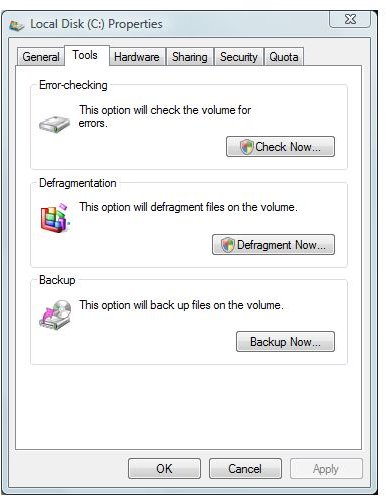 If your hard drive has been corrupted, its damaged sectors will translate into "missing" space. Except, it is not really missing, it is simply unusable. Besides taking this as a warning sign to a possible catastrophic failure, you should also be mindful of what may have caused the problem.
Age and wear may play a role in the corruption of a hard drive, but too many unexpected shutdowns is a common reason for hard drive corruption (especially when dealing with older technology - IDE for example). Here is how to check for hard drive corruption:
Open "Windows Explorer".
Click on "Computer" at the left-hand side.
Right-click "Local Disk (C:)".
Select "Properties".
Click on the "Tools" tab.
Under "Error-checking", click on "Check Now…"
It will probably ask you to schedule the check for the next time your start your computer. That is because your operating system is on the same disk you are attempting to check.
The two options on the "Error-checking" tool are, "Automatically fix file system errors" and "Scan for and attempt recovery of bad sectors". Whilst the second option may be useful when attempting to recover "unreadable" files, selecting only the first one will tell you what you need to know.
Corrupt sectors on a hard drive are usually unrecoverable. The recovery taking place is of the data currently occupying these sectors.
The result of the test will show you the amount in KB of "Bad Sectors". If this translates into somewhat the amount of disk space you are missing, you have just found your problem.
Norton Software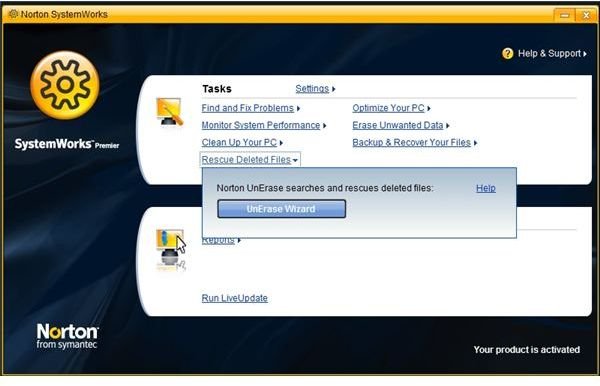 Norton System Works has the facility to replace Windows' Recycle Bin with its own. While safer, Norton's Recycle Bin has been notorious for confusing its users with missing hard disk space. Make sure to empty it often.
Also, Norton Ghost, once installed, creates an invisible partition in your hard drive that can occupy an enormous amount of space. It would be nice if the users were aware of this, but more often than not, it will leave them scratching their heads looking for the missing disk space.
If you are a user of a Norton product, try removing the software to see if it resolves your problem. Chances are, if you have missing disk space and are a Norton software user, there lies your problem.