AMD Motherboard Review: Gigabyte GA-MA790FXT-UD5P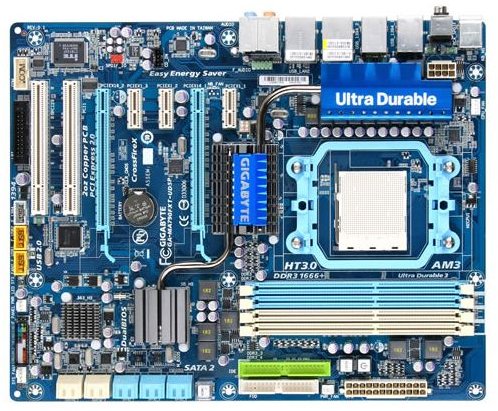 Motherboard features
The GA-790FXT-UD5 features native support for socket AM3 CPUs, DDR3 memory, USB 3.0, Dolby Home Theater audio, and SATA3. The board is supported by AMD's 790FX chipset. Other powerful features that power users will find appealing include Crossfire support, AMD
OverDrive, HyperTransport 3.0, and overclocking. USB 3.0 provides bandwidth that is ten times that of USB 2.0 and provides native compatibility with the latest external storage and other high speed peripherals that use the technology. The SATA3 interface provides a 6 gigabit per second transfer rate that is perfect to support the latest solid state drives (SSD) and their massive sustained data rates. Also built onto this motherboard is ATI's Crossfire multi GPU platform that provides for up to three single ATI cards or two dual GPU adapters.
Copper PCB
The GA-790FXT-UD5 motherboard is made with Gigabyte's Ultra Durable 3 technology that uses copper fabrication for performance enhancing heat management. The high copper concentration in the printed circuit board also works to control electromagnetic interference and enhance system stability, making this a board that's desirable for overclocking.
Power Management
Gigabyte's Easy Energy Saver power conservation dynamically changes CPU activity when the computer is being used for light duty tasks such as word processing. This contributes to other power saving features of the board to make it environmentally responsible.
Drivers and more
Among the items bundled with Gigabyte's 790FXTA-UD5 motherboard comes a driver DVD that features an express option to install all the product's drivers at one time. Also available on the disk is a version of the Norton Internet Security Suite, Gigabyte's Easy Energy Saver utility, the EasyTune overclocking utility for Windows, a system monitoring utility and a few other goodies that helps users get the best performance from the product.
BIOS
The Gigabyte 790FXTA-UD5 board uses a Phoneix BIOS that supports the MIT tweaking utility and advanced settings for virtualization, raid, boot priority and more. Power users should be particularly interested in using the MIT to configure the clocking for a Black Edition AM3 CPU.
Connectors and Expansion
The 790FXTA-UD5 has six SATA 2 and two SATA 3 ports that offer plenty of capacity for fast storage. For expansion cards, the board has three PCI Express x16 slots, one PCI Express x1 slot, and one PCI slot. It has proper spacing for multiple graphics adapters.
The connectors on the back of the board offers PS2 connectors for keyboard and mouse, a SPDIF port, gigabit Ethernet ports (2) six jacks for audio connections, USB/eSATA combination ports, two USB 2.0 ports and four USB 3.0 ports.
Conclusion
With 36 PCI Express lanes available, the Gigabyte 790FXTA-UD5 has the resources available to run all the latest features without compromise. For superb performance in an AMD motherboard, users can't go wrong with the Gigabyte 790FXTA-UD5.