P55 Micro-ATX Motherboards: Micro-ATX hits Core i5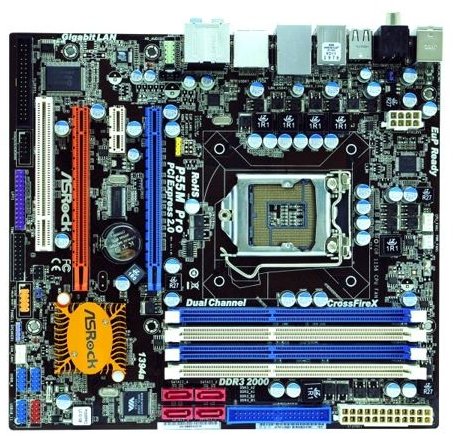 Going Tiny with P55
The release of the P55 chipset and the Core i5 processor has brought Intel's latest processor technologies to mainstream users. One result of this is an increase in the number of Micro-ATX motherboards available for use with Intel's new processors. While Micro-ATX motherboards were available for the X58 chipset, they only appeared several months after the initial wave of X58 chipsets, and selection is still limited. P55, however, is meant to appeal towards users who are more concerned with size and price, and that has resulted in several appetizing options for P55 Micro-ATX motherboards. These motherboards are good choice for demanding users, and can also be good for HTPCs because of Core i5's proficiency in manipulating video files and performing other such multi-threaded work.
ASRock P55M Pro
I have never recommended an ASRock motherboard in any article before. It isn't because ASRock motherboards are terrible - its just that they often veer too far into the depths of being a budget option, coming in at prices far lower than the competition but doing so only through serious sacrifices.
When it comes to being the budget option, the $100 dollar ASRock P55M Pro is no different than other boards from the company. Where it does differ, however, is the features. The ASRock supports CrossfireX, up to 16GB of Ram, and comes with several handy motherboard utilities. The BIOS is quite good, as well, giving users the options for fine-tuning the processor and RAM which are expected are today's motherboards.
Granted, reviews indicate that the ASRock P55M Pro is a less capable overclocker than more expensive boards, and some may wish to spend a little extra money and buy a motherboard from a better known brand. But at $100 bucks, this motherboard is impossible to beat for anyone who is building a simple Core i5 system for day-to-day use.
Gigabyte GA-P55M-UD4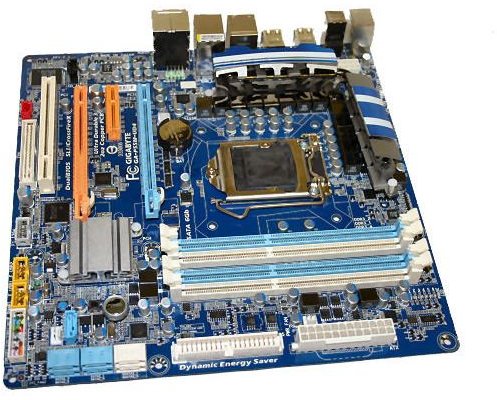 Gigabyte actually offers two P55 Micro ATX motherboards. The less expensive one was edged out by the ASRock P55M Pro, but in the mid-range of $150 dollars the Gigabyte GA-P55M-UD4 stands tall as a solid choice.
This is an extremely flexible motherboard. While it is a Micro-ATX board, it is generous with features. Besides the basics like support for 16GB of RAM and Crossfire, the GA-P55M-UD4 includes excellent Realtek integrated audio, eSATA, Firewire, and 9 USB ports. That's a serious helping of features.
The Gigabyte GA-P55M-UD4 also seems to overclock just as well as its ATX cousins. In fact, the GA-P55M-UD4 is so robust that its hard to see why anyone would want to purchase a more expensive ATX board. Unless you have a specific need for PCI slots and additional room to place an extremely large CPU cooler, the GA-P55M-UD4 provides all you could ever ask for.
ASUS Maximus III GENE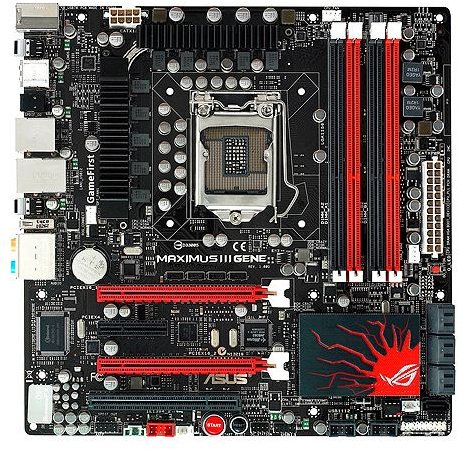 While micro-ATX motherboards are often considered budget options, it is becoming increasingly possible for enthusiasts to use a micro-ATX motherboard for a powerful system. ASUS has recognized this, and has taken the opportunity to create the ASUS Maximum III GENE, a high-end motherboard for people who want lots of power in a small computer.
The ASUS Maximus III Gene has the basics covered, as one would expect considering the motherboard's $199 pricetag. Lots of RAM, Crossfire and SLI support, hoards of ports - its all there. But there is still more. The Maximus III GENE includes numerous valuable features. One such example is Gamefirst, a technology which is to meant to decrease latency in games and SupremeFX X-Fi sound. It's a good overclocker, too, thanks to 10-phase power and an excellent BIOS. The GENE III does not use an nForce 200 chip to increase PCI Express performance, but is still an impressively outfitted motherboard.
Even so, the price tag is obviously hard to swallow. Most users will likely find that the GA-P55M-UD4 has all the features they'll ever need, but the Maximus III GENE is certainly the board to buy if overclocking and high-end gaming is what you're looking to do.
This post is part of the series: Intel Core Series Motherboard Guide
Considering an Intel Core i3, i5, or i7 processor? If so, you'll need an Intel chipset motherboard. This guide to Intel's motherboards will help you pick the right motherboard for your processor.