Inkjet Printer Cost per Page: Comparison Study: Actual Costs between the HP Officejet 8500 and the Canon Pixma iP4600 shown as Examples
Inkjet printers are pretty cheap. Ink cartridges are not. So how do you tell if buying a cheap printer is the most cost effective solution for your printing needs? The answer is to compare actual printing cost per page, using the number of pages that can be printed by the particular cartridge used in the printer, and the original cost of the printer. There are some websites out there that make this easier. However, just those figures do not give the whole story.
A cost per page printer comparison
My Bright Hub colleague Lamar Stonecypher published a blog post on Which Inkjet Printers have the Lowest Cost per Printed Page?. I went to the American Consumer Institute Center for Citizen Research's site, and read their article, What is the Real Cost of Owning a Printer? They picked printers with roughly the same features; they all print in color, monochrome, and can be used for printing photos. In their article they list about ten current printers in the $150 range. Many of them are also multi-function, or all-in-one printers. They look at the costs per printing a page in monochrome, color and a 4 x 6 photo. The American Consumer Institute also gives the lifetime printing costs, based on the initial cost of the printer and the three year cost of ink, assuming a total of 1500 pages a year. They did point out that for users who do a small enough volume of printing, buying a low cost printer and using higher cost ink cartridges may actually be more economical. Their comparison is interesting, but perhaps does not take everything into account while determining the costs for each inkjet printer.
Update: new printer calculator alternative found.
Inkjet calculator - American Consumer Institute - no longer available
Update: The American Consumer Institute does not have an estimated time when they expect their printer costs calculator to be available again, as they would want to update the printer list before opening it up for use again, and currently do not have that cost budgeted. Nevertheless, their article on the principles behind printer costs is well researched and was what gave me my original inspiration for this article.
Note: consumercalculator.org currently is registering positive for malware, so the link to the site has been broken. We are searching for another source for evaluating inkjet costs for specific model, and will update this article as soon as we can. The American Consumer Institute is also checking on the situation.
Consumercalculator.org has released an Ink Jet Calculator, for consumers to look at costs per printer, across three years, with your own totals for pages printed in monochrome, color and 4 x 6 photos a week. They use many of the same printers used in the American Consumer Institutes's study. They also show costs at five years and seven years. Data is from a cost study on ink by Quality Logic. Interestingly, consumercalculator.org use different printers in the calculator depending on how many pages you enter.
Alternative Printer running costs calculator - from Consumer.org.nz
Consumer.org.nz is a consumer reporting site based in New Zealand. For an in-depth look at all their reports, you need to join, at what looks like $25 NZD yearly. However, they are kind enough to offer access to their printer running costs calculator to the public. The printers they are using in the study were reviewed in 2010, so the selection is very current. However, and this is important, all costs shown in their calculator are in New Zealand dollars.
On May 22, 2011, a currency calculator on the web was showing $1 NZD = $.79 USD. I suggest doing your comparisons on the Consumer.org.nz site, and then running your numbers through a currency converter to whatever currency you use.
Their currency calculator allows you to put in the weekly number of sheets of B & W text, color graphics, and 4 x 5 photos you expect to average weekly. You then select either one or two printers from their drop down list. If you just select one, it gives you estimated yearly costs for ink, paper and the original cost of your printer. However, if you select two printers, it not only gives you that information to compare for both printers, but also has a text box where they tell you how long it would take to pay back your investment, if you selected a printer with higher original cost and lower ink costs. It also points out when it cannot compare this, because one printer not only cost more, but had higher running costs.
While I was trying it, I tabbed back and forth to Amazon to see original printer costs in USD, as opposed to their costs in NZD. However, even without converting the exact dollar amounts, the information on the relative costs on printer and ink is invaluable. Just remember, the printer you were considering for well under $150 in USD is going to show up as $200 + in the original printer costs line.
Explanation of comparison
For this printer cost per page comparison I selected an injet printer with a lower end price, and one which had a much higher initial purchase price.
I picked numbers for printing for low, moderate, and high home usage.
The tables below are all comparing a Canon Pixma iP4600 to an HP Officejet 8500, which according to the New Zealand printer study, had the HP printer price about twice that of the Canon.
This calculator also puts in a number for cost of paper - although paper costs can vary greatly, especially if you use any specialty printer papers.
Consumer.org.nz costs - low usage
Using the same two printers, I ran a report for low home use through the consumer.org.nz printer running costs calculator.
(Click on the image to enlarge it to see clearly.)
This used 8 pages of B & W text, 1 color graphic, and 2 4 x 6 inch photos weekly.
Note the text box at the bottom comparing the payback costs. While the higher cost printer would end up being cheaper than the lower cost one, it would take 7 years - probably longer than many people would keep an inkjet printer.
Consumer.org.nz costs - moderate usage
Using the same two printers, I ran a report for moderate home use through the consumer.org.nz printer running costs calculator.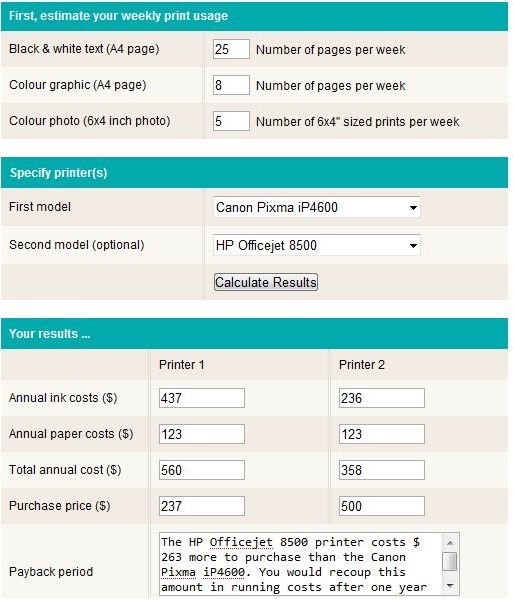 This used 25 pages of B & W text, 8 color graphics, and 5 4 x 6 inch photos weekly.
In the text box at the bottom comparing the payback costs, the higher cost print does eventually cost less- although it takes the better part of three years. However, a printer could be easily expected to last three years.
Consumer.org.nz costs - high usage
Using the same two printers, I ran a report for high home use through the consumer.org.nz printer running costs calculator.
This used 80 pages of B & W text, 30 color graphics, and 15 4 x 6 inch photos weekly.
The note in the text box at the bottom comparing the payback costs at this usage is extremely interesting, especially if you are going to be using the printer in a home office or small business. The HP paid back its more expensive cost, and less expensive ink prices, in less than half a year.
American Consumer Institute figures
Here are the original charts of comparisons from the American Consumer Institute study. While you can no longer go to the site and compare costs with your own numbers across a number of printers at a time, the results are still useful in that they show varied printer prices and ink costs together.
Please note that there is no way here to compare quality of printing.
This next section of the article allows you to look at a number of different printer brands and models, although printer cost may be different now. They also are looking at the total cost over three years, which makes long term costs easier to compare. It also shows that for very low usage, a cheap printer with an occasional ink purchase may be more cost effective.
Cost per page printer comparison including ink costs - static comparison
Comparable printers- with low volume of printing
American Consumer Institute consumer calculator information.
While the organizations say that they have selected roughly comparable printers, there was no attempt made to study the quality of the printing of any of the printers, or to look at consumer satisfaction with the printer performance.
For the printers they use, the printer cost per page comparison grows more interesting with the number of pages, if you look at each image in turn.
There is also no look at paper costs, although most manufacturers say their printers perform best with proprietary paper, especially for photos. This can make a considerable difference in costs.
Over all, as you look at the printer costs and ink costs, you will notice they are very similar at low usage. Find out which printer has the best quality photos, and make your decision based on that, since that is easily the area where poor print quality will stand out.
Low Usage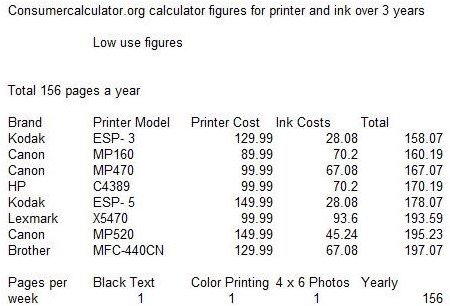 (Click on the image to enlarge it to see clearly.)
Medium usage printer comparison
As we look at printers with medium usage for an inkjet, there starts to be a separation based on ink costs. Again, customer satisfaction and picture quality need to be taken into account. Here, it is also worthwhile calculating the costs of the paper you will be using too. A printer which can give you clean print on plain paper has an edge over a cheaper printer without the same quality.
Moderate Usage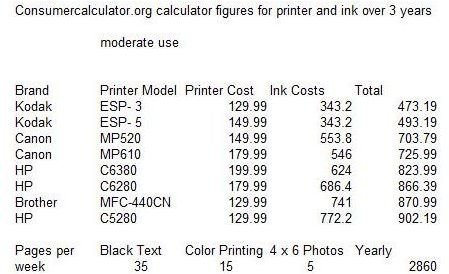 Higher usage
In what is fairly high usage for a home inkjet printer, there are wide gaps in the costs. The Kodak ESP-3 and the Kodak ESP-5 have half the printer and ink costs over three years than the Brother or the HP printers. However, all three manufacturers advise printing on their own brand of paper will give the best result which can be an important factor for cost per page printed, especially at high volume.
Higher Usage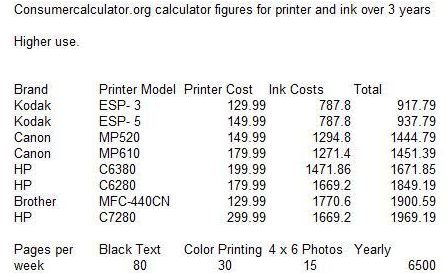 Other considerations
However, Bright Hub has reviewed the Kodak ESP-3 and the Kodak ESP -5, and was not extremely impressed with them. There were a great many user complaints.
The HP C7280 has been reviewed as well, and picked as one of the top three wireless printers of the year in its range. The Canon MP610 also received excellent quality reviews. For printing with this quantity, you need a sturdy printer, not the lowest end model from Kodak, and you want to have quality printing for your investment.
Total Cost of Ownership
Total cost of ownership is more than just the cost of a printer and the ink it will use. Is it a printer that will act like a workhorse for your needs, or a prima donna? Do you have to use the costs for ink from the study here, if you can get refills or compatible cartridges for half the price? While you do need to check out comparable cartridges and refilling issues, they still should be considered before making your decision. Oh, and don't forget those paper costs. Kodak doesn't print at all well on any non-proprietary paper and they didn't stage a revolution in paper costs when they brought down the cost of ink.
Take a look at the volume of printing you need, the costs given by the calculator, and then investigate the individual printers before making a final decision. Sometimes spending a bit more can save you money in the long run.
We hope this look at the printer cost per page comparison with different usage can help you in your decision of what printer you choose to buy.
References
https://www.theamericanconsumer.org/2008/11/07/what-is-the-real-cost-of-owning-a-printer-2/
screenshots by author