Checklist - How To Keep Computer Running Fast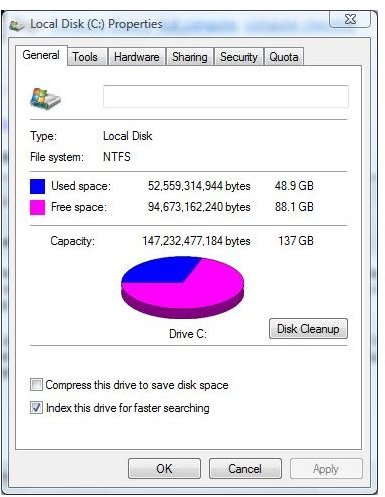 Run Disk Cleanup
The first checklist item is running Disk Cleanup on a monthly basis. Disk Cleanup helps to keep a computer running fast by removing temporary Internet and Windows files, removing downloaded program files, emptying the Recycle Bin, and other optional files that are not needed on the computer.
There are a few ways to run disk cleanup on your computer. The first is by opening My Computer or Computer depending on the Windows version you are using. Right click the primary disk drive - usually Local Disk (C:) - and selecting Properties. on the General tab, click the Disk Cleanup button.
Another way to run disk cleanup is click the Start button, point to All Programs, then Accessories, then System Tools and click Disk Cleanup. If you are using Windows Vista, click the Start button and type Disk Cleanup into the Start Search box.
For more detailed steps on how to use Disk Cleanup, read Remove Unwanted Files to Cleanup Windows XP and Vista's Disk Cleanup - Use Once a Month for Better PC Performance.
Disk Defragmenter
The second item on the checklist is running the Disk Defragmenter on a regular basis (monthly is generally sufficient). The Disk Defragmenter tool helps keep a computer running fast because it scans for system files that have been used and moved on the computer, taking up free space and slowing it down. Disk Defragmenter then moves and rearranges those files in a manner that frees up space and helps the computer run faster.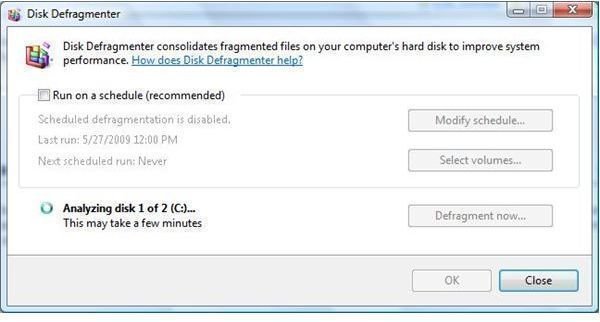 For steps on different ways to run the Disk Defragmenter, read More Great Ways to Speed up Vista: Run the Disk Defragmenter.
Spyware, Malware and Virus Cleanup
The next item on your checklist should be protecting your computer from and removing spyware, viruses and other malware. These items can keep a computer from running as fast as they should. They use the computer's resources and may damage connectivity files, which means Windows will slow down and the Internet connection may not run as fast as it usually does.
If you do not have a antispyware or antivirus program on your computer, read The Best Free AntiSpyware Software for Windows and Free Antivirus Shootout: AVG vs AntiVir vs Avast!
Error Checking
Another item to add to your checklist is running the Error Checking utility. The Error Checking utility keeps a computer running fast by scanning the hard drive for bad sectors, damaged system files or misplaced system folders. Running the Error Checking utility on a weekly basis will keep your computer in good shape and running fast.
For detailed steps on how to run the Error Checking tool, read More Great Ways to Speed up Vista: Scan your Hard Drive for Errors.
Remove Programs
Removing unneeded or unwanted programs from your computer should also be on your checklist. These unnecessary programs can keep your computer running fast by taking up space and resources. From the Control Panel select Add/Remove Programs or Uninstall a Program in Vista. Look over the list of currently installed programs, select each one you want to remove one at a time and click Uninstall. Follow the prompts to remove each program.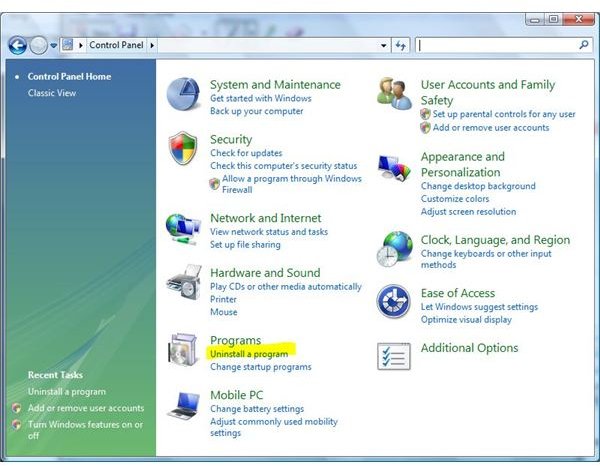 More Resources
To find more steps you may want to add to your computer checklist, read 14 Ways to Speed Up Vista, How Do I Speed Up My Computer? and Vista Performance Articles on Bright Hub.