Reviews of the Best and Worst Computer Monitors and Displays

Computer Monitor Reviews
In the last couple of years, there's been a huge surge in the production of computer displays resulting in an amazing variety of styles, screen sizes, and other features. While some models are being targeted toward video editors and gamers, most are being marketed to appeal to the average home user. Almost all of these devices look pretty slick while sitting on the store shelf, but how are they
going to perform six months from now?
One current trend seems to be leaning toward buying the largest monitor you can afford (normally a 22 or 24 inch model), but is this always the best decision? Before you say yes, you might want to take a look at the article Monitor Upgrades and Productivity – Is Bigger Better? in which some of the disadvantages associated with larger displays are outlined. If you do find that a smaller desktop monitor is more in line with your needs, and you're working on a tight budget, this review of the best value 17 inch LCD monitors is a great resource for your shopping research. Alternatively, you might be able to compromise a bit on size with the 19" Dell UltraSharp 1905FP.
If you have your heart set on a 24" monitor, there's certainly no shortage of models from which to choose. In fact, there are so many options that it's easy to get a little lost when trying to make a decision, especially since the cost of items in this display class continues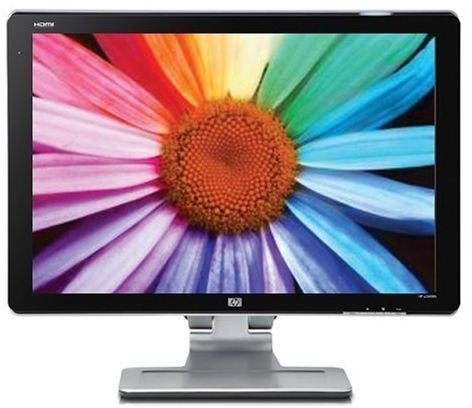 to fall. To help narrow the field, Managing Editor Neil Henry has put together his list of the top five 24" monitors, detailing the pros and cons of each one. The HP w2408h and the Samsung SyncMaster T240HD are just two of the models that Neil explores in this series.
Another trend in the display world is the increasing demand for interactive monitors. Although touchscreen technology is not as new an innovation as most people think, this class of displays is starting to gain a lot of momentum in today's market. In fact, if you're shopping for a complete computer system, you may want to check out what's new in the HP TouchSmart series. These "all-in-one" desktop systems are making a big splash in both the home and office environments, because of their sleek space-saving design and multi-functionality.
To make the buying decision even tougher, new display models continue to be released at a fairly rapid rate. If you want to stay updated on the latest and hottest monitors to hit the streets, be sure to bookmark Bright Hub's channel topic dedicated to computer displays. New monitor reviews and user guides are added on a regular basis, so check back often!