Review of the Best HTPC Cases - Purpose Built HTPC Solutions - Antec Fusion 430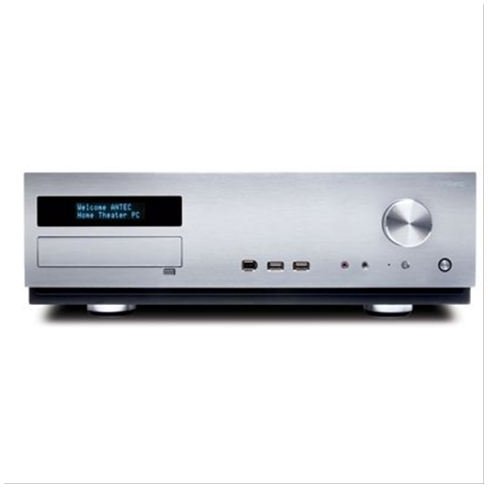 A Special Kind Of Case
Home Theater PCs aren't exactly a new concept these days, but in many ways, they still feel like it. Although they've been around for several years now, there still does not seem to be any agreement made by software and hardware manufactures as to how a HTPC should work.
In retrospect, this isn't surprising. Home PCs have followed a large, tower-based format for years, but that sort of computer does not work for a HTPC. Creating a home theater experience that is fluid, attractive, and quiet requires many special components. And one of the most important components is the case. Home Theater systems typically make use of volume knobs, LED dipslays, and slim, unobtrusive external drives, none of which are featured in standard cases. But dedicated HTPC cases pick up the slack, and these three cases are some of the best.
Antec Fusion 430
Antec's entry into the media center arena, the Fusion 430, looks like a sensible choice. With a handsome but reserved face, a simple VFD display, a volume control, and a handful of face-mounted audio and USB ports, the Antec doesn't attract a lot of attention at first glance. In fact, compared to offerings from competitors, it looks a bit dull.
But is that really a bad thing? After all, an HTPC case which attracts too much attention defeats itself. Ideally, you'll be focusing on the beautiful hi-def content your HTPC is producing, not the HTPC itself. And while the Antec's list of features probably doesn't include anything you want, it does include everything you need. Volume knob, basic display, audio ports, and a slim optical drive panel are all included. An IR Receiver is optional. Open up the case, and the utility theme continues. The Antec features HHD brackets designed to reduce vibration, 120mm side fans, and enough space to make building your HTPC simple.
The real argument for the 430 Fusion, however, is value. The case itself is as very well constructed and sturdy, and Antec provides a 430W power supply. Combine that with a price of under $200 dollars, and you're getting a lot for your money.
Lian-Li PC-C37

Lian Li knows sleek. Their beautiful brushed aluminum cases tend to favor elegance over all other traits, and their HTPC offerings are no different. Take a look at the PC-C37 and you'll notice you're missing a lot. No volume dial. No display of any kind. No integrated IR Receiver. All you get are a drive bay and the usual audio jacks and USB ports.
What you don't get, however, can sometimes be as important as what you do. The Lian-Li PC-C37 is clearly not a contender for most feature-rich HTPC. But its features are not what I like about it. What I like about it is that the case is only 3.7" tall. Placed on a shelf next to other pieces of home theater gear, the PC-C37 looks like nothing more than a slightly chunky DVD player. In every-day use, the PC-C37 takes the PC out of HTPC. Paired with a good control scheme, like a quality remote or a gyroscopic mouse, and you'll begin to wonder if your HDTV learned to run Windows.
There are costs for this, however. The price, which typically hovers arond $170, isn't stellar considering the lack of features. The case is also difficult to work with, largely because it is so slim. Many components built to work in normal PCs won't fit into this case, like full-height video cards or even slightly larger than normal CPU heatsinks. The Lian-Li PC-C37 is a great choice if integration is your goal, but keep in mind that you may have to put more thought into how you construct your HTPC.
Zalman Silver Aluminum HD160XT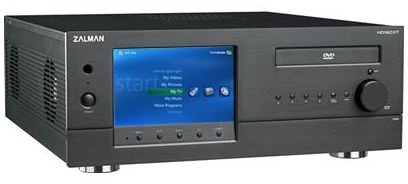 Zalman is beginning to seem like the Lamborghini of case makers. Big, brash, and hugely expensive, Zalman's cases never the less have always held a certain appeal. Much of this appeal comes from their brashness, which translates into features and build quality that can't be found with any other company. Case in point - the HD160XT's 7 inch touch screen, as well as its superb remote.
Indeed, Zalman pulled out all the stops with this case. The included touch-screen, remote, and bundled software work together beautifully, making it possible to quickly access your media from across the room. Ideally, all HTPCs are capable of this - but Zalman's solution is particularly beautiful because all components were bundled together by them, creating what is probably the most seamless HTPC experience money can buy. The Zalman HD160XT is in a class of its own. There simply isn't anything else like it.
There are a few flaws with the HD160XT worth noting. It is big, and it is brash, in true Zalman tradition. With a weight of 15 pounds and a height of over 6 inches, it is one of the biggest HTPC cases in town. And the touch screen, while a nice feature, can occasionally become an annoyance in a dark room. The biggest potential problem with the case, however, is the price. The HD160XT retails for just under $600 dollars at most online stores. This obviously means it isn't a case for the masses, but if you have that kind of money to lay down on a HTPC case, there isn't anywhere else you need to look.
This post is part of the series: Home, Gaming & Office Desktop Cases
Wanting a standout case for your Home, Office or Gaming PC. Here we discuss what to look for in computer casing? And review the best budget and high end cases.