Best Mid Range PC Cases - Top Computer Cases on a Budget - Antec 900 and Lian-Li PC-60 Reviews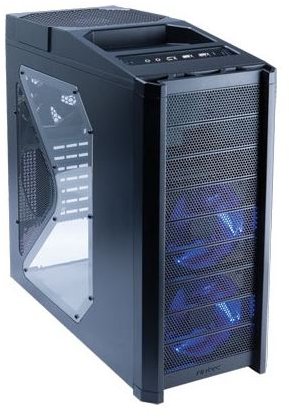 Luxurious, But Reasonably Priced
To many PC builders, the case in which their PC resides is an after-thought. But it is actually an incredibly important part of any PC, and although skimping on the case may seem like a good way to save some cash, dropping a little extra on your PC's chassis can actually be a great value. A PC case between $100 and $200 dollars probably won't clean out your savings. And the amount of extra features found in cases in this price range is significant when compared to lower-priced cases. You'll find more fan mounts, more drive bays, more room for video cards, better materials, and better styling then what you'll find in an economy-class PC case. Sure, the case may not make your PC quicker. But you will be looking at it every single day - so why not buy something solid?
Antec 900
The Antec 900 is something of a legend in the PC world. Aimed specifically towards gamers, but suitable for anyone who wants a rugged case with very good cooling, the Antec 900 is nearly as crammed with features as it is fans. And boy, is it crammed full of fans. Should you choose to use all of the available fan mounts, you'll end up with two 120mm fans in the front, one 120mm fan on the side, on 120mm fan in the rear, and a 200mm fan at the top. Thats right - 200mm. That is a very large fan. And while you may think all of these fans would cause a massive amount of noise, the fact that the 900 only uses larger fans actually helps keep fan noise at a minimum. This is because larger fans can push more air while spinning more slowly than smaller fans, and thusly don't have to spin up a racket to keep things cool.
Besides its plethora of fans, the Antec 900 offers several other useful features. Its USB, Firewire, and and Audio ports are all located at the very top of the case, which is useful unless you happen to keep your case on top of your desk. And the Antec 900 includes the full buffet of drive mounts that you'd expect from a mid-range case, including 9 drive bays, up to 6 of which can accept hard drives. And all of this can be had for a respectable price - the Antec 900 can generally be purchased for under $120 dollars.
Perhaps the only downside the Antec 900 are its looks, which seem to be inspired by an oil rig. This certainly gives the case a rugged look, and the case is every bit as tough as the exterior implies. But this probably is not a case that would look at home in a family den. In addition, the two 120mm fans at the front of the Antec 900 come standard with blue LED lighting, and the side of the case features a transparent viewing window for displaying your PC's internals. If you're a performance enthusiast, you'll probably enjoy the chance to show off your rig's hardware, but those building a more family-oriented PC may find these features to be a distraction.
Lian-Li PC-60
If Lian-Li built a car, if it would be a BMW or a Mercedes. The company has long been regarded as the most luxury-oriented of all the case makers, thanks to clean, brushed-aluminum cases which use nearly no plastic and a product line-up which doesn't include a budget model. You'd be hard pressed to go wrong with any of their cases, but in this class the PC-60 represents the best bet.
You'll know that the PC-60 is a quality product the moment you lay eyes on it. The PC-60 is, at is base, a simple box with no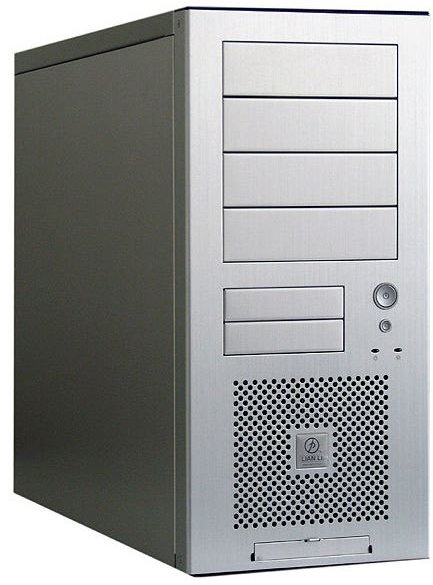 outstanding features, but it is this simple design which makes the case so attractive. Combined with Lian-Li's trademark burshed-aluminum finish, the result is outstanding, yet not outlandish. Unlike the Antec 900 or the Cosmos below, the Lian-Li looks at home in nearly any room of the house. And it is as solid as it looks - the only plastic on the entire case is a cover which snaps over the USB, Firewire, and Audio ports. Besides that, absolutely everything is made out of aluminum. No one is going to mistake you for a penny-pincher if they see this case, although at price ranging between $120-$150 dollars, the PC-60 is a good value.
The Lian-Li has fewer fan mounts than many cases in this range, but it has them where it counts. One can be found at each of the top, the rear, the front, and the side. The PC-60 also features five 3.5" internal drive bays, four 5.25" external drive bays, and even two 3.5" external bays, for floppy disk drives or card readers and the like. A removable mother-board tray is included, as is a special air duct which helps ensure cool air heads directly towards the processor. All of that said, however, the Lian-Li doesn't stand out from the crowd because of its features, but rather because it provides everything you're likely to need, and looks extremely good doing it.
Coolermaster Cosmos 1000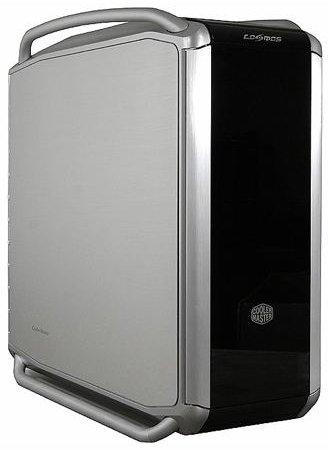 Coolermaster has been in the business of making mid-to-high-end cases for awhile now, and in comparison to Antec, which appears to be best at making products around the $100 dollar mark, Coolermaster has been successful in creating numerous more expensive cases, including such products as the Coolermaster Stacker and this product, the Cosmos 1000.
It should be noted that Coolermaster sells numerous special-edition versions of its higher-end products, and so you may, when searching for deals on a Cosmos, run into many Cosmos-series cases which run well over $200 or even $400 dollars. But this case, the Cosmos 1000, can be found at many retailers for just under the $200 dollar mark, and can be found on sale for closer to $180. This makes it the most expensive of the these three cases, but you do get return on your investment.
For starters, the Cosmos 1000 is a real looker. Its massive silver-and-black shell gives the impression that a piece of alien hardware has found its way into your living room. Yet the Cosmos doesn't feature LED lighting or transparent side-panels, which keeps the case from becoming distraction. The Cosmos 1000 also has plenty of room inside of it - fill it to the brim, and you'll have it crammed with five 5.25" external drives, six 3.5" internal drives, and an extended ATX motherboard. The Cosmos also can fit numerous 120mm fans, and like the Antec 900, the Cosmos has an array of USB, Firewire, and Audio ports at the top of the case. The Cosmos actually outdoes the Antec 900 on this point, as the Cosmos has twice as many USB ports and an ESATA port.
Unfortunately, the price is high for this range, so the Cosmos needs to offer these enhanced features to remain competitive. More frustrating, however, is the massive size and weight of the Cosmos. At nearly forty pounds, the Cosmos weighs over twice as much as the Antec 900 and three times as much as the Lian-Li. This can make the Cosmos hard to work with when installing upgrades. The Cosmos is also approximately four inches larger in height and length than the Lian-Li or Antec options, and is two inches wider. This makes it too large to fit in or under some desks, as desks tend to be made to fit a medium-sized mid-tower.
This post is part of the series: Home, Gaming & Office Desktop Cases
Wanting a standout case for your Home, Office or Gaming PC. Here we discuss what to look for in computer casing? And review the best budget and high end cases.