Best Budget PC Cases - Cooler Master Centurion, Raidmax Smilodon Reviews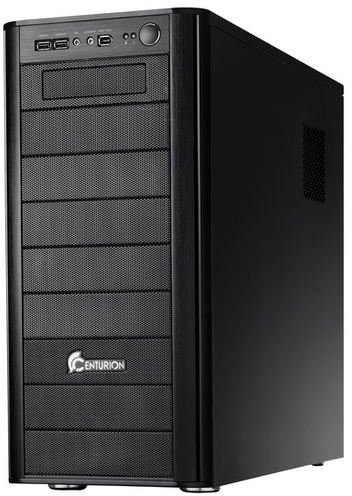 Cooler Master Centurion 590
The Cooler Master Centurion is something of an unsung PC case hero. Although it is rarely reviewed in great detail and, in comparison to more expensive cases such as the Cooler Master Cosmos, almost never receives any press, it consistently sells well.
And for good reason. The Centurion isn't a fancy case, nor is it an incredibly well built one. The metals used feel tinny and the grills
covering the front of case are easily dented by a wayward shoe. But that said, the case uses a great deal of metal in comparison to most other budget cases - while you may dent your Centurion, most other cases in this price range, which feature more plastic, would likely shatter. The Centurion also makes up for its so-so bodywork with a plethora of options. The case can also fit eight fans. That is likely more than anyone would every reasonably use in this price range, but if you want to go overboard, it is nice to have the option. The Centurion also can hold up to 9 5.25" external drives or 4 3.5" internal drives, although not all of this will fit at the same time. Finally, the Centurion has a PSU located at the bottom of the case, which provides an optimal center of gravity.
And then there is the price. The Centurion comes in a variety of colors and models, with most of them sharing the same basic features. The basic black Centurion 590 can be found for $59.99 (as of 12/20/08) and can sometimes be found for as low as $39.99 on sale at retailers such as Newegg and Fry's.
Raidmax Smilodon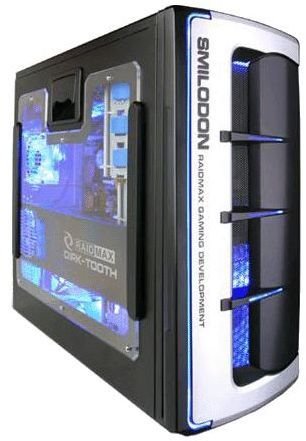 In case you were wondering, "Smilodon" is simply another name for a saber-tooth cat. The strange name aside, the Raidmax Smilodon is an excellent case which contains numerous features you'd expect from a higher-end product, but won't maul your wallet.
As looks go, the Smilodon isn't bad. Obviously targeted towards gamers and nerds who prefer putting fancy lightening effects on their PC cases instead of their car, the Smilodon has all the expected gamer-case features, such as numerous LEDs and a large window that allows a clear view of the computer's internals. Get in close with the Smilodon, and you may find that the use of relatively thin metal to be unimpressive, but the quality of the materials used on the front door is far superior to other cases in this price range. The light effects arn't bad either; rather than simply lighting up a fan bay, the Smilodon's blue (or green - there are two different color schemes available) light pulsates through the case's front door.
Looks aside, the key to the Smilidon is how easy it is to work with. This case features a fully removable motherboard tray, and even better, the left side of the case folds out completely with the motherboard still attach, making the addition of PCI cards, RAM, and heatsinks incredibly easy. Drives use a simple "tool-less" system which isn't entirely tool-less, but remains simple and, more importantly, secure. There are many $300 dollar cases that are more difficult to work on than the Smilodon. The Raidmax Smilodon also features numerous fan mounts, a requirement for any gamer's case, although the location of them is merely adequate.
With a price of $89.99 (as of 12/20/08), the Raidmax Smilodon is only slightly below the price limit for a budget case. But the features available justify the extra cash for any user who opens up their PC more than once every couple months. The Raidmax is also often offered with mail-in rebates or combo deals.
Antec 300
Perhaps no other name is as respected in the PC case business as Antec. They've been around for ages - the first PC I built, a 500Mhz AMD-based gaming computer, was built inside of an Antec case - and during their long existence they've consistently built good PC cases. Unfortunately, these cases were often over the $100 dollar mark, putting them outside the price range of buyers on a budget, and this was particularly true of cases like the famous Antec 900.
Not anymore. Some time ago, Antec announced the 300, a case built on the same core philosophy of their more expensive gaming-oriented cases, but given a far lower price, an exterior and feature-set that makes it perfectly suitable for nearly any task. The metalwork of the 300 is not quite as well finished as what can be seen in their more expensive cases, but for a budget case it is very good, and the plastic front feels solid enough to take a glancing blow. Inside of the case, the high build quality continues, with few sharp edges.
Being a basic case, the Antec 300 is missing the features of its more expensive siblings. More relevant to this list, it is missing some options found on some other budget cases. It does not have a tool-less drive mounting system, it has fewer fan mounts than the Centurion, and it has one less front port than the Centurion. It also doesn't have the features of the Smilodon - no removable motherboard trays to be found here.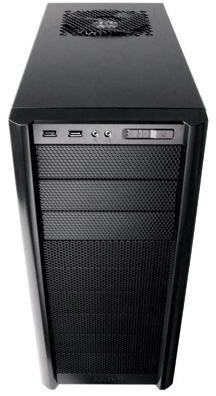 But what makes the Antec 300 a winner is that many of those features are not needed in a budget case. No reasonable user will put a fan in all of the locations available on the Centurion, and as a result the Antec has a cooling solution which is simpler but every bit as effective. Also, budget users are very unlikely to use all of the 5.25" bays on the Centurion, and the Antec 300 offers 2 more 3.5" bays (for a total of six), which are more likely to be of use. And while the Antec 300 features no LED lighting like the Smilodon, it doesn't need it. The Antec 300 looks elegant and sturdy, which means the case looks at home in nearly any environment. The Antec 300 is inexpensive, too, costing $59.99 (as of 12/20/08), just like the Centurion.
Granted, those users who are likely to be working inside their PC often will clearly want to buy a Smilodon, and those who want to make use of a ton of fans or who need a great deal of 5.25" bays will want a Centurion. But for everyone else, the Antec 300 is the best bet.
This post is part of the series: Home, Gaming & Office Desktop Cases
Wanting a standout case for your Home, Office or Gaming PC. Here we discuss what to look for in computer casing? And review the best budget and high end cases.