Gaming Keyboard Reviews: The Steel Series 7G - Features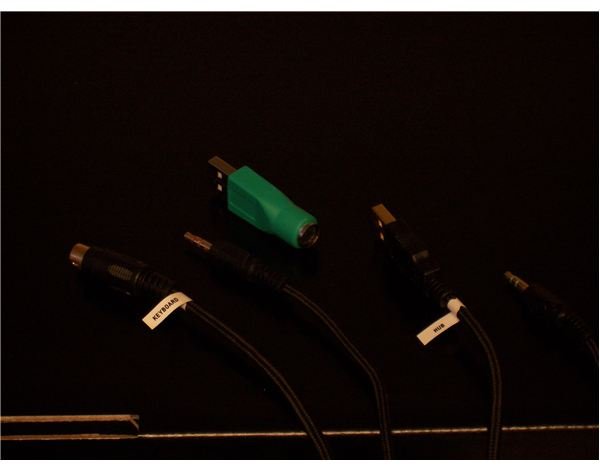 Well Connected (4 out of 5)
A lot of the 7G's more interesting quirks are related to its connectors. The gold is there to reduce latency and maintain signal strength, while the cable itself looks awesome in a braided mesh. You'll notice there are, in addition to audio connectors, a USB and a PS/2 connector. At first glance, the inclusion of both connectors seems like a nice piece of added flexibility, but there is also an adapter to stick the PS/2 plug in a USB port if you lack the older connector.
The little labels on the wires shed light on the mystery. Reading 'USB' and 'Keyboard' on the USB and PS/2 plugs, respectively, it becomes clear they both need to be plugged in: the USB passes along the signals from the keyboard's two USB inputs, while the keyboard's own signals travel via the PS/2.
Cutting Edge Keyboard Using Old School PS/2
Like the mechanical keys discussed in the Build Quality article, the use of PS/2 is a throw back to an older technology, again with good reason. USB is great because you can use it to hook up just about everything without having to turn your computer off and on, and it is pretty fast for moving data on and off of external storage. But it needs a bit of help from drivers to do this, which can add latency.
PS/2 is hardware only and low-level. If USB is a thoughtful worker that does a good job by handling large jobs quickly, but spending a bit of time thinking about it first, PS/2 is kind of a moron and just plows ahead. The thing is, for small, simple jobs he already knows how to do, PS/2 can turn things around faster than the more adaptable USB.
How much faster is probably not that important. When you press a key and nothing happens for a split second, it isn't USB latency; you're getting lag from a server on the internet or your computer is moving something in or out of memory. It is just nice to know, for people who like to have the best, or are seeking that little gaming edge, that the 7G is faster.
A PS/2 keyboard also has the advantage of running in a more barebones situation. A problem early in the boot sequence could leave you staring at a screen that says press any key to continue, but the USB support hasn't been turned on yet. Some enthusiasts prefer PS/2 keyboards because they can then switch off their system's USB support (using the BIOS) when running benchmarks, in the quest to eliminate anything that could sap even a tiny bit of performance during a test run.
I Can Push How Many Keys at Once?
Keyboards usually suffer from something called ghosting. This occurs on many keyboards when pressing three or more keys and, due to the layout of the circuits in the keyboard, the keyboard thinks a key that isn't being pressed is being pressed. The opposite problem, where key presses aren't registered, is called masking or blocking, though the term ghosting is also used to cover both problems.
Gaming keyboards; because gamers will often be turning, strafing, advancing, jumping, shooting, holding down a voice button, and opening a map; can usually handle a half-dozen or more simultaneous keypresses
Someone at SteelSeries decided not to push the envelope when they could launch the mail truck. They claim that this keyboard takes special advantage of the PS/2 buffer to support the simultaneous pressing of every key on it at once.
I had to try this out. By pressing both palms against the keyboard, a macro capture tool registered 26 simultaneous key presses. Using one forearm and one hand, I got to 42. It appears that, with enough fingers, you could indeed push down every single key on the 7G, and it would report it all to your computer faithfully.
If you need more simultaneous key presses than your current gaming keyboard offers, this one isn't about to run out. Like the above feature though, this has a lot to do with knowing you have the best, even if you can't tell the difference, or the practical advantage for someone with only ten fingers is limited.
That's It?
Pretty much, we already pointed out the microphone, speaker, and USB inputs. The left Windows key is a SteelSeries logo, which you can hold down to turn F1-F6 into common media controls (mute, volume, play/pause, track forward and back). The good news is they work without any kind of software or configuration. The bad news is it is absurdly inconvenient to hold down the logo key and reach the function keys.
That is all the 7G has to offer in terms of extra features. While the quality, feel, latency, and anti-ghosting are impressive, many readers will feel like programmable extra keys are de rigueur on a gaming keyboard, and they are available on many keyboards nowhere near this one's 150 USD MSRP. In the next article, we weigh the pros and cons to decide which users will love this board, and which will need to look elsewhere.
References
Author's photos of and experience with the keyboard.
This post is part of the series: SteelSeries 7G Keyboard: You Get What You Pay For
Some tools offer all kinds of features to simplify the tasks faced by their users. Some just do what they are supposed to do so well that they are a joy to use, and are built so well that they will be a joy to use for years to come.