Microsoft Wireless Mouse 700 Problem

Meeting the Mouse
For the computer on a budget, nothing will fit your needs better than Microsoft's wireless 700 mouse. It's a fully functional device with two buttons, a slide wheel, and clickable third button, and pretty much fits the description of "classic mouse" to the fullest. The best part about it is it's cheap – the mouse itself is usually no more than $20, but you can get it bundled with the 700 keyboard for as little as $22 if you shop online. Doesn't get much better than that, does it?
Additionally, it's fully wireless (connects via a USB hub that plugs into the back of your computer) and optical, so you can not only get rid of the mouse pad, you can also move anywhere you want without losing control.
What about if and when the thing stops working? That is certainly a downer on your day, but usually it's easily fixable. Here are some tips and tricks to get the mouse back to running smoothly – no cheese required.
Fix #1: Restart or Reconnect
The first thing you can try to do is also by far the easiest, because all it requires you to do is disconnect your USB wireless device (in this case a keyboard), shut down your computer, and retry everything from scratch. This usually works best if the case is that your mouse used to work but doesn't anymore; it's worth trying either way though. There are a few things you want to watch out for during the process, so I'll give you some step-by-step instructions:
- Properly disconnect your wireless mouse's USB hub from the back of your computer. If you cannot properly disconnect the device because it doesn't show up in your computer's list of connected USB devices, just unplug it while your computer is on and you should be fine.
- Shut down your computer. Not "Sleep" mode and not "Hibernate" mode. Despite what they tell you about hibernating, it's NOT the same as shutting down.
- Plug the USB receiver back in and turn on your wireless mouse.
- Turn on your computer and allow the mouse a chance to properly connect.
- If, upon reaching the desktop, the mouse is still unresponsive to any movements you do with it, take a look at the mouse itself and the USB receiver. You should see a small button on each.
- If you see a button, try and calibrate your device by pushing the button on the receiver, then on the mouse, then on the receiver again. This should allow your mouse to "Find" the receiver manually as opposed to relying on the device's auto-connect function to do that work for you.
If you still don't see results, try the next fix.
Fix #2: Update Those Drivers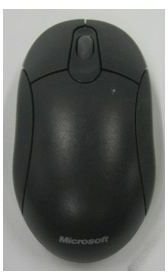 A lot of people have trouble understanding that external hardware can't just work on its own without some sort of software telling it what to do. We call this directing software a "Driver", and often times people don't have the proper drivers installed – which explains why their hardware doesn't work. In the case of a Microsoft Wireless Mouse 700 problem, updating the drivers is easy:
- Right click on "My Computer" and select "Properties".
- Go over to the "Hardware" tab, located at the top of the window.
- You should see a button labeled "Device Manager" in this new window. Click it.
- Now look at the sidebar with all of the options there. You'll want to look for either a "USB" option, a "Mice" option, or a "Wireless" option, depending on what version of Windows you're running. Alternately, look for a yellow "?", indicating that some drivers are not properly installed.
- Expand the section that you've located with the "+" button.
- Right click on your Wireless Mouse 700 (or the "Wireless Desktop 700") and select the "Update Drivers" button. This will open yet another dialogue box.
- Follow the instructions in this new box, and you should have your drivers installed momentarily!
A few things to note about this process: In order for it to work, you have to have the USB receiver plugged into your computer. In addition, you may not have found drivers, in which case you'll need to try and download them from the Internet.
Neither of These Worked. What Now?
Unfortunately, as with many cheaper computer devices, the Wireless Desktop 700 is known to have a lot of issue in terms of function. Many, many people report having faulty equipment, quickly-broken devices, and things that don't work no matter how many times you replace them. If you can't seem to get your mouse to work no matter what you do, I recommend buying a higher-quality product from a different manufacturer. Microsoft is great, but as with any company, you get what you pay for. Frankly, the Desktop 700 means you didn't pay for much.
References