7 In. Android Tablet Wireless Keyboards Roundup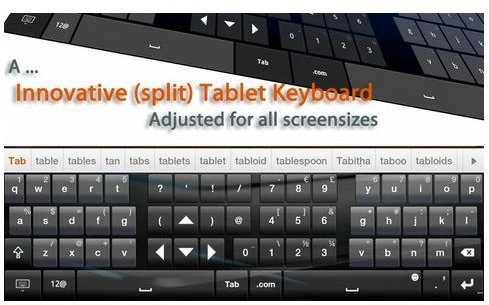 Choosing an External or Software Keyboard
There are various input options available for an Android tablet, although the most obvious is the touch screen display and the default software keyboard. However this might prove difficult to use for long periods of time, which might then lead you to search out a suitable external keyboard.
Cabled and wireless keyboards are available and these are great when combined with stands for your tablet device, effectively turning it into a compact netbook-style setup.
Ultimately, however, you might opt to stick with a software keyboard – several available on the Android Market are designed specifically for tablets.
Wired Android Keyboard
If you have a good compact keyboard with a USB cable you should be able to get it to work with your Android tablet by activating USB On the Go on your device, assuming it has a USB port that will act as a host.
All of this depends entirely upon which Android tablet you own, so you should contact the manufacturer or visit the support forum or online community of users who use the same device for further information.
How About a 7 inch Android Tablet Wireless Keyboard?
On the other hand you should find that using a Bluetooth wireless keyboard on your Android tablet is much simpler.
There are several suitable devices available, sized to suit both 10 inch and 7 inch Android tablets. Wireless keyboards that use Wi-Fi are rare, which is why Bluetooth is the wireless technology of choice for input devices (desktop computers use Bluetooth or infra-red keyboards and mice).
Bluetooth keyboards for Android can cost anything upwards of $20 and you will often find that they are also compatible with other platforms such as iPads.
If you own a Motorola Xoom tablet, for instance, you might use the official Motorola Xoom Android Bluetooth Keyboard which can be purchased online from around $60 (you will find it on Amazon).
Meanwhile you might also consider the much smaller Duragadget keyboards, which are around the size of a mobile phone. These are sturdy and have good battery life, and although they are more geared to thumb typing you should find that these devices are good for long journeys.
Image credit: https://ecx.images-amazon.com/images/I/41Ju8x2un%2BL._SL500_AA300_.jpg
Software Keyboard for Your Tablet
However there may be no need to switch to a hardware keyboard if you can find a quality software keyboard. After all a wireless keyboard for a 7 inch Android tablet is at least $20 more expensive than changing the default software keyboard on your slate.
One popular choice is Thumb Keyboard, available from the Android Market for just $1.82.
This keyboard features various configurations, enabling you to choose between 5 inch, 7 inch and 10 inch tablet layouts, ideal for choosing between touch typing and thumb typing with speed and comfort.
Image credit: https://www.appbrain.com
References
Author's own experience.