Buying Guide: The Best iPad Kneeboard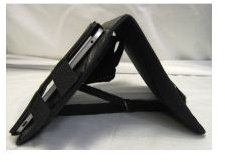 iPad kneeboard
iPad kneeboards are used by pilots to firmly secure their iPod, making it easy for them to use it. This will certainly help with those long boring flights. There are different makes and models, built for right and left handed pilots. This kind of iPod accessory is a must have for a pilot. Here are the top five iPad kneeboard models available on the market today.
AvPad iPad kneeboard
This iPad pilot accessory can be used both by left and right handed pilots. The kneeboard also features a notepad for writing things down which can be very handy sometimes. The iPad can be inserted upside down which makes it possible for both left and right hand usage. You can choose between the notepad and the iPad as a primary surface. All of the ports and buttons on the iPad are easily accessible. This is a great choice that will hold and protect your iPad during flight.
[AvPad iPad kneeboard Website]
AppStation iPad Kneeboard
This accessory is constructed from a high performance polycarbonate material which ensures excellent protection. It features an adjustable leg strap but doesn't have a top cover for screen protection. The iPad is positioned with a simple snap on/off mechanism. The iPad can be raised about 15 degrees at the top for better line of sight. This is also a great kneeboard choice, but the lack of screen protection is a downside.
[AppStation iPad Kneeboard Website]
Sporty's iPad Kneeboard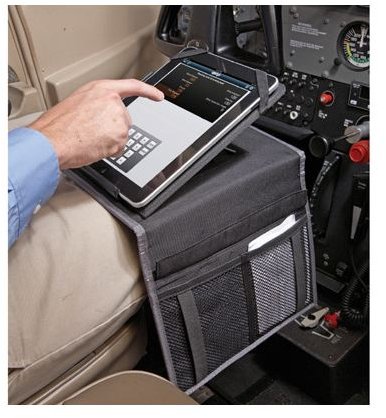 This is a bi-fold kneeboard that works both with the iPad 1 and the iPad 2. The iPad is positioned on the left side on an adjustable stand for perfect viewing angle. On the right side there is an organizer section with mesh pockets and a separate compartment with a zipper for storing charts, checklists or flight plans. Closing the kneeboard ensures screen protection. This is a great choice that will securely hold your iPad during flight and then protect it when the flight is over.
[Sporty's iPad Kneeboard Website]
iPro Aviator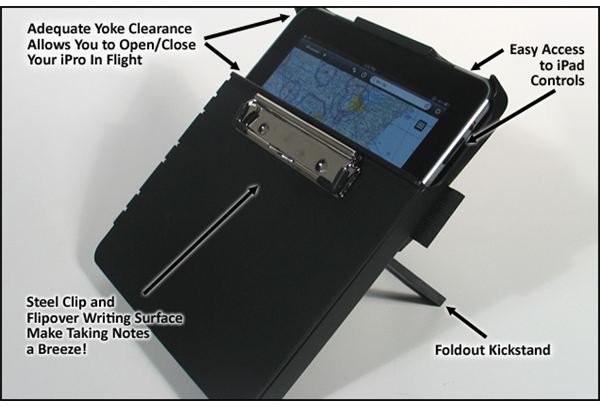 The iPro Aviator features an easily accessible writing surface, a rubber foam internal padding and a foldout kickstand for desktop usage. It also acts as a compact carrying case. The design of this kneeboard ensures protection and yoke clearance. The top of the screen is revealed. There are versions available for both the iPad 1 and the iPad 2.
Tech Board iPro Kneeboard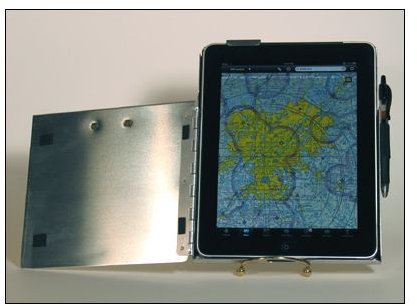 The Tech Board iPro kneeboard is definitely the best looking design but also the most expensive item in this review. Its price is justified by the all-metal construction, engineered and balanced to perfection. The metal ensures a firm grip and solid writing surface. The padding and flush riveting from the inside ensures maximum protection and maximum usability. This is definitely a great choice and is worth investing in.
[Tech Board iPro Kneeboard Website]
Reference
All product images and information from manufacturers.