Buying a Samsung - LinkStick Wireless USB 2.0 Adapter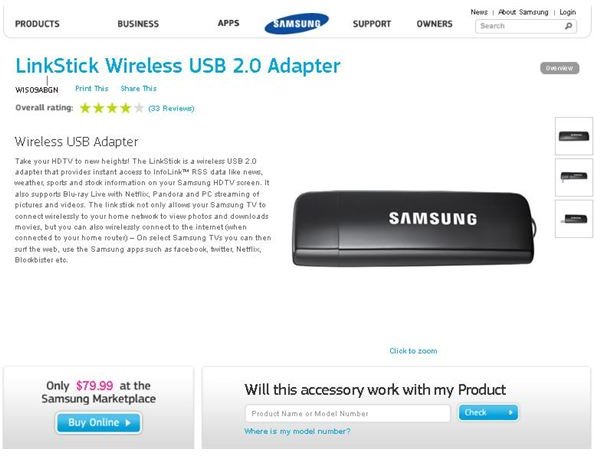 Introducing the LinkStick Wireless USB 2.0 Adapter
Bring wireless streaming to your Samsung high definition television set (HDTV) or Blu-ray player with the Samsung LinkStick Wireless USB 2.0
Adapter. Plug this device in and enjoy instant RSS content, view photos and enjoy videos from a wireless network. If Internet access is available, owners of compatible Samsung HDTVs can use the LinkStick to access [Internet TV](/tools/Screenshots provided by writer), Facebook, Twitter, Netflix, Blockbuster and a huge selection of other content providers.
With the ability to connect to wireless routers with the 802.11 a, b, g and n standards, consumers can be assured that they can access content at the fastest speeds possible without requiring a major network overhaul.
Image provided by author
Connecting the LinkStick Wireless USB 2.0 Adapter
The first step to connecting the LinkStick is to verify that a compatible device is available to accept it. Compatible devices include Samsung Series 630, 650 an 6000 LCD, plasma, and LED high definition televisions or a BDP12xx, BDP32xx, BDP72xx or BDP8200 Blu-ray disk player. LinkStick buyers should check the user guide of their Samsung device to verify compatibility prior to making a purchase.
Similarly, shoppers purchasing an HDTV or Blu-ray player with the intention of connecting to their network and/or Internet should verify before leaving the store that their purchase is compatible with LinkStick.
Connecting the LinkStick to a compatible Samsung television or Blu-ray player is just as easy as inserting a USB into a port on a computer. After all, the LinkStick is similar to the USB style wireless adapters with which many computer users are already familiar.
Similar to an adapter connected to a computer, the biggest challenge is connecting the adapter to the wireless LAN. Complications may arise when searching for the network and entering the WPA security code in the television's settings menu. Those challenges are therefore not unique to the LinkStick.
Discovery problems could occur if a wireless router has its SSID broadcast turned off, for example. Also the wireless router's security code could be forgotten. in these and other cases, Samsung owners should always verify their router's settings should the television with the LinkStick installed has difficulty finding the network.
Buying the LinkStick
The Samsung LinkStick wireless USB 2.0 adapter is available from Samsung for a price of $79.99. However, shoppers can find the LinkStick at a variety of online and brick and mortar outlets, although most stores currently seem to have the product positioned at similar price points.
Shoppers settled on Samsung Blu-ray players and televisions should consider all their options before deciding where to buy because some sellers have, in the past, offered the LinkStick bundled with a compatible device.
References
Samsung. "LinkStick Wireless USB 2.0 Adapter", https://www.samsung.com/us/video/tvs-accessories/WIS09ABGNX/XAA
Best Buy. "LinkStick Wireless USB 2.0 Adapter", https://www.bestbuy.com/site/Samsung+-+LinkStick+Wireless+USB+2.0+Adapter/9291795.p?id=1218075420206&skuId=9291795