How to Download Google Play Store (Android Market) to Tablet Devices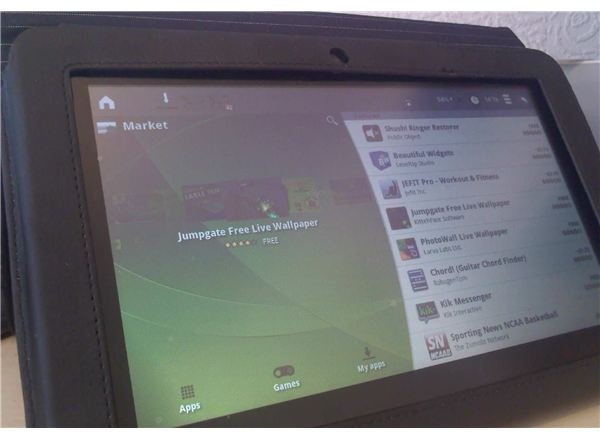 Help! My Android Tablet Has No Market App!
With more and more Android tablets becoming available, from lowly 500 MHz efforts running Android 1.6 to high-end devices powered by Nvidia Tegra 2 processors (like the ASUS Eee Pad Transformer) there is every chance that more and more users will want to access apps from the Android Market, which has recently become part of Google Play.
However this might not be possible on some tablets. If you have a device such as the Advent Vega tablet, you will quickly find that there is no access to the Google Play Store.
Normally the Store can be viewed and apps downloaded by tapping on an icon which opens the repository of free and paid for software. Many devices come with customized versions of Android that omit the Store because Google has decreed that it isn't yet ready for these larger-screen devices.
While some tablets provide their own marketplace for Android apps, many don't. This leaves new owners of high spec tablets unable to use their devices effectively – unless they somehow find a way of downloading the Store to their tablet after rooting their tablet.
So How Do I Download Android Market to My Tablet?
Before proceeding, note that the first thing you need to do is root your tablet. Rooting is not possible on all tablets, and if it is possible it has some risks. Namely, it voids the warranty on your tablet. Click on the link above to read details on the procedure.
Another option is to confirm that your Android tablet has a low level of user security. For instance Advent Vega tablets will allow you to install some apps that otherwise require root access, and as you will see in the section below, there are locations other than the official Market from which you can download Android apps.
Next, run the browser on your tablet, and visit:
https://www.theandroidsoul.com/download-google-play-store-apk-3-5-15/
This will download Google Play Store to your Android tablet, and after restarting your device the app will update to the latest version.
An alternative to this is to flash (a term to install a new version the OS) your Android tablet to run a different build of the operating system that already includes the Market.
Alternatives to Google Play Store
A quick search for the term "non-market apps for Android" will reveal an interest selection of alternative online repositories of free and paid-for apps that can be downloaded to an Android tablet via the browser.
All you need to do is visit sites like www.freewarelovers.com and browse for the apps – clicking the links will download the files to your tablet. Without using Google Store these apps will not install automatically, so you will need to drag down the status bar and tap each download to install it.
However there is yet another alternative to these unofficial markets – Amazon has a store app for Android, offering pretty much the same selection of apps that are available via Google Store but without useless, adult/offensive and malware apps cluttering things up.
References
Photo provided by author.
Author's own experience