Top Android Apps for Rooted Tablets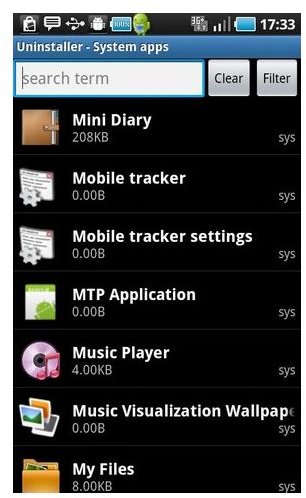 You Rooted Your Tablet - Now What?
Many Android mobile phone owners like to get as much functionality out of their phones as possible – and the same is true of Android tablet owners. To push your device and use apps that wouldn't ordinarily work, you need to gain root access to your tablet.
The process for doing this is a little different for tablets than for phones, but once achieved you can then begin to use a wider variety of apps.
Some of these might be free versions of apps that you might otherwise pay for – others might offer considerable extra functionality. "Root access" means allowing applications to access the root directory of your Android device, an area that is usually restricted.
So what are the top Android apps for rooted tablets?
Top Android Apps for Rooted Tablets
**
Root Uninstaller – This app (pictured, right) can be found on the Android Market for free - which is a great price for something that performs a vital task. The app removes the stock apps that were pre-installed on your Android tablet. No more will you have to put up with a poor third party market app or a dodgy email client as Root Uninstaller will allow these to be removed!
Android Terminal Emulator – Intended for advanced users, this free root app allows the running of special utility programs. Certainly not for the average user, the app emulates the Linux command line and allows the browsing of system files and folders that you might not be able to access via the operating syste,
Root Explorer - Available for $4.03 (£2.50 in the UK), this file manager for root users offers the expected Windows Explorer-style access that lets users create/extract ZIP, TAR, GZIP, run scripts, send files, manage permissions and more. This app also allows you to view .APK file binaries (.APK files are Android app installers).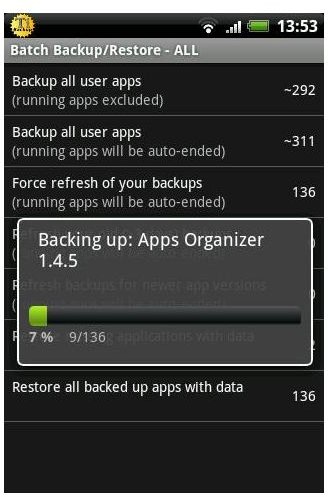 Titanium Backup – This app, available free on the Android Market (and pictured, right), is designed to allow you to backup, restore and allow "freeze framing" of apps, data and market links. This allows you to make a copy of your phone in a particular state, much like cloning your PC. A PRO version of Titanium Backup is also available, offering an extension of the standard tools for a fee.
ROM Manager – if you're new to Android, you'll probably find that there are various versions of the operating system available for you tablet. Using this free app, you can manage downloaded ROMs via a slick user interface, allowing you to perform backup and restore tasks as well as download and install ROMs over the air or from SD card.
Adfree – Almost all free apps on Android come with advertising banners that supposedly make a bit of revenue for the developers. However these can be blocked with Adfree, which intelligently blocks these adverts and prevents them eating up your valuable mobile bandwidth.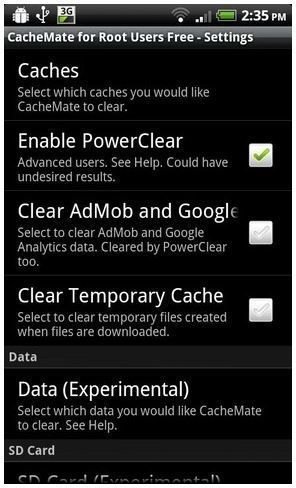 CacheMate – This utility (pictured, right) will clean up your Android tablet by discarding the contents of the various caches (including third party web browsers) on your device. This is a useful app to have in your arsenal, and also features a task scheduler to automatically tidy things up when your device is idle.
Button Savior - Useful for those with damaged hardware buttons in apps that have frozen, Button Savior can be used as a handy replacement. Available for free and providing an easily accessible but unobtrusive screen overlay, Button Savior adds simulated Home, Back, Search, Recent and Screen Off buttons, and can be scheduled to open or auto-hide. Additionally, Button Savior can be positioned anywhere on your Android tablet display.
References
All references and screenshots via Android Market, viewed through https://www.appbrain.com