Free iPad Comic Books - Download Free Comics for iPad or iPod Touch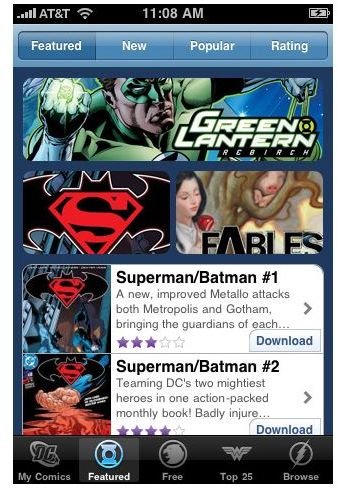 iPad Comics
The Apple iPad is perfect for reading comic books. It's screen is practically the same size as a comic book page and it's vibrant colors make your favorite Avenger or Caped Crusader even more pleasing to the eye. Believe it or not, you can actually get some free iPad comic books on iTunes. The best part is that the apps themselves are totally free to download. You don't have to sign up for anything to download and read free comics right there on your iPad, iPhone, or iPod Touch. In this article, we'll discuss some of the apps that let you buy comics right from your Apple device and how they all include some free comics to download with no obligation.
Marvel and DC Comics
Big time publishers like Marvel and DC both offer free comic book apps on iTunes, and they serve as a front-end for the publisher's online comic book store. Even if you don't plan to spend any money, it's worth downloading the apps because they offer freebies from time to time.
Probably the first one many people will go for is the Marvel Comics app because it includes titles from the likes of The X-Men, Spider-man, The Avengers, and so on. Although I do not subscribe to Marvel's online comic service, I understand that their web-based service is not compatible with this one through iTunes, so you can't exchange libraries. This seems to be a major point of contention based on some user reviews seen on iTunes.
The DC Comics app interface is basically the same as Marvel and they offer anything you can think of from the DC library, such as big names like Superman and Batman, and even a free first issue from a World of Warcraft series. They also have a bunch of origin type comics available for free, such as those for Wonder Woman, Lex Luthor, Green Lantern, and more.
IDW Publishing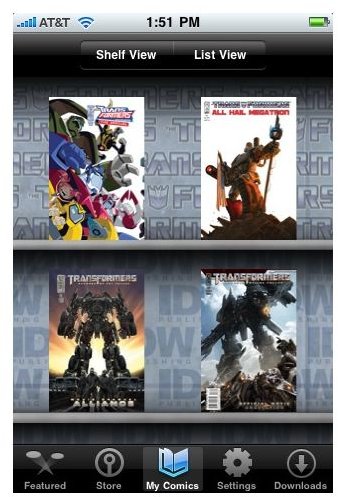 Another big name in the comic book market is IDW Publishing, and they have quite a few offerings available on iTunes. In addition to their main catalog app, IDW Comics, they also have several apps dedicated specifically to their most popular titles.
IDW also offers a GI Joe Comics app that is dedicated specifically to GI Joe and offers many free titles, including the very first issue. You can see how the whole series got started and it won't cost a thing. They also offer a Transformers Comics app that currently has three free comics, including a one-shot comic devoted to Shockwave that is comprised of 97 screens, or pages. There is even a Star Trek Comics app for Trekkies to get their fix on free titles like a one-shot dedicated to the Borg or the first issue in a short companion series to the recent Star Trek reboot movie. It's just one of many great Star Trek apps on iTunes.
More Free iPad Comic Books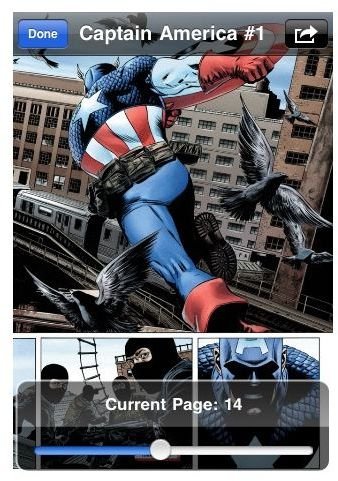 Two other must-have comic apps you may consider downloading are Comics+ and ComicsX. Both offer huge online catalog from difference publishers and let you search be genre, title, series, and so on. Both apps also offer free titles to download, and you'll find the most options with these two since they cover more than just one publisher. Here's what you can expect to find in these great apps:
On Comics+, you can currently get a free issue from series like The Warriors, Archie, Dean Koontz's Frankenstein, and even a new comic based on the movie Inception. Those are just a few among the dozens offered for free through this app.
The ComicsX app currently has free comic book issues from popular series like Batman, Green Hornet, Hellboy, and more. The app seemed a little sluggish compared to Comics+, but it's cool that they each have completely different offerings.
(Image Credits: Screenshots from iTunes)