Tablet PC Comparisons: The Top 5 Tablet PCs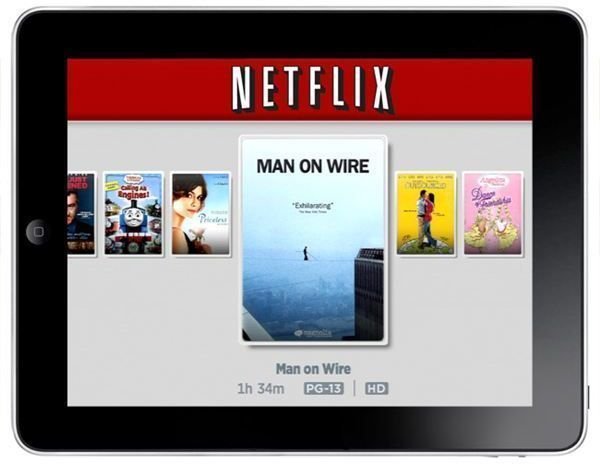 The Tablet PC Bandwagon
Tablets have been hyped for awhile, but they're just now starting to make serious inroads into the market. The iPad has done well, and Samsung has managed to sell 2 million Galaxy tablets. That's not exactly draw-dropping numbers, but it's a good start, and there a lot of new tablets coming to market in 2011.
Of course, tablets PCs are more like smartphones than computers. The hardware isn't user serviceable, and you're often limited in terms of the operating system the tablet can run. When making tablet PC comparisons it's important to consider the whole package, hardware and software included.
With this in mind, let's consider the 5 top tablet PCs sold today.
Apple iPad
The winner for best tablet PC is, frankly, no contest. The Apple iPad clearly wins most tablet PC comparisons, and consumers have been flocking to the device in numbers that other tablets can only dream of.
Of all its advantages, the iPad's greatest strength is its software. Apple's iOS debuted on the iPhone years ago, and Apple has managed to port it to the iPad mostly intact. That's resulted in a brand new device with a surprisingly mature operating system, something that you often don't see. This also means the much-loved App store is available. That's a big perk on a mobile device.
All of the downsides of the iPad are in the hardware. The performance is fine, but the iPad is lacking when it comes to cameras and connectivity. New and upcoming tablets from other companies have front and rear mounted cameras, with the rear usually having a resolution of 5 megapixels. Most new tablets also offer one or two USB ports, and HDMI-out is common.
Still, these hardware limitations more an annoyance than a deal-breaker for most users. Rumors are flying about a revision to the hardware, as well - and while it's doubtful that connectivity will be improved, we should see more and better cameras.
Samsung Galaxy Tab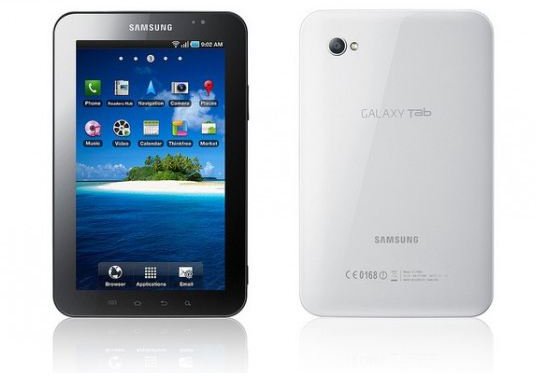 Despite all the hype about tablets, Samsung is the only company that's managed to bring a real iPad competitor to market so far. The Samsung Galaxy Tab has a 7" display, so its a rather small tablet. It also obviously lacks Apple's iOS - instead it runs on Android.
The comparisons between Android and iOS made with smartphones largely hold true with tablets as well. Android is slick, and quick, but the Android app store still falls behind what Apple offers. The TouchWiz interface Samsung uses on the Galaxy Tab does its best to emulate iOS, but it ultimately lacks the same level of polish. The graphics, for example, are cartoonish.
These complaints aside, Android certainly isn't a bad operating system. It is functional and looks good - just not great. The Samsung Galaxy Tab makes up for any software slights with better hardware, which includes a 3 megapixel rear-facing camera with LED flash. There's no USB, however.
Overall, the Samsung Galaxy Tab is a competent but competitor to the iPad. Android's operating system is certainly more open, and for some users that's enough of a reason to buy the Galaxy instead.
Barnes and Noble Nook Color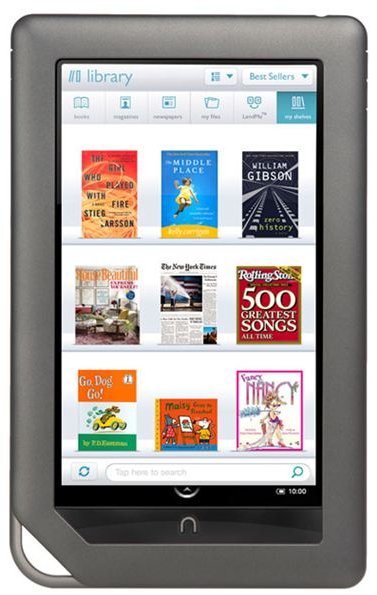 When Barnes and Noble released the Nook Color, it effectively created a tablet device. Although designed primarily as an eReader, the new Nook Color also functions in a limited capacity as a 7" tablet similar to the Samsung Galaxy Tab.
That's because the Nook Color runs on Android. It has WiFi and some models have 3G (although Barnes and Noble is looking to discontinue the 3G model because it is apparently unpopular) which means that you can browse the web. There are also some pre-installed apps that may come in handy, like Pandora.
Still, the Nook isn't as functional as the Samsung Galaxy Tab because it so far lacks the Android Marketplace, and it may never gain the capability because Barnes and Noble doesn't want people using the Nook to download and read books off eReader apps on the Android marketplace. The limited functionality is excused by the Nook's excellent performance an eReader, however, and by the low price of $249.
Motorola Xoom
Although as yet unreleased, the Xoom has been in the hands of some technology reviewers, and it has so far been given great praise. This 10 inch tablet seems to be taking aim the iPad by offering superior hardware. The Xoom comes with a dual-core ARM processor, a 1280x800 resolution display, HDMI-out, USB and both rear and front facing cameras.
This makes the Xoom the most full-featured tablet PC released yet - at least from a hardware standpoint. From a software standpoint, it remains to be seen how the Xoom will hold up. Given the speed of its processor, the Xoom should feel snappy, but that doesn't mean the interface can't be obtuse. Hopefully Motorola will execute well. And it will probably need to, because the Xoom is expected to sell well north of $500 - which means it is priced to compete directly with the iPad.
ASUS Eee Slate EP121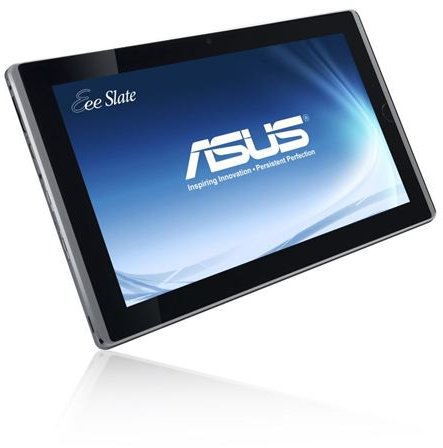 Although a number of Windows tablet PCs have been released so far, most of them have been either half-baked or convertible tablets, which are nice but not quite the same as a pure tablet device.
ASUS's new Eee Slate EP121 seems to be the first Windows tablet PC that could have some legs. Although a tablet, the Eee Slate doesn't look to compete directly with the iPad because it offers dramatically faster hardware in the form of a Core i5 processor. This gives the Eee Slate the performance it needs to behave like a true PC. The EP121 will also ship with a stand and a Bluetooth keyboard, which means the device can serve as a home computer at your desk and a tablet on your couch.
There are some trade-offs. The EP121 is priced at around $1000, which is far more than most tablets. The battery life is fairly poor, as well, at around four hours. However, this device is likely to find a niche among enthusiasts who want a fully x86 compatible tablet they can use around the house.