Top Five SDHC Memory Card Cases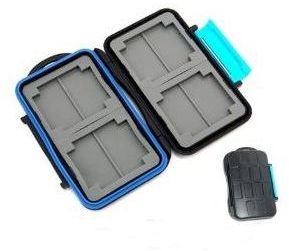 SDHC Memory Card Holders
The top five SDHC memory card holders all have one thing in common - they hold your data cards safely in one place. To choose the best one for yourself you have to consider where you'll be taking your SDHC cards and how many you need to carry at one time.
Rainbow Imaging Professional Rubber sealed & water proof Memory Card Case
This is an extremely tough, water-resistant, polycarbonate resin case that holds up to 8 SDHC cards. It was initially designed for professional photographers but would be great for anyone who films outdoor sporting events. The anti-shock case is rubber sealed and water proof to protect your memory cards even in the harshest of weather. For a mere $12.00 you can protect your memories (or work).
Pelican 0910-010-110 Secure Digital Memory Card Case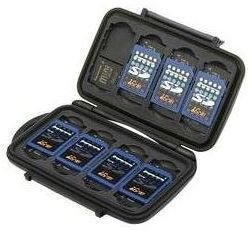 This SDHC card from Pelican lives up to the name by delivering a high quality case for a good price. This $16.00 case is both waterproof and shock resistant. It is made of a tough polycarbonate resin and can accommodate up to 8 SDHC cards (or 16 mini SD cards if you prefer). This SDHC memory card holder is a must have for the cameraman with kids. The cards are held snugly so that even a major jolt won't cause them to come loose.
Memory Card Case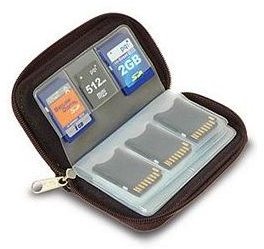 If you're just looking for something that will keep a selection of your SDHC cards in one place or to use as a travel case then this basic case is for you. It is a standard vinyl case with room for 12 SD cards – unlike some of the other cases this one will not handle anything larger than an SD card and trying to force a CF card in will cause the pockets to rip. For a stunning $6.51 this is a simple travel case.
Canon SW-10 Memory Card Wallet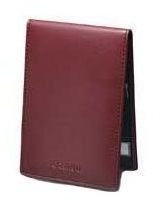 The Canon SW-10 Memory Card Wallet slips nicely into a back pocket and hold up to 8 SDHC cards. This design works well for the photographer that needs to carry extra memory cards for that spur of the moment shoot. It also works well for Wedding photographers who need to be able to carry extra storage space with quick access. A great choice for a paltry $9.99.
Gepe Card Safe Extreme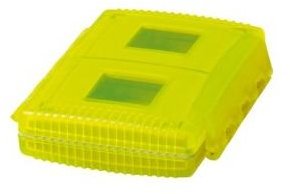 The Gepe Card Safe Extreme case is perfect for the extreme adventurer. It is waterproof, shock resistant, has an anti static interior liner, it is watertight, floats, and has a reinforced hinge with a stainless steel pin. It comes in several colors including a neon green which makes it easy to locate in low light situations. At $20.95 this is a great deal. Use it on a boat, in the desert, mountain climbing or anywhere else that you might run into extreme conditions.
Whether you are a professional photographer or a soccer mom getting get footage of your little one's game there is an SDHC memory card holder out there for you. From the ultra simple to the extreme protective case manufacturers have been thorough and provided countless options to fit your situation.
All Images Courtesy of Amazon.com