Three Options for iPad Excel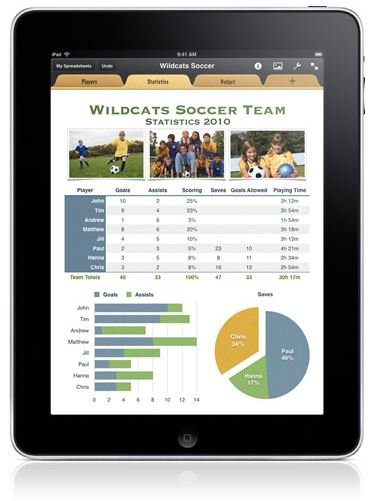 Apple iWork Numbers for the iPad
For $9.99, Numbers offers a variety of features that make creating spreadsheets on the iPad easy. When you first create a new spreadsheet, you get to choose from 16 templates in addition to the ones you can make on your own. Included are templates for creating a budget, a mortgage calculator and more. If you need to add or rearrange tables or update data on a form, Numbers allows you to simply drag the data to the new location. If you update a form, Numbers also automatically updates your columns and rows on the spreadsheet as well, so that you don't have to worry about data inconsistency.
The program has a huge selection of built-in charts and tables that can be set up in only a few taps. The keyboard allows you to choose from 250 functions and transforms according to the type of data with which you are working. After you finish a document, you get to save it by email, by sending it to iTunes or by sending it to iWork or iDisk. A bonus is that the app supports wireless printing with compatible printers.
Documents to Go Excel for iPad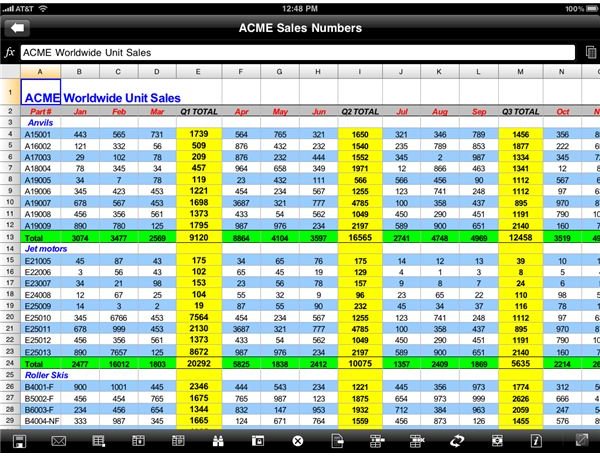 Documents to Go for iPad includes a suite of productivity apps, including an iPad Excel spreadsheet application. It included advanced formatting options such as the ability to freeze rows and columns, use multiple worksheets, password protect your data, find items within a spreadsheet and use landscape view. It supports 111 functions and has various settings for formatting numbers.
If you make a mistake or accidentally delete an important cell, you can use the program's undo and redo features. When you finish editing your spreadsheet, you can either upload the document to various providers such as Google Docs, MobileMe and Dropbox (in the premium version only) or you can use the included desktop PC software to transfer files directly from your iPad. Documents to Go comes in a basic version for $9.99 and a premium version for $16.99. The main differences between the versions are the ability to upload files to cloud based services and the ability to edit PowerPoint files in the premium version.
Office2 HD for iPad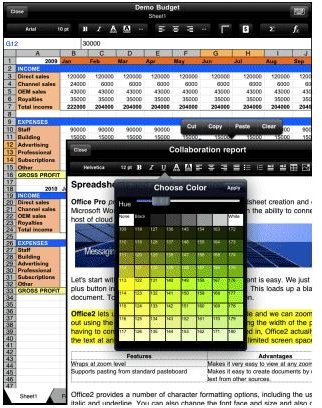 Office2 HD is unique in that it lets you use a Wi-Fi network to import and export your Excel documents to and from your computer. It also includes advanced cell formatting options such as different fonts, text styles and cell sizes and allows you to freeze rows and columns.
However, Office2 HD is quite limiting in its features and is more useful for occasionally editing existing spreadsheets. While the program does have some functions, it does not have the expansive library as its competitors and lacks the templates too.
Still, it can print wirelessly and supports MobileMe, Google Docs and Dropbox as file uploading services. The price is on the low end at $7.99.
Conclusion
While all three of these make decent iPad Excel alternatives, Apple's own Numbers for iPad seems to be the winner. With its affordable price and load of features, it seems to be the best bang for your buck. While Office2 HD may be priced lower, you will have to give up some of the advanced features of the other apps to save a couple dollars. If you like the idea of directly transferring documents to and from your PC to your iPad, you may want to go with the basic version of Documents to Go which is not a bad deal either.
References
All references taken from Apple iWork Numbers, Documents to Go Excel and Office2 HD for iPad
Apple iWork Numbers for iPad's official product page: https://itunes.apple.com/us/app/numbers/id361304891?mt=8
Documents to Go for iPad's official product page: https://www.dataviz.com/products/documentstogo/iphone/
Office2 HD for iPad's official product page: https://www.bytesquared.com/products/office/ipad/
All prices are stated as of April 2011