Choosing an iPad App: Games You'll Love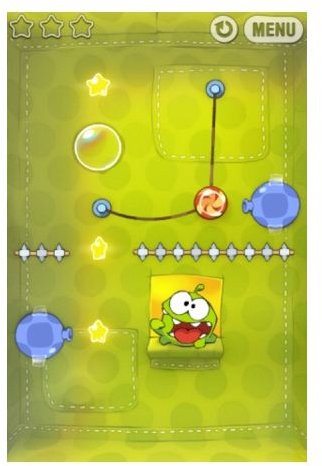 Gaming on the iPad/iPhone/iPod Touch
The iPod may have been originally designed as a music player, but ever since the release of the iPhone and the app store, it's been very popular as a game machine as well. There are now approximately 300,000 apps in the store that can be downloaded to the iPhone, iPad, and/or iPod Touch! Of those, probably the largest category is fun and games; in this article we'll cover some of the best games currently available. Prices are correct as of this writing, but are subject to change.
Cut the Rope
The premise behind Cut the Rope is simple: you've received a package containing an adorable monster named Om Nom, who wants
nothing more than to eat red candy. The candy is held up by ropes, which you can cut by swiping them with your finger. Along the way, you'll also want to collect three stars in each level. While this puzzle game starts off simply, it quickly gets more complicated with the addition of bubbles, air blowers, spikes, antigravity, and more.
The HD iPad version, which currently contains five boxes of 25 levels each (and more coming soon, or so they claim) costs $1.99; there is also a free lite version containing only the first box and a free holiday gift version with an additional 25 levels and some extra gimmicks (like Christmas stocking teleporters!)
Plants vs Zombies
One of the hottest games in the app store, the HD version of Plants vs Zombies is also one of the more expensive ones at $9.99 (currently on sale for $6.99). Zombies are invading, and the only way to stop them is with plants (strange, I know.) You have 49 different plants with a variety of abilities to stop the 26 zombie types invading your home. Collecting suns (which fall from the sky and can also be produced by sunflower plants) gives you the energy to plant more seeds, while defeating a wave of zombies gives you access to new seed types.
Some of the clever plants in the game include the Cherry Bomb (which blows up zombies), Wall-nuts (which you can use to build a wall to protect your other plants), and the Potato Mine, which explodes on contact but (unlike the Cherry Bomb) takes a while to arm.
You can only use six types of seeds in each level, so you have to choose at the start which ones to use. Some, such as the sunflower seeds, are a must all of the time; others are most useful against particular types of zombies.
FarmVille
While I have no interest in Facebook games, if my wife's behavior is any indication, people who play FarmVille on Facebook will love this little app, which lets you take care of your farm without using the computer. It's also free.
One frustration is that if you have connection issues, it will give you an our of sync error message and delete the work you've been doing. Still, a nice choice for a FarmVille addict!
A Multitude of iPad App Games
Of course, the games mentioned above are just a drop in the bucket compared to the huge number of iPad app games available in the app store. My personal favorite is Tichu, a partnership climbing game (similar to a trick-taking game) that includes a reasonably decent AI so you can play even when you can't find any opponents. Most games are free or low cost, although some get more expensive (the best Go app, for example, costs $20), so you should be able to find something that catches your interest without spending a lot of money. Now go kill some zombies!