Best File Recovery Utility - Flash Drives
Flash Drive File Recovery
Have you ever searched for an important document in your Flash drive and found it wasn't there? Don't worry; it happens even to the best of us. A USB Flash drive offers many advantages over other removable and portable storage devices. It stores much more data, operates faster, has a sturdier and more compact design and works more reliably than a CD or DVD. But, despite being more reliable and safer than many other storage devices, Flash drives are prone to logical crashes due to corruption of the file system (FAT or NTFS), and other reasons that may contribute to a crash.
If a drive crashes, you lose everything that was written on it. And if you accidentally delete files from a USB Flash drive, you can not recover them, as you can from the Recycle Bin on Windows. But fortunately, there are programs available that you can use to recover files that you have accidentally deleted or lost due to the Flash drive crash. These can even recover data when the "USB device not recognized" message is displayed
In the next part of this article, we'll look at best Flash drive data recovery programs that will solve all your Flash drive data loss problems.
Disk Doctors Data Recovery
The Disk Doctors Windows Data Recovery software is one of the best file recovery utilities for a Flash drive. It has a special component "File Tracer" that can perform data recovery, based on a unique file signature search. The software also allows you to create a Flash disk image that helps you to ignore bad block read errors while recovering your lost/deleted files. This feature of the software can come in handy when you have an all-important file that you don't want the software to ignore or give up on recovering it, even if it is difficult to read.
Disk Doctors offers two versions of the Windows Data Recovery software. One for NTFS and the other for FAT file systems. If you have a new Flash drive, the chances are that it has an NTFS file system, but you can check by going into the drive's properties.
EarthSoft Data Recovery
The EarthSoft Data Recovery is powerful data recovery software to recover data lost due to accidental deletion, formatting or crashing of the Flash drive. It supports many file systems including NTFS, FAT32, and even the old file systems such as FAT12 and FAT16. The EarthSoft Data Recovery program supports Windows 98, NT, ME, 2000, XP, Vista (32 & 64-bit) and Windows 7 (32 and 64-bit)
This EarthSoft Data Recovery offers a simple user interface that anyone can use easily. It does the recovery work efficiently, and with easy and simple steps.
Data Doctor's Pro Data Doctor
The Data Doctor's Pro Data Doctor saves accidentally deleted, virus-infected and lost data in the easiest way. It provides Windows explorer-style user interface, which is easy to use and doesn't require any technical skills to use the program.
The program features advanced techniques and tools that give results within short duration of time. The program provides the ability to preview files before data recovery, and supports all Flash drive manufacturers, including Sony, Kingston, Jet Flash, Transcend, etc.
OS requirement? Apart from Windows 98 and NT, the Pro Data Doctor supports all versions of Windows, from Windows 2000 right up to the latest version Windows 7, and also the Windows Server 2000/2003/2008.
Recova by Piriform
Recova from Piriform is a free piece of software that can recover your files.

The software supports Windows 2000, XP, Vista & Windows 7, and also includes a version to install on USB drives, useful for people that like to carry around a stick full of essential programs. Recova also includes a Deep Scan option to search your drive for files that you thought were lost forever.
FreeUndelete by OfficeRecovery.com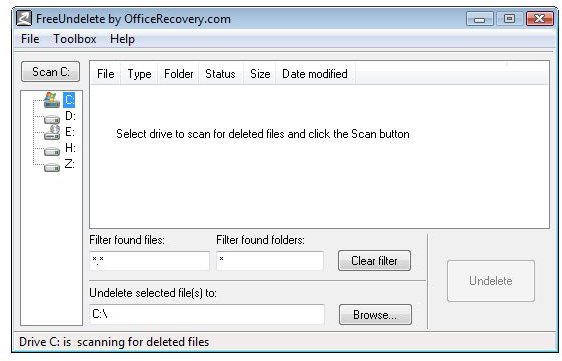 I have to admit, I was a bit dubious about a piece of software called FreeUndelete, as I expected it to install loads of rubbish onto my PC and then not work very well at all. Fortunately, I ignored my fears and installed FreeUndelete from OfficeRecovery.com, which lives up to its name very well. After scanning a device, FreeUndelete will rank each file it has found in terms of high likely you are to be able to fully restore the original file.
Supports Windows 2000, XP, Vista, 2003 Server, 2008 Server and Windows 7.
Conclusion
These were best file recovery utilities for Flash drives. These Flash drive data recovery programs come in handy when you suffer from data loss due to a virus attack, media failure, data corruption, overwrite, or an accidental deletion, on your Flash drive. Even if your data is safe on your Flash drive till now, install one of the above programs on your PC, you never know when you might need it.
References
Disk Doctors Data Recovery - Image Credit: mobileconverter.net
Earthsoft Data Recovery - Image Credit: makeamillions.com
Disk Doctor's Pro Data Recovery - Image Credit: frameworkmx.com
Recova - Image Credit: https://www.piriform.com
FreeUndelete - Image Credit: https://www.OfficeRecovery.com