Useful Biometric Employee Time Tracking Software for Small to Enterprise Sized Businesses- A Look at the Paypunch and Wasp Time Biometric Software Packages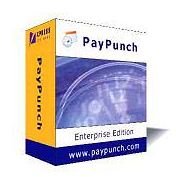 Paypunch
Paypunch by Xpress Software is biometric employee time tracking software that is used in conjunction with a hand scanner. How does it work? Paypunch biometric recognition works by making 96 discreet images of the hand after it is scanned with a reader. Using this data, the biometric employee time tracking software uses an algorithm it generates to create a numeric template. When an employee uses the system in the future, the new scan will be compared with the template. Then the employee number is entered. After a brief moment, the information is confirmed and the employee is then clocked in.
Paypunch Features
Employers are concerned with coworkers clocking in other employees. Since the system utilizes biometrics, the problem of this "buddy punching" is eliminated. An employee record locking feature prevents unintended data overwrites.
Paypunch can be configured to eliminate early clock in or unauthorized overtime. It can also track vacations, paid holidays and other absences.
The system cuts the time needed to calculate payroll and overtime hours (Professional and Enterprise editions). Reports can be generated to track daily and weekly statistics.
Paypunch can be adjusted to monitor multiple locations and is flexible with the types of connectivity – Network (TCP/IP), Modem or Serial cable.
For security and safety, Paypunch does not store images of employee's hands. The biometric data collected through this system is specifically configured to work only with this program.
Paypunch Computer Requirements and Pricing
Windows 95/98/ME/NT, 2000, XP, 2003 .NET. It also needs 50 MB free hard drive space, a Windows compatible printer and 64 MB RAM.
The Paypunch Professional edition is $14.95 per active employee, while the Enterprise version is $29.95 per active employee. A biometric hand scanner will need to be purchased separately.
Wasp Time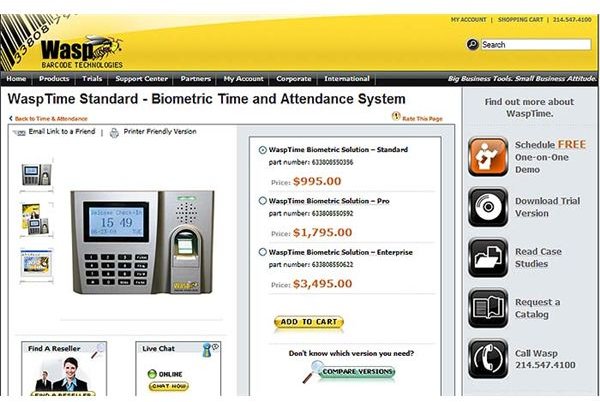 Wasp Time is another biometric employee time tracking software program package you may want to consider purchasing if you have a small or medium size business. It is a fingerprint authentication time clock combined with compatible software.
Wasptime Features
Wasptime cuts the accounting time needed to calculate work hours. It can take employee time information and export it to popular payroll systems including QuickBooks, ADP, PayChex and ADPWeb. Thirty reports are available to help you keep track of employee hours, overtime, incomplete time and unscheduled absences as well as early check in or late check outs. It also includes the SQL Express 2005 database for storing and extracting information.
When the Wasptime employee time tracking software is used in combination with the biometric fingerprint scan, you can be assured that the hours logged are legitimate and no "buddy punching" has occurred.
For peace of mind, Wasptime also offers unlimited free technical support.
Wasptime Computer System Requirements and Pricing
The Wasptime biometric employee time tracking software requires Windows XP, Windows Vista or Windows 7 operating system. You will also need Windows Server 2003/2008, a Pentium 4 (800 MHz) or better processor , minimum of 512 MB RAM (1 GB recommended) and 2 GB of available hard drive space (10 GB is recommended).
The Standard Wasptime package includes 50 employee licenses and costs $995. The Pro edition comes with 100 employee licenses and is priced at $1,795. Additional employee licenses can also be purchased in 50 increments. The Enterprise edition has unlimited employee licenses and costs $3,495.