A List of 5 Affordable Biometric Time Clocks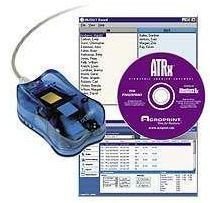 AcroPrint
ATRx Secure PunchIn is a software and hardware time and attendance system biometric clock system. It features biometric fingerprint technology. One goal of this technology is to eliminate buddy punching; it also provides records of employees' attendance.
The ATRx Secure PunchIn system features Attendance Rx software, and it includes a biometric fingerprint reader. It is easy to use. It works with employees punching in on a PC that matches their PIN number with their fingerprint.
It can support 50 employees and supply reports on Weekly, Bi-Weekly, Semi-Monthly, or Monthly Pay Periods. It calculates regular hours and two levels of overtime (weekly and/or daily). The cost $115.00
Easy Clocking
The Biometric Fingerprint System - EC100 allows employers to keep track of the time and attendance for up to 250 employees and it can store 50,000 records in it internal memory. Easy Clocking is a manufacturer of employee time clocks as well as time and attendance software solutions for small- to large-sized businesses. It eliminates buddy-punching operations through Employee Fingerprint Authentication, which directly links an individual worker to a personal labor record. It has network support with TCP/IP Connectivity. There is also a USB plug & play connection. Costs start at $199.99.
Pyramid TimeTrax EZ Time and Attendance System
The Pyramid TimeTrax EZ Time and Attendance System automated biometric time clock and attendance solutions allow small- and medium-sized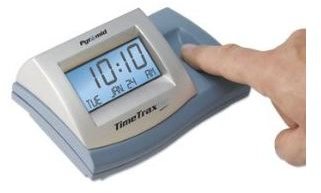 businesses to have a biometric time and attendance system. It is powered by Windows-based software, so TimeTrax EZ provides a solution that is both capable and works in almost every industry. It lets payroll managers capture time accurately, making the business processes more responsive to critical employee-payroll needs. It also features an exporting capability that works with most major payroll systems. It accommodates 25 employees and 3 shifts. Cost: $249.00
Veri Task Software - Biometric Reader
The Veritask software reader comes with a fingerprint scanner that allows a business to take biometric fingerprint information from an employee. The software allows PIN, barcode, and fingerprint authentication. It can support 100 users on the system. It runs on Windows 98, XP, and Vista .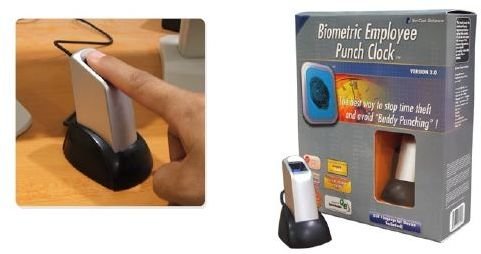 Some of the options available let payroll managers create groups of employees, define working hours by group or by employee, and also define arrival tolerance in the same way. Cost is $269.00 for the basic system.
See Also: Biometric Employee Time Tracking Software
Time Wolf
The TimeWolf Fingerprint Employee Time Clock System works with TimeWolf Time Clock Software to support 50 employees. The product includes the fingerprint reader or PIN entry clock. There are also an optional set of modules such as Employee Scheduling, a Multi-User License, Benefit Accrual Module, and Job-Costing Modules. Cost is $295.00.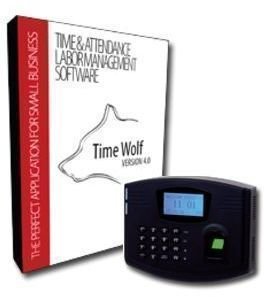 Sources
See Also: What is a Biometric Reader?
Atrx Secure Punchin: https://www.alliedtime.com/attendancerxbio.php?session=Zoeremve
Easy Clocking: https://www.easyclocking.com/timeclocks.html
Veri Task Software - Biometric Reader: https://www.veritasksoftware.com/downloads/brochures/brochure_biopunchclock_eng.pdf
Pyramid TimeTrax EZ Time and Attendance System:
https://www.amazon.com/Pyramid-TTBIOEK-TimeTrax-Attendance-Biometric/dp/B001C47UNS
TimeWolf: https://www.timeclockeshop.com/index.asp?PageAction=VIEWPROD&ProdID=375