Patron Saint of Astronomers: Saint Dominic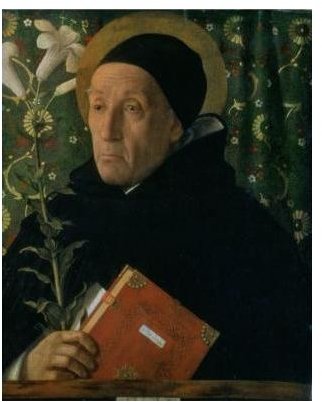 When Saint Dominic was baptized, anecdotal stories say his mother saw a star on his chest. That star was a portent of his future destiny as the patron saint of astronomers. Let's examine the life of this pious man who Pope Gregory the IX compared to Saint Peter and Saint Paul.
What is a Patron Saint?
Patron saints intercede, defend, guard, and advocate in heaven and on Earth for a designated group, activity, nation, or area of life. There are approximately 10,000 saints designated by the Catholic Church. St. Dominic is the patron saint of an occupation: astronomers.
Image Credit/Wikimedia Commons/Public Domain
St. Dominic was born in 1170 and died in 1221. Before his birth, his mother had a dream about a dog that would set the world on fire, and this dog carried a torch in his mouth. In later years, the Dominican Order, which St. Dominic founded, adopted as their symbol a dog carrying a torch.
He was canonized as a saint by a Bull of Canonization, issued July 13, 1234, by Gregory IX, who "declared that he no more doubted the sainthood of Saint Dominic than he did that of Saint Peter and Saint Paul."
St. Dominic's Life of Self-Denial
What was it about this humble priest that so impressed Pope Gregory IX, Pope Honorius III, and others whose lives he touched? He was known for his self-denial, holiness, piety, and apostolic zeal.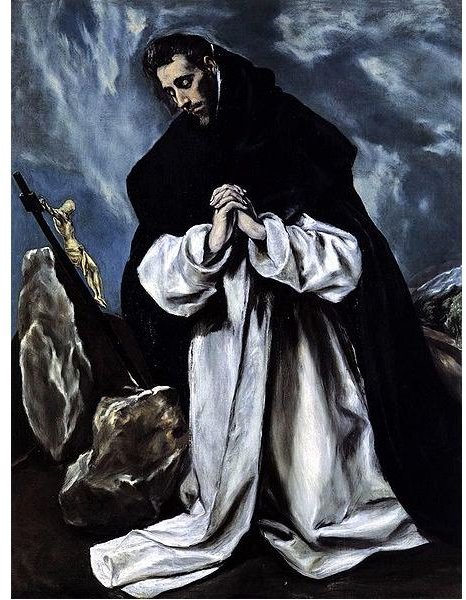 Image Credit/Wikimedia Commons/Public Domain
For instance, he refused himself meat or the luxury of a bed. He spent his last minutes of life lying on the ground, encouraging his followers to stay true to the cause of combating heresy and spreading the gospel. On two separate occasions, he offered to enslave himself to buy freedom for others. During a famine in Palencia, he sold all his possessions – including his precious manuscripts – to buy food for the starving masses. His reply when asked for an explanation of this act is one of his most famous quotes: "Would you have me study off these dead skins, when men are dying of hunger?"
Next, we'll examine some famous life events of St. Dominic.
Milestones of St. Dominic's Life
St. Dominic is remembered for several outstanding life accomplishments. In 1215, he founded the first convent of the Dominican Nuns, which predated his founding of the Dominican Order. Their mission is caring for young girls.
On December 22, 1216, his lifetime dream of founding a new religious order was realized when Pope Honorius III issued a Bull of Confirmation and established the "Order of Preachers," or the O.P. This order was also known as the Black Friars, as they wore black cloaks over their white habits, or the Jacobins. The Dominican order was a monastic community, and its members followed the Augustinian rule of renouncing wealth. It consists of the Order of the Friars Preachers, the Order of the Dominican Sisters, and the Order of the Brothers of Penitence of St. Dominic.
In Catholic tradition, it is believed that St. Dominic had a vision of the Blessed Lady in 1208. In the vision, she revealed to him the Rosary and its devotion. The Rosary became a basic tenet of the Dominican Order, and today the order is the official promoting organization for the Rosary.
Here we have answered the questions: "What is a patron saint?" and "Who is the patron saint of astronomers?" If you would like to find out more about the St. Dominic, visit your local library or research him on the Internet. An excellent place to start is with a website like Catholic.org, or the New Advent Catholic Encyclopedia.
Reference Sources
New Advent Catholic Encyclopedia, "St. Dominic," accessed 08/06/2010
Catholic Pages, "St. Dominic and the Rosary," Robert Feeney, accessed 08/06.2010
Saints SQPN, "Saint Dominic de Guzman," accessed 08/06/2010
Catholic.org, "All About Saints," accessed 08/06/2010